Have you ever imagined visiting the lakes of Hell, bathing in traditional hot springs and even participating in an African Safari in Japan? Today we are going to talk about the famous city Beppu and its 7 Jigoku Meguri.
Beppu (別府市) is a city located in Oita Prefecture, with the largest number of hot springs in Japan. The city was built from scratch, with the aim of attracting tourists, and was one of the most sought after spots in the century XIX.
A cidade possui 126 mil habitantes, com uma área de 125 km², é conhecida por seu grande número de onsen, propiciando banhos medicinais variados e passeios inusitados.
My experience in Beppu
Beppu is one of the most famous cities in the Kyushu region, I personally had the chance to visit it for 2 days and I can say that it is a must-see destination for everyone who goes to the Kyushu region.
I stayed for 2 days, one day was enough to visit the African Safari and visit all 7 jigoku that we will mention throughout this artigo. I stayed in a very good hostel called Beppu Hostel U & T which offers private rooms with bathroom, as well as free drinks and bicycles.
I had the chance to visit the oldest onsen in the city and see how people in the region are more communicative. I even bought a shirt saying "every day is hell" [毎日が地獄です] for just 1900 yen.
I suggest getting the bus pass at Beppu station. I ended up stalling and not being able to get it in time before the Safari, so I had to pay more using an IC Card.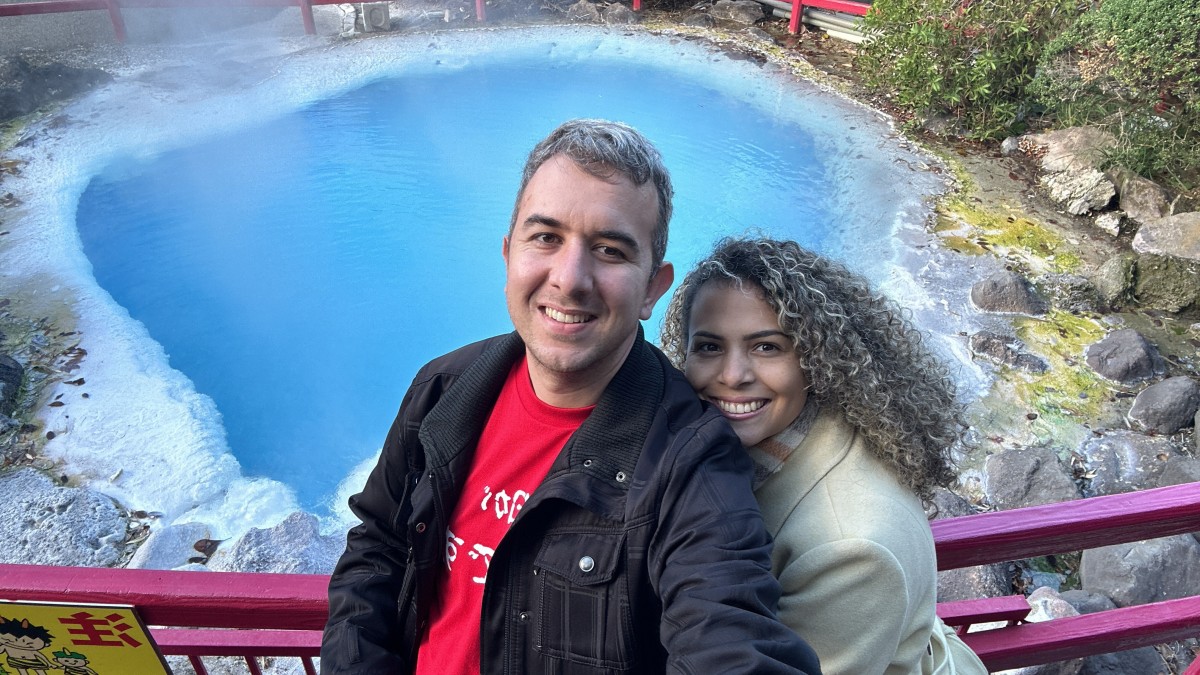 Steam in Beppu City
Beppu is a steamy place. The main reason for the city's fame is that it has the largest volume of thermal waters in the world, resulting in a lot of steam. Beppu has 2,909 aberthermal baths within the city limits.
That's about 10% of all the hot springs in Japan. If you look at the city from the outside on a cool day you'll see steam rising from half of the city's buildings.
Smoke even comes out of the street drains, and you can smell the smell of sulfur in the city, if you don't know it, it looks like a fart.
A cidade também tem uma universidade conhecida como Asia Pacific University. Uma escola bem rara, com quase metade dos estudantes estrangeiros.
Unlike most cities in Japan, which are full of elderly people, the city of Beppu has a youthful and touristy atmosphere full of shopping malls and attractions.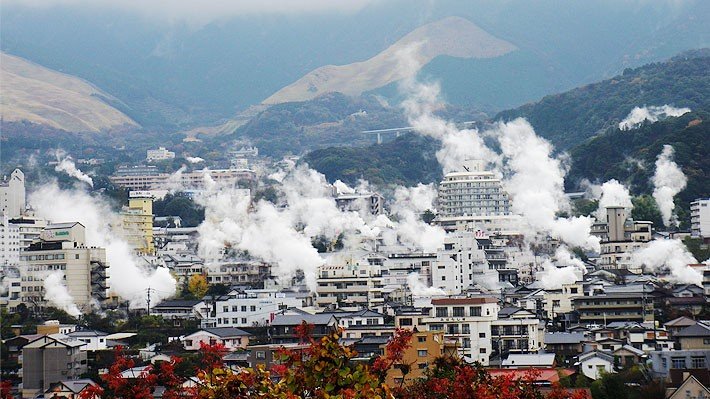 sand baths
Beppu tem tanta água termal que literalmente borbulha areia preta nas praias da cidade. Vários onsen da cidade dispõe de um serviço que vai vesti-lo em um Yukata e enterrá-lo nas areias quentes da praia de Beppu.
Some baths offer extremely wet and hot sand, while others offer dry sand like Hyotan Onsen.
Read too: Yukata – Japanese clothing for summer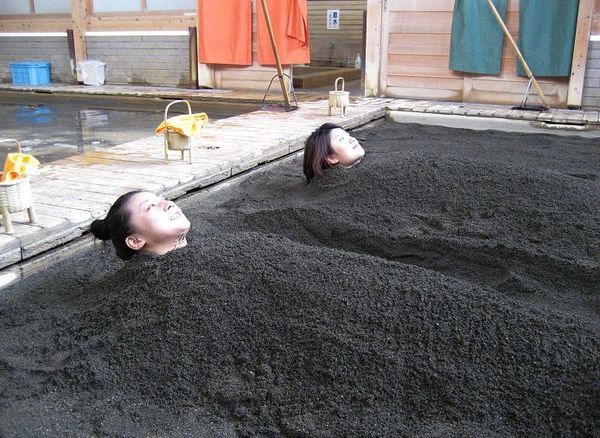 The artigo is still half finished, but we recommend opening it to read the following later:
Onsen food
Vários restaurantes e atrações em Beppu usam águas termais para cozinhar uma variedade de alimentos. Os moradores consideram saudável, porque os alimentos absorvem os minerais ricos das fontes termais.
The onsen water itself is also used as an ingredient in a wide variety of snacks and desserts sold in local gift shops.
Some onsen offer the option of cooking eggs and other foods yourself in the hot springs. It can also be found outside bathrooms.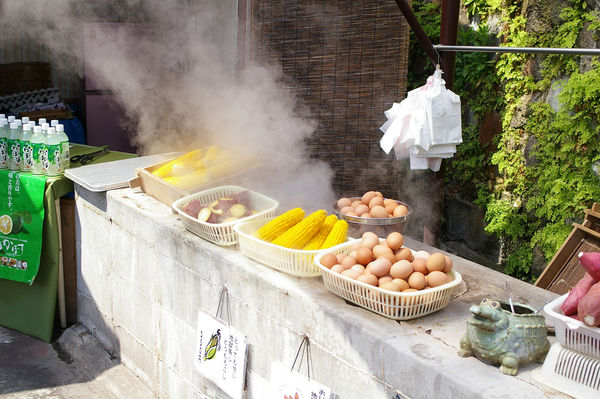 African Safari and Monkeys
In Beppu you can go on an African Safari in a type of bus with the right to feed lions, elephants, bears and several other animals.
At the Kyushu Natural Animal Park African Safari you also find hyenas, tigers, leopards, giraffes, zebras, rhinos and various deer-like animals.
In the park you will also find a place where you can play with and feed kangaroos, as well as other animals such as ponies, cats and dogs.
Another popular place in Beppu is the Takasakiyama Monkey Park, which incredibly has 10% of all the snow monkeys in Japan. You will come across more than 1500 monkeys.
Beppu is also surrounded by mountain trails. The best of them lead to hot springs deep in the forest. They are naturally a konyoku. (Natural hot spring, no sex division.)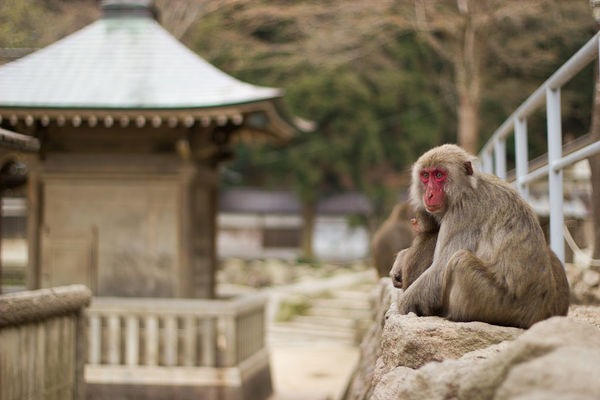 Takegawara Onsen
Opened in 1879, Takegawara Onsen is not only the oldest but also one of the most famous onsens in Beppu. This onsen is known for its historic architecture, which reflects traditional Japanese style and creates an atmosphere of tranquility and nostalgia.
The Takegawara Onsen building is an attraction in itself, with its Meiji-style roof and elegant facade. The traditional bath follows the same traditional model since its opening, there are no showers, just a pool with extremely hot water that exceeds 45 degrees.
Takegawara also offers sand bathing for around 1500 yen with Yukata. The sand is humid and quite hot, the sand bath is usually crowded and you need to make a reservation.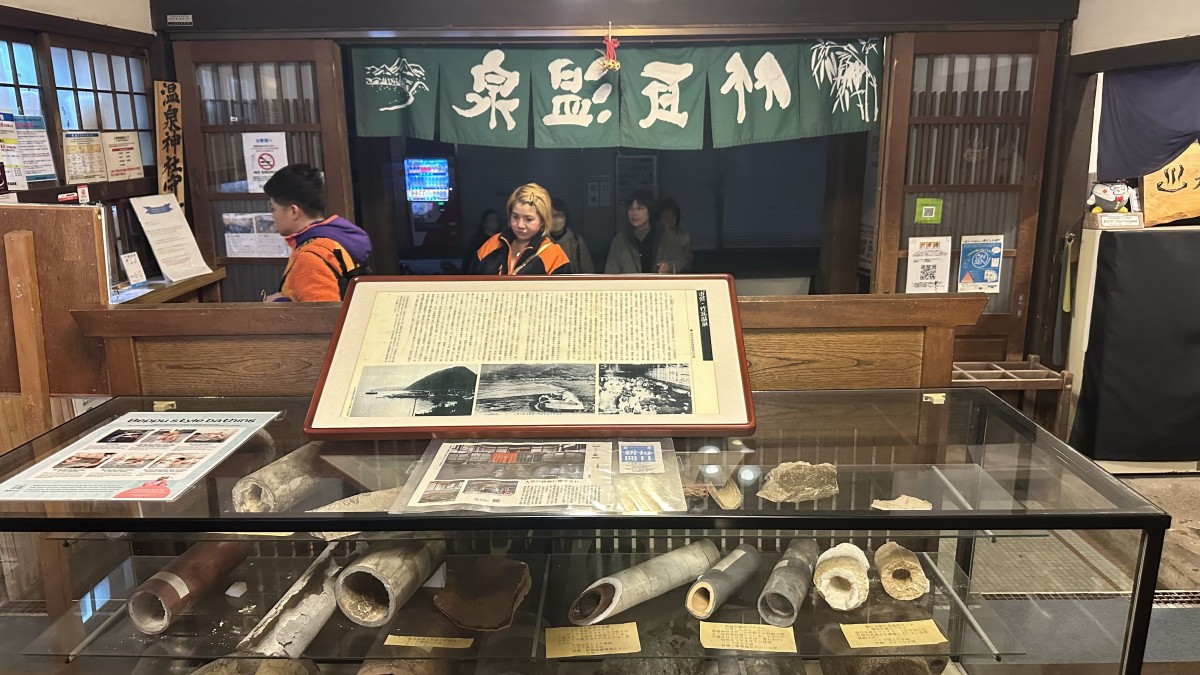 The 7 Hells of Beppu - Jigoku Meguri
Beppu is pa1TP30Particularly famous for the springs known as "Jigoku Meguri" or "Hells of Beppu". These are seven natural hot springs, each with distinct and fascinating characteristics.
For visitors, there is the option to purchase a combination ticket that allows access to all seven Jigoku for 2,100 yen for adults. Alternatively, you can visit each Jigoku individually, with an entry fee of 450 yen per site.
5 of these sources are located close to each other and are accessible for walking. Two of them are located 2 kilometers away and you need to take a bus for 20 minutes.
Umi Jigoku (Hell Sea)
"Umi Jigoku", or "Hell Sea", is famous for its turquoise water that resembles a tropical ocean. This Jigoku has a temperature of around 98°C and was formed over 1,200 years ago due to a volcanic eruption.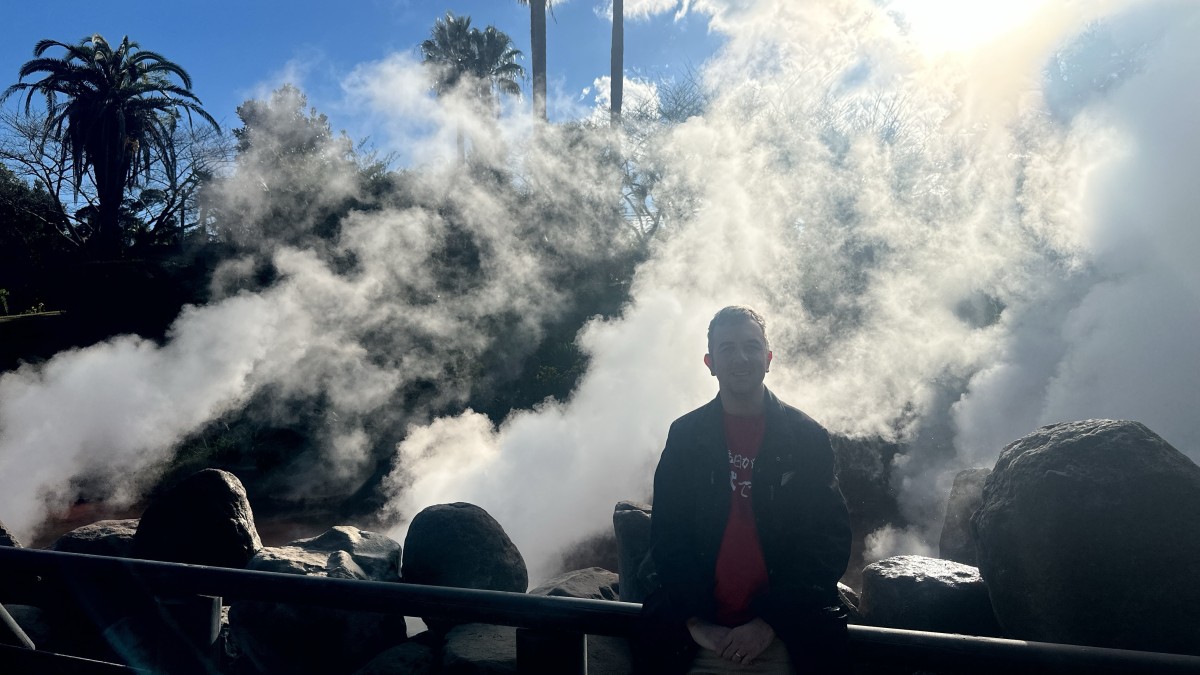 Oniishibozu Jigoku
Oniishibozu Jigoku gets its name from the resemblance of the bubbles emerging from the gray water to the shaved heads of Buddhist monks. This location offers a unique view of nature in action, with its bubbling waters.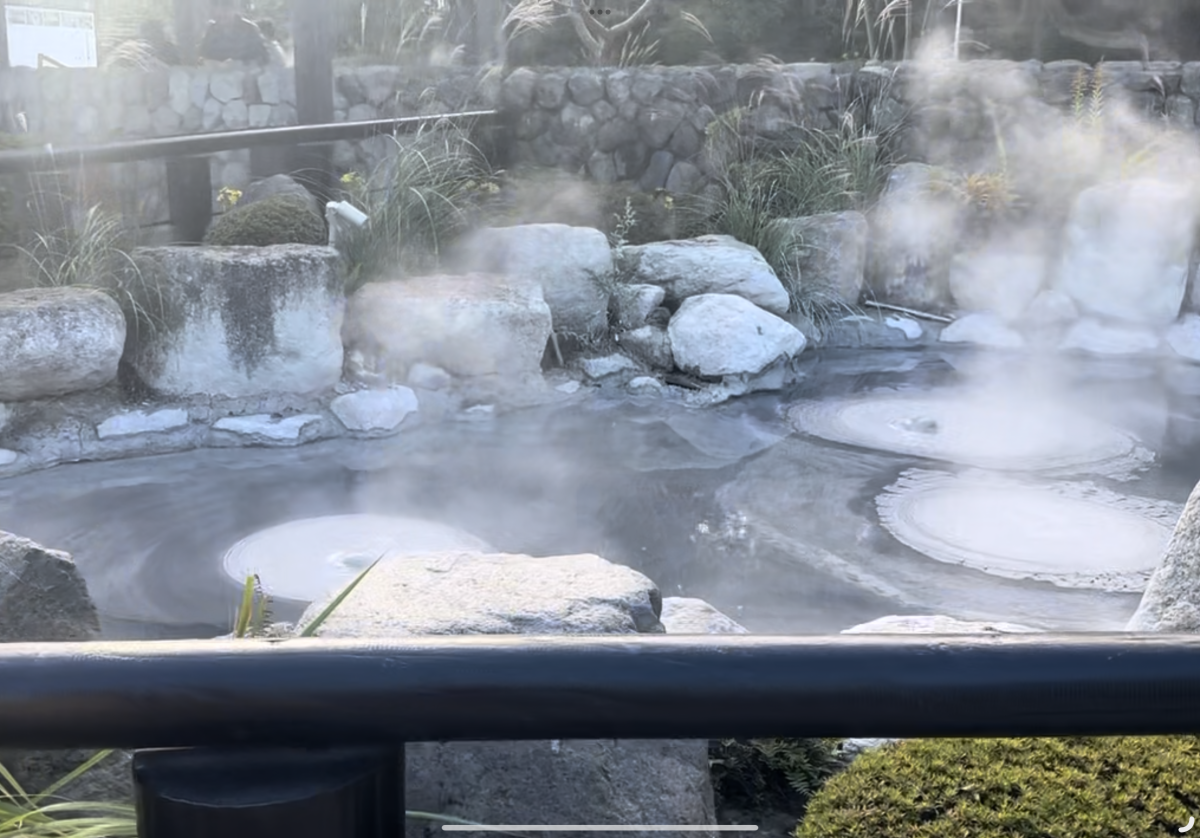 Kamado Jigoku (Hell Cauldron)
Kamado Jigoku, or "Caldeirão Inferno", is characterized by several pools of different colors and temperatures. The area also has a statue of a demon, symbolizing Hell's Kitchen.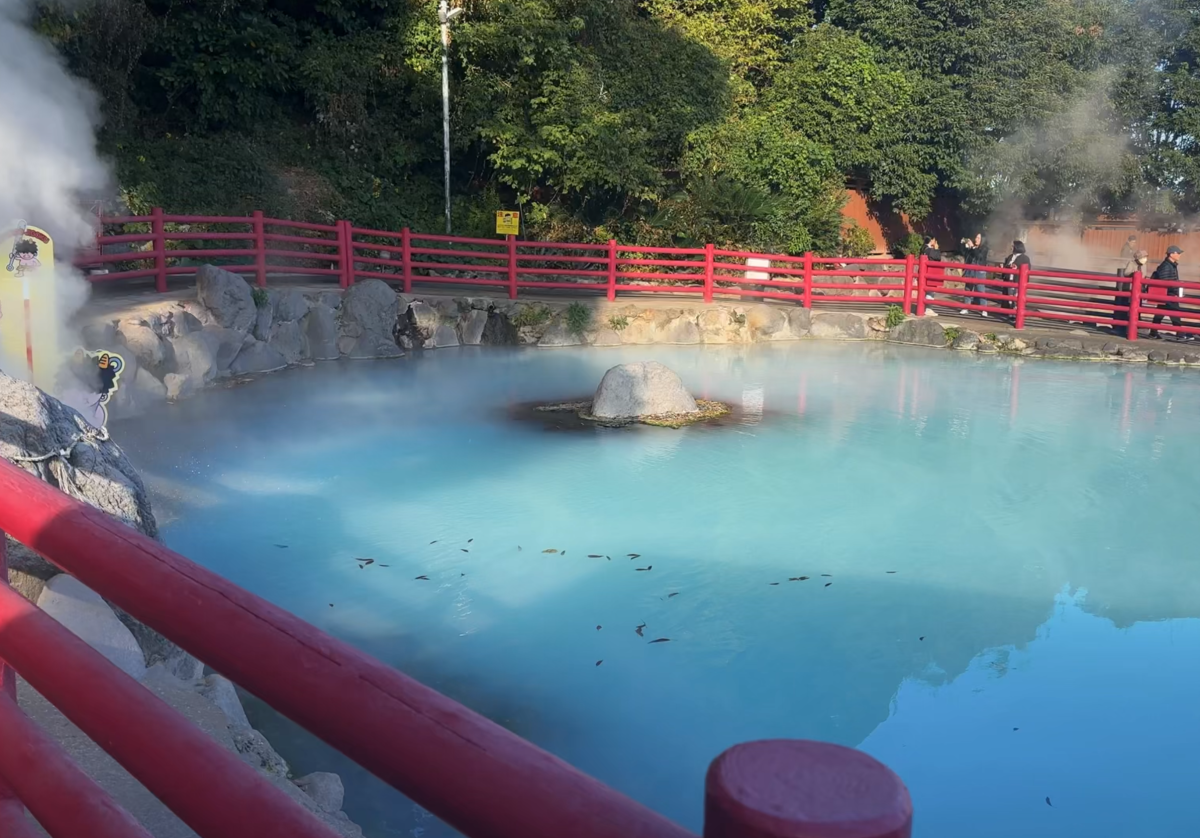 Oniyama Jigoku (Hell Demon Mountain)
Oniyama Jigoku is famous for its powerful water flow, which is so strong that it can sweep away large rocks. This Jigoku is also known for creating a habitat for a large number of crocodiles.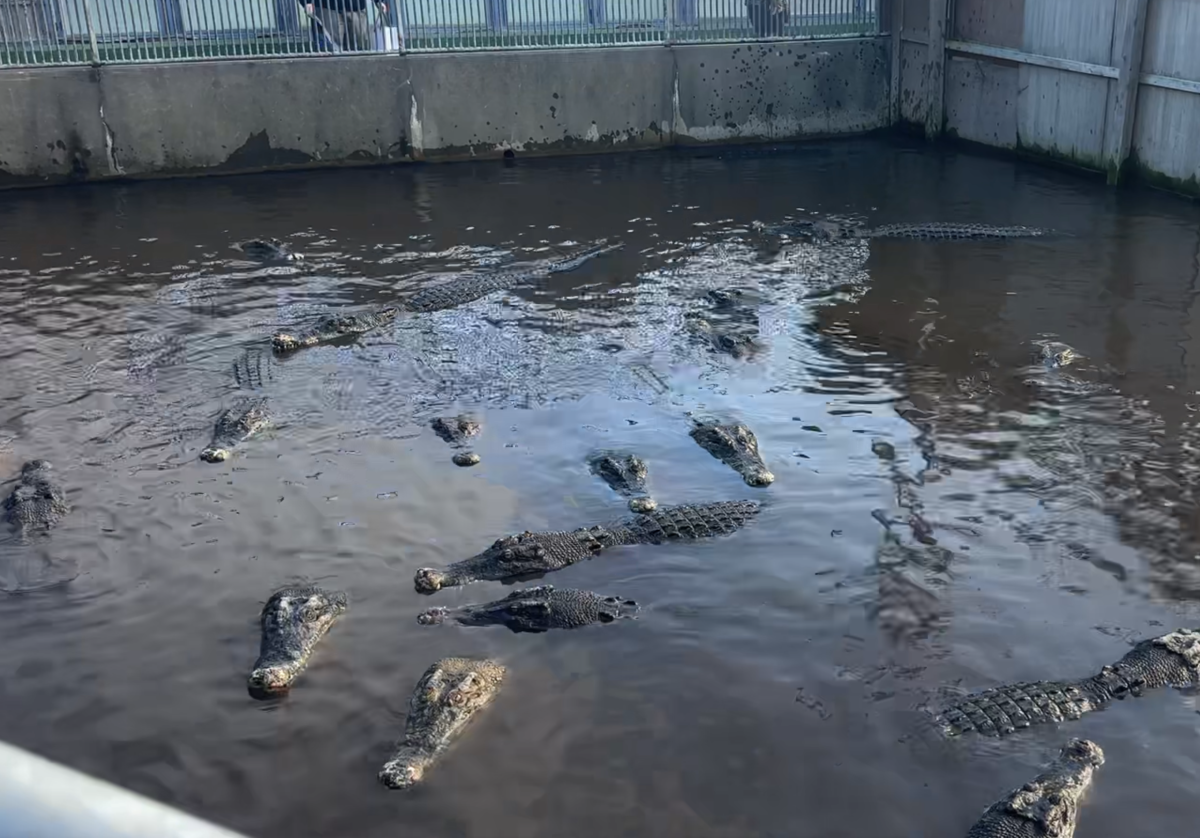 Shiraike Jigoku (White Lagoon Hell)
Shiraike Jigoku is known for its milky and calm water. The water temperature is a little cooler compared to other Jigoku, but its serene appearance and surrounding greenery provide a picturesque setting. Here you will also find an aquarium with various types of fish.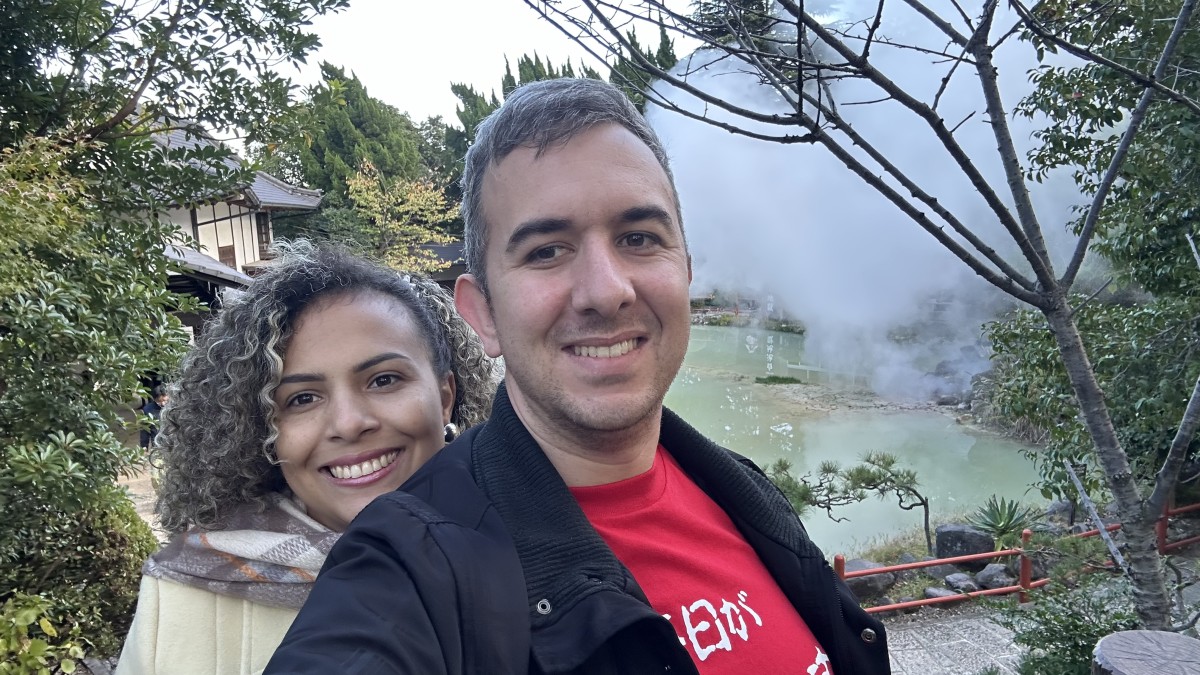 Chinoike Jigoku (Lake of Blood Hell)
Chinoike Jigoku, known as "Hell Blood Lake", is one of the most photogenic, with its red water due to the presence of iron oxides. This Jigoku, with its unique color and rich history, is one of the oldest in the area.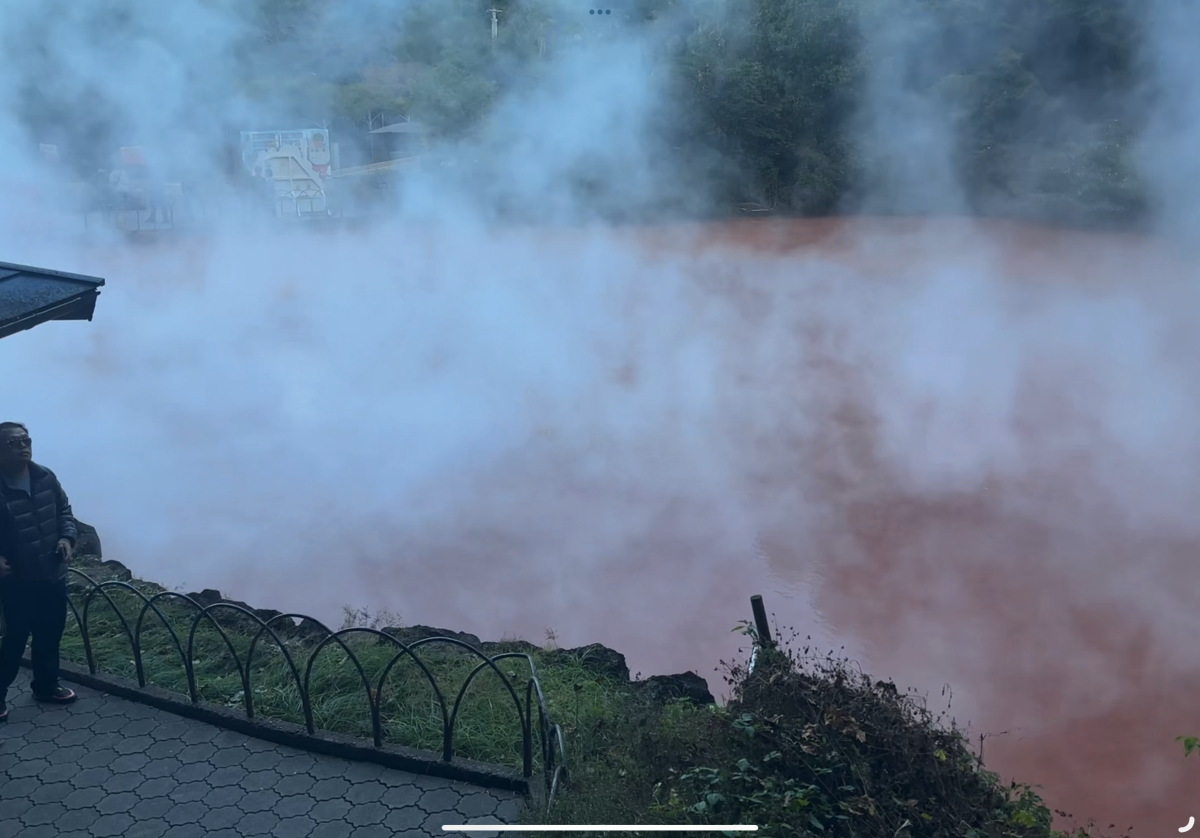 Tatsumaki Jigoku (Hell Geyser)
Tatsumaki Jigoku is notable for its geyser, which erupts regularly every 30-40 minutes. This natural hot spring is a spectacular demonstration of the geothermal activity in the area.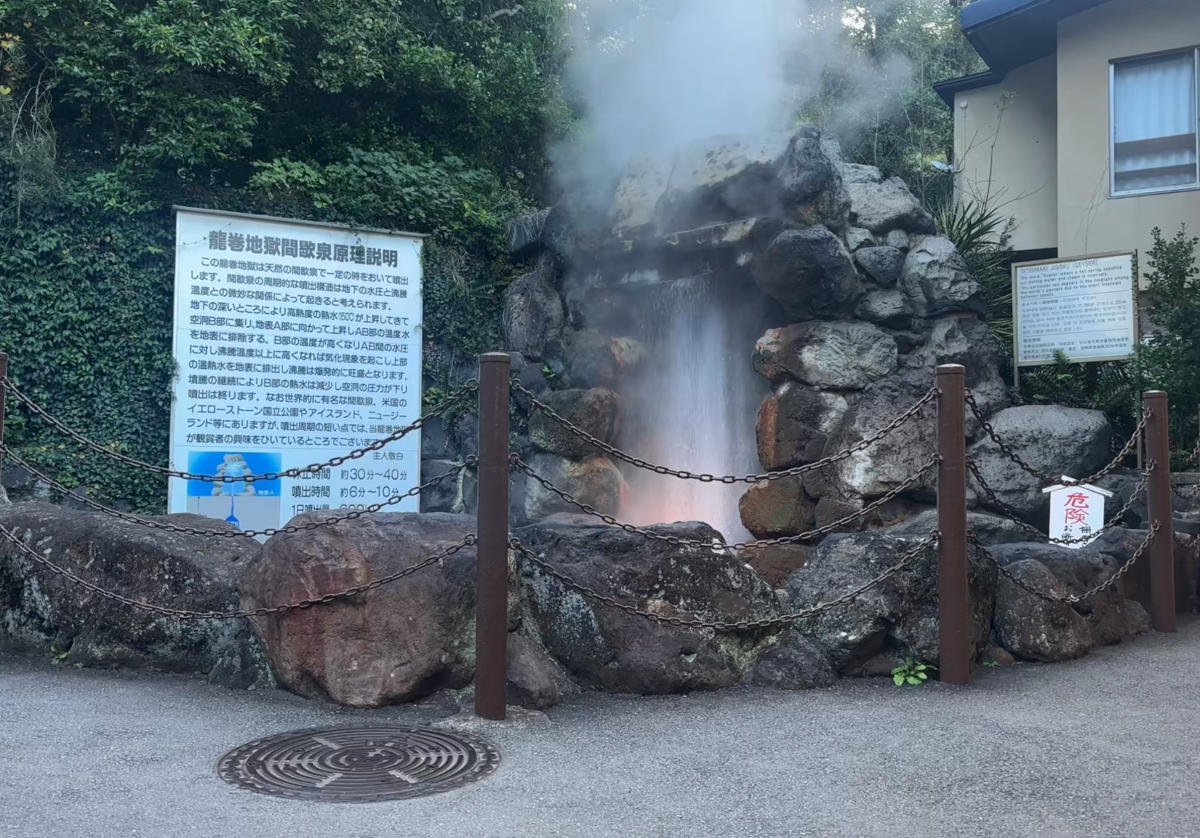 Yama Jigoku (Hell Mountain) - Extra
It doesn't match the 7 Jigoku but it's very close to Umi Jigoku!
Yama Jigoku is unique because of the variety of small animals, such as monkeys and hippos, that live on the premises. The area is more than just a hot spring, offering a zoo experience amidst hot vapors.