(If you know the game agar.io, and came through the list of decorative names, this is at the end)
This month, a simple and addictive online game called agar.io is out and about. The objective of the game is simple, you choose a name for your ball, and try to survive in a space full of other players, trying to eat smaller balls and growing, while escaping the other giant balls that try to swallow you.
I don't know the meaning of Agar.io but at least in Japanese "Oagaryo"It's like going ahead, it even makes a little bit of sense. xD But they probably put that name because of the domain ".io"And who knows how to agar comes from grabbing.
Read too:
Go - Traditional Japanese games
Undokai – Gymkhana in Japanese Schools
Agar.io style games on your Mobile - IOS, Android and Windows Phone
A brief description and characteristics of the game agar.io:
Eat Particles to grow;
Balls of the same size do not kill themselves;
There is a green thorn ball that if you are bigger and touch it explodes and divides into several. If it is smaller you can hide inside it;
You use "Space" to divide and escape from enemies;
Use the W to throw away some of your material to decrease in size and get faster;
The Game has 2 game modes, Color Team and each for you;
The game has a ranking of the 10 largest balls inside the game room;
If you want to know how the game works, check out this GamePlayer from agar.io made by nerd stuff below:
Customize your Ball - Name list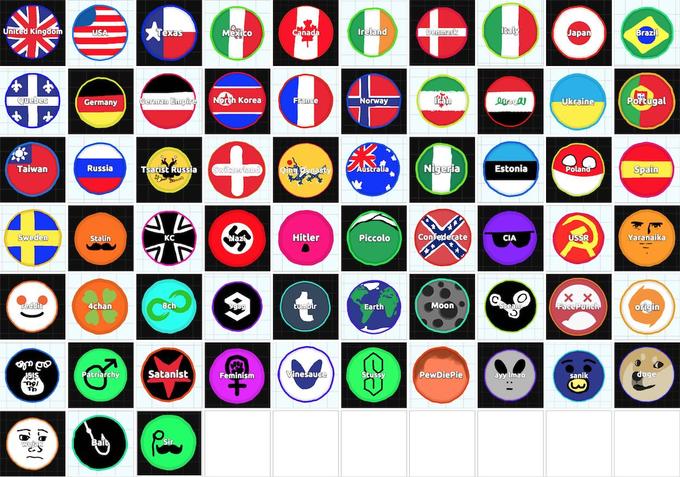 A very interesting thing, too, is that if you rename your ball with any of the names below, it will be decorated with some different design or art, instead of a random color. If you were interested in knowing all the agar.io customizations, see the list below of names that are decorated. Most are countries of the world or lokas.
Poland
USA
China
Russia
Canada
Australia
Spain
Prodota
Confederate
Brazil
Germany
Ukraine
France
Sweden
Hitler
North Korea
South Korea
Japan
United Kingdom
earth
Greece
Latvia
lithuania
Estonia
Finland
Norway
CIA
Maldives
Austria
Nigeria
reddit
Yaranaika
9gag
Indiana
4chan
Italy
USSR
Pewdiepie
Bulgaria
Tumblr
2ch.hk
Hong Kong
Portugal
Jamaica
German Empire
Mexico
Sanik
Switzerland
Croatia
Chile
Indonesia
Bangladesh
Thailand
Iran
Iraq
Peru
moon
Botswana
Bosnia
Netherlands
European Union
Taiwan
Pakistan
Hungary
Satanist
Qing Dynasty
Nazi
Matriarchy
Patriarchy
Feminism
Ireland
Texas
Facepunch
Prodota
Cambodia
Steam
Piccolo
AND THE
India
KC
Denmark
Quebec
Ayy lmao
Sealand
Bait
Tsarist Russia
Origin
Vinesauce
Stalin
Belgium
Luxembourg
Stussy
Prussia
8ch
Argentina
Scotland
Sir
Romania
Belarus
Wojak
ISIS
Doge
Byzantium
Imperial Japan
French Kingdom
Somalia
Turkey
mars
Poker face