Time travel is one of my favorite genres, both in anime and movies and series. In this article, we are going to share the best time travel anime followed by a complete list of them, including OVAs and movie animations.
– 3 Best Time Travel Anime
I want to take this opportunity to mention that my favorite western series are time travel. Its about 12 Monkeys and workers, I recommend watching both. I also recommend Drama Nobunaga Concert.
Steins;Gate - The best anime of all time
Steins;Gate is not only the best time travel anime, but also one of the best anime of all time that dominates the top positions in the BAD. A very good anime, but unfortunately it goes unrecognized by many.
The anime has two seasons and a movie, one of the seasons being an alternate view of what passes between two timelines. The anime approaches time travel in a funny way with a lot of suspense and a lot of psychological terror.
The beginning of the anime and its synopsis is a little strange, it tells the story of a crazy young man who suffers from chuunibyou crisis. In their mad scientist daydreams together with their friends, they manage to invent a machine that sends SMS to the past.
The first 13 episodes have a light, funny and a little crazy atmosphere, but then the anime's scenario totally changes to something that messes with the psychological of those who watch, makes the person very tense and makes all the madness of the previous episodes play an important role in the story.
The anime has a perfect beginning, middle and end, without leaving any flaws and with complements of the same quality as the original series. The anime is based on a visual novel computer game that allows different player choices.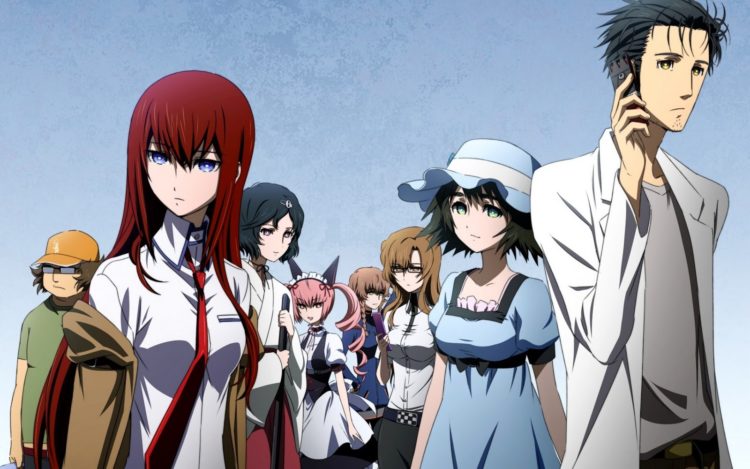 Erased – Boku dake ga inai machi
 Hardworking manga author Fujinuma Satoru is plagued by a fear of expressing himself. However, he has the supernatural ability to be forced to avoid deaths and catastrophes by being sent back in time before the incident occurred, repeating time until the accident is averted.
One day, he is involved in an accident that incriminates him as a murderer. Desperate to save the victim, he travels back in time only to find himself an elementary school student a month before his classmate Hinazuki Kayo disappears. Satoru now embarks on a new quest: to save Kayo and solve the mystery of her disappearance.
Erased doesn't present complex themes, as Steins;Gate does, although Erased is the kind of story that doesn't need much explanation, but rather an appreciation of its characters, settings and story development.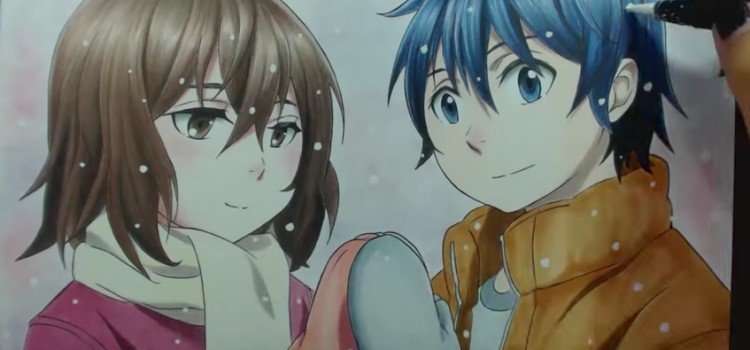 RE:Zero Kara Hajimeru Isekai Seikatsu
It tells the story of Subaru a normal boy who lives as an Otaku geek who one day is taken to a fantasy world with the power to go back a little in time when he dies. Unfortunately he cannot tell about this power.
Suffering a lot in this world, Subaro falls in love with a white-haired girl with the power of ice who resembles a witch who causes panic in the inhabitants of this world.
Considered one of the best Anime of 2016, this anime is undoubtedly an opinion divider. Some think it didn't have a good outcome and development, while others think it was the perfect anime.
R$ 79number_format_decimal_point90
-
-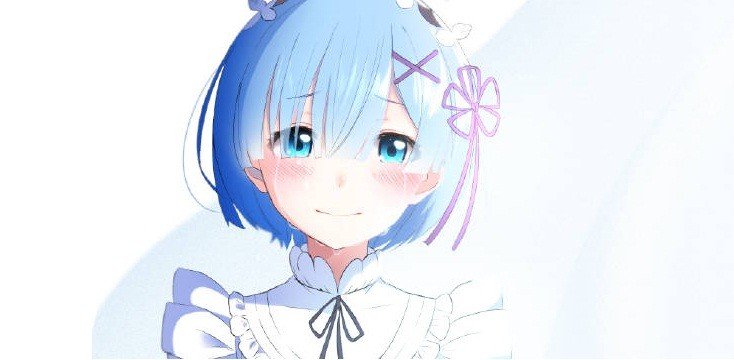 List of time travel anime
Responsive Table: Scroll the table to the side with your finger >>
| | |
| --- | --- |
| Steins;Gate | 2011 |
| ERASED | 2016 |
| Steins;Gate 0 | 2018 |
| Re:ZERO -Starting Life in Another World- | 2016 |
| InuYasha: The Final Act | 2009 |
| Team Jam: Valerian & Laureline | 2007 |
| IRODUKU: The World in Colors | 2018 |
| The Ambition of Oda Nobuna | 2012 |
| Nobunaga Concert | 2014 |
| InuYasha | 2000 |
| zip | 2004 |
| Ojarumaru | 1998 |
| Natsu no Arashi! akinaichuu | 2009 |
| Meiji Tokyo Renka | 2019 |
| Buddy Complex | 2014 |
| occult academy | 2010 |
| Natsu no Arashi! | 2009 |
| Generator Gawl | 1998 |
| Muka Muka Paradise | 1993 |
| Sakurada Reset | 2017 |
| Time Travel Tondekeman! | 1989 |
| Extra Olympia Kyklos | 2020 |
| punch line | 2015 |
| Gan Gan Ganko-chan | 2017 |
| DNA² | 1994 |
| Battle Girls: Time Paradox | 2011 |
| Time Travel Girl | 2016 |
| YU-NO: A Girl Who Chants Love at the Bound of This World | 2019 |
| island | 2018 |
| Team Bokan | 1975 |
| Bakumatsu: Crisis | 2019 |
| Gunslinger Stratos: The Animation | 2015 |
| Rakugo Tennyo Oyui | 2006 |
| zentrix | 2003 |
| Tsuki wa Higashi ni Hi wa Nishi ni: Operation Sanctuary | 2004 |
| Flying House | 1982 |
| RErideD: Derrida, who leaps through time | 2018 |
| Flint the Time Detective | 1998 |
| Ikemen Sengoku: Toki wo Kakeru Koi | 2017 |
| Team Bokan: The Villains' Strike Back | 2017 |
| Butlers x Battlers | 2018 |
| Bakumatsu | 2018 |
| Tamagotchi! Miracle Friends | 2013 |
| Team Bokan 24 | 2016 |
| Nobunaga teacher's young bride | 2019 |
| dokachin | 1968 |
| Mirai Kara Kita Shounen Super Jetter | 1965 |
| Gan Gan Ganko-chan 2nd Season | 2018 |
List of time travel manga
Below we will share a list of mangas that have a focus or some relation to time travel:
Responsive Table: Scroll the table to the side with your finger >>
| | |
| --- | --- |
| Manga or Novel Name | Year |
| Sousei in the Taiga | 2017 |
| Re:ZERO -Starting Life in Another World- (Light Novel) | 2014 |
| Sengoku Komachi Kuroutan: Noukou Giga | 2017 |
| red river | 1995 |
| Pharaoh's Concubine | 2015 |
| erased | 2012 |
| The Journey | 2007 |
| Steins;Gate: Chouyoku no Divergence – Reverse (Light Novel) | 2011 |
| Tokyo Revengers | 2017 |
| Re:ZERO -Starting Life in Another World-, Chapter 3: Truth of Zero | 2015 |
| doraemon | 1964 |
| The Ambition of Oda Nobuna (Light Novel) | 2009 |
| Kimi to Boku no Ashiato: Time Travel Kasuga Kenkyuusho | 2009 |
| Re:ZERO -Starting Life in Another World-, Chapter 2: A Week at the Mansion | 2014 |
| Henyoku no Labyrinth | 2014 |
| Nobunaga no Chef | 2011 |
| Threads of Time | 1999 |
| Souboutei Kowasu Beshi | 2016 |
| Daichohen Doraemon | 1988 |
| Jin | 2000 |
| Sailor Moon | 1991 |
| ashi-girl | 2011 |
| golden days | 2005 |
| Ryuurouden | 1993 |
| Feng Yu Jiu Tian (Novel) | 2004 |
| Thermae Romae | 2008 |
| Nobunaga Concert | 2009 |
| Shinobi Life | 2006 |
| Tsuyokute New Saga | 2014 |
| Sengoku Strays | 2007 |
| Namidaame to Serenade | 2014 |
| 5-fungus in Sekai | 2018 |
| Babel (Noriyoshi Inoue) | 2015 |
| Crazy Girl Shin Bia | 2008 |
| The Ambition of Oda Nobuna | 2011 |
Japanese Time Travel Animated Films
The list below shows some Japanese movies followed by year of release that have some kind of time travel or are focused on that genre. Hope you like the short list of movies below:
Responsive Table: Scroll the table to the side with your finger >>
| | |
| --- | --- |
| Cleopatra | 1970 |
| Doraemon: Nobita's Dinosaur | 1980 |
| Toki no Tabibito: Time Stranger | 1986 |
| Doraemon: Nobita's Version of Saiyuki | 1988 |
| Doraemon: Nobita at the Birth of Japan | 1989 |
| maroko | 1990 |
| Dorami-chan: Hello Kyouryuu Kids!! | 1993 |
| Crayon Shin-chan Movie 3: Unkokusai no Yabou | 1995 |
| Doraemon: Nobita's Genesis Diary | 1995 |
| New Kimagure Orange Road: Summer's Beginning | 1996 |
| Doraemon: Nobita no Kekkon Zenya | 1999 |
| Doraemon: Nobita and the Legend of the Sun King | 2000 |
| Doraemon: Obaa-chan no Omoide | 2000 |
| Saving our Fragile Earth: Unique Special Chapter | 2000 |
| Ojarumaru Movie: Yakusoku no Natsu Ojaru to Semira | 2000 |
| Crayon Shin-chan Movie 10: Arashi wo Yobu Apparé! Sengoku Daikassen | 2002 |
| landed | 2002 |
| The Golden Laws | 2003 |
| The Girl Who Leapt Through Time | 2006 |
| Doraemon: Nobita's Dinosaur (2006) | 2006 |
| Superflat First Love | 2009 |
| The Disappearance of Haruhi Suzumiya | 2010 |
| Naruto Shippuden Movie 4: The Lost Tower | 2010 |
| Crayon Shin-chan Movie 18: Chou Jikuu! Arashi wo Yobu Ora no Hanayome | 2010 |
| Junod | 2010 |
| The Dreams of Jinsha | 2010 |
| Psychic School Wars | 2012 |
| Magic Tree House | 2012 |
| Nijiiro Hotaru: Eien no Natsuyasumi | 2012 |
| Gintama Kanketsu-hen: Yorozuya yo Eien Nare | 2013 |
| Steins;Gate Movie: Load Region of Deja Vu | 2013 |
| Youkai Watch Movie 1: Nyan's Tanjou no Himitsu! | 2014 |
| Meiji Tokyo Renka Movie: Yumihari no Serenade | 2015 |
| Meiji Tokyo Renka Movie 2: Hanakagami no Fantasia | 2016 |
| Doraemon: Nobita at the Birth of Japan (2016) | 2016 |
| Re:ZERO -Starting Life in Another World- Memory Snow | 2018 |
| Mirai | 2018 |
| Batman Ninja | 2018 |
| The Laws of the Universe: Part 1 | 2018 |
| Rascal Does Not Dream of a Dreaming Girl | 2019 |