One of the most striking points of Kabukicho in Shinjuku is a bar called Robot Restaurant. A place full of lights, neons and flashing signs, where they offer shows full of luminous robots, girls dressed in character with lots of dancing and vibrant music. An interesting place, but expensive!
when entering the Robot Restaurant, you are taken to a "waiting room" where there is actually a restaurant with a food/snacks and drinks menu. When the show starts, you are taken to a room where the shows will take place. You can choose to buy a meal to eat at the show.
The show surprises and pleases visitors, mainly because of the nostalgia of the 90s. The place is very colorful, psychedelic and despite being located in an adult neighborhood, the robot restaurant is free for children and teenagers. They even offer earplugs for the sound.
The big problem is that people get too excited before going. I've heard many disappointments from people who expected something different. Before visiting the place, it is necessary to know it and know if it is really worth visiting it. Instead of just mentioning that it is a colorful and lively place, in this article we will really get to know the Robot Restaurant.
What to expect from Robot Restaurant?
Some simply expect the restaurant to be something technological with real robots serving customers. Such robots are, in reality, large machines controlled by a remote control or pushed by people. At no point did the restaurant promise high technology and real robots.
If you're familiar with carnival, the show is basically that. Something colorful full of girls in costumes with lots of music and lights. It may seem like something common to many Brazilians, but for the Japanese it becomes a very popular and unique destination.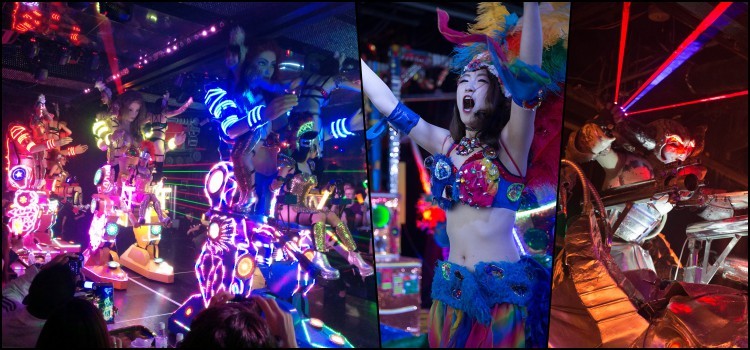 If you are going to enter this restaurant, be prepared to spend 10,000 yen or more. Buy tickets online, because at the door the price doubles. There are long breaks during the show for sales of gifts and drinks.
The restaurant is actually a show house, serving ready meals on trays. The show is very different and interesting, but it's not for everyone. Visiting Robot Restaurant can make for a fun, funny and bizarre night out. If you're interested in the show, I think it's worth a visit once.
You can watch the video below to learn more about this restaurant. There are other more interesting and cheaper themed options spread across Japan, maybe you prefer them. Thanks for reading our little article. We appreciate the comments and shares.