In this article, we are going to talk about one of the most famous drawing courses today. The course How to draw taught by Thiago Spyked. A very complete drawing course that covers all styles, from comics to manga.
Thiago Spyked is the right person to teach you how to draw, honestly he is one of the best drawing courses that I met today. He's not just any designer, he has new releases and his own publishing house called Publisher Crás.
All about the How to Draw course
How to draw is an online drawing course created by Thiago Spyked since May 2018 in partnership with Kebook. The course method was entirely developed by Thiago and has a differential that addresses main design concepts.
The course promises to teach you to draw any style of stroke, be it comics or manga. The aim is to allow the student to develop their own trait without acquiring addictions. We can see in Thiago's books that he adopts his own trait and draws in the manga style.
Another advantage that some courses do not have is that Thiago Spyked updates its content so that it is becoming an encyclopedia of knowledge with a rich list of exercises, in addition to digital interaction with students.
The course is entirely divided into modules, as the content is online and can be accessed from anywhere and studied whenever you want at the speed you want. You can buy without fear, as the product is guaranteed by Hotmart.
"I believe that knowledge is the path to freedom for a human being. The practice of drawing stimulates creativity and even the perception of the world. In order to draw, it is essential that the artist pay attention to details that go unnoticed, that he question shapes, colors and life in general. Reading comics is an exercise in intelligence, interpretation and interaction with a fantastic imagination. A reading that inspires us and makes us question our reality. I believe that by sharing my experience I can show what this universe can provide, in addition to guiding those who want to make drawing their profession."
– Thiago Spiked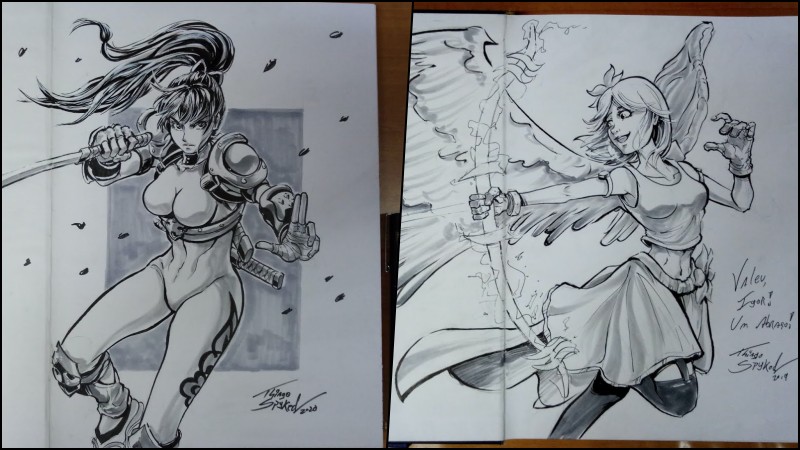 Course Content How to Draw
It's hard to list all the modules of the How to Draw course, but it's good to mention that the course has its own student platform (nothing like Hotmart Club's frills). Fully customized for the best student experience.
Thiago Spyked's course teaches you to draw both on paper and digitally, with new modules added this year. Some of the modules covered in the course are:
Finishing and effects
Angulation in the body
Applying colors;
Application in elements of nature;
Introducing Photoshop
Head and face;
Cylinders, Cones and Proportions;
How do you plan a composition?
body of man and woman
creating materials
Circle and Cubes
Giving volume to the drawing
Vector Drawings;
Understanding and creating brushes
Light and contrast graduations;
Light and shadow
Thumbnail and speed
Movement and dynamism
Hands
The observation drawings;
Irregular objects and proportions;
Perspective;
Body positions and constructions
Feet
hip and legs
Rotation of the head and hair;
Second process – Drawing with spots
Texture and detailing;
torso and arm
Techniques for creating characters
Various Bonuses when purchasing How to Draw
When you buy How to Draw, you will receive as a bonus several video courses and books on different subjects. Content that, when purchased separately, would cost over 60 USD. See bonus topics:
Demystifying Myths Guide
College to be a Designer is necessary?
Instant Work Manual
How and where to start working with drawing?
Drawing Materials Tab
Where to buy drawing materials?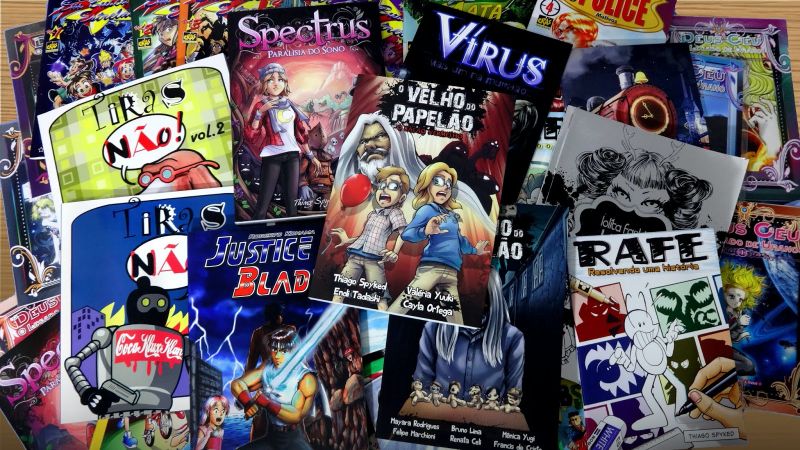 Course How to draw comics
For those who already know how to draw or are looking for an even more complete course, which will take them to the job market at the level of a comic artist or mangaka, Thiago Skyped has a more complete and more advanced (also more expensive) course, called How to Draw Comics.
Unfortunately, this course is still only available at a certain time of the year, through a launch of classes. A course suitable for those who are already more advanced or have already taken their first course. Focused entirely on comic book production.
Content Covered in How to Draw Comics
See below some of the topics covered in Thiago Skyped's comics course:
The Atmosphere of Design
The 7 Steps
Balloons and Texts in Comics
How and Where to Work with Comics
Colors in Comics
Credibility X Popularity
Character Creation, the Protagonist
Character Creation, the Supporters
Drawing Balloons and Onomatopoeias
Designing your Characters
Comics Design and Editing
Scanning your Pages
Copyright
Publicity and Calls for the Project
writing the script
HQ alone or in a group
Narrative Flow
Genres and Traits in Comics
inspirations
ISBN and Catalog Sheet
Logo Comic Book Covers
Necessary materials
Comic Market I: Simulation of an Ideal System
Comic Market II: Anime, Games, Toys and Derivatives
Comic Market III: The Artist's Role
Comic Book Market IV: How is it in Brazil?
Comic Market V: The 3 Pillars of the Future
Comic Market VI: The Reinvention of the Market
Comic Book Market VII: Hope and its Role
Modes of Financing, Money
Organization Method to Work
Printing Methods, Graphics and Formats
Methods for Digital Distribution
Narrative, the act of telling a story
The future…
Where and How to Sell?
Script Paradigm
Perspective in Comics
Plans and Frameworks
Possible International Paths
Pre-Project
Social Networks and Outreach
Secrets to Good Screenplays
storyboard
Topics to Address
Timing and Time Frames
Character Traits and Styles
Final Art Techniques
You are selling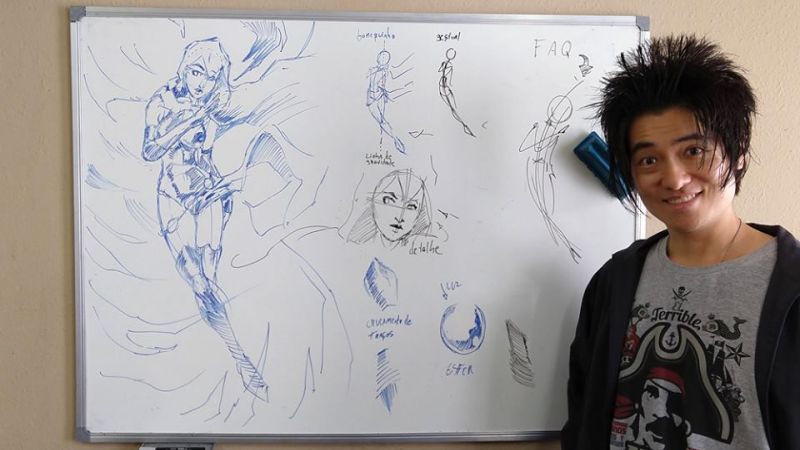 About the Author Thiago Spyked
Thiago Spyked is a Paulista who has always liked to draw and read comics. He holds a BA in Industrial Design from Mackenzie (2003 – 2006) and a Masters in Communication from the University of São Paulo (2013 – 2015).
Thiago is a designer, illustrator, art teacher, entrepreneur, editor, speaker, youtuber and comic book author. Provides services in the area of illustration and graphic design, he was the art and creation director of the company Supereficiente that works with teaching materials in Libras and Braille.
In addition, he provided services to companies such as Playcenter, Wolksvagen, Editora Abril and to the DPTO agency. He has been teaching drawing and comics since 2009, giving free courses in schools and in partnership with the Municipal Secretariat of Libraries of the city of São Paulo.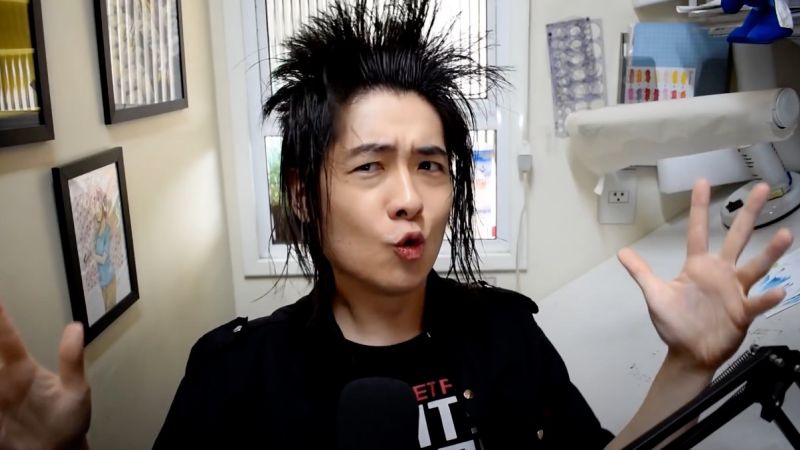 The Works of Thiago Spyked
He has been working as an independent comic artist since 2003 without interruption. His trajectory as a comic artist can be listed by:
In Search of the Stars' (2003 to 2008);
Rafe: Solving a Story (2009);
Rafe: Solving the Layout (2011);
Virus: One More in the Crowd (2013);
Spectrus: Sleep Paralysis (2016);
The Cardboard Old Man: The Red Balloon (2017);
Requiem: Symphony of Sins (2018);
The Aristocracy of Lost Children (2019);
Final stop (2019);
The Village of Puppets (2019);
Other works and participations:
Podium GP;
Zumi & Lumi;
Vendetta
Justice Blades
Sky God and the Legacy of Uranus
World Police
Numb Strips
Strips No!
Spectrus: Sleep Paralysis
sketchboo
Interview and Article at Neo Tokyo
Hope is Blue book
Final Stop comic
If you want to read or see some of Thiago Skyped's works, you can buy it on Amazon Brazil, some of the items are listed below, just click to access:
Thiago Spyked jobs and jobs
-Coordination of team and production of caricatures at Festival do Japão in São Paulo in 2012, 2013, 2014, 2015 and 2017.
-Production and creation of audiovisual educational content for the internet, scripts, videos and creation of educational programs for entertainment. Basic audiovisual editing knowledge. (continuous since 2012).
-Art direction and editorial for the company Supereficiente! Which publishes textbooks for literacy in Libras and Braille. 2010 to 2016.
-Illustration and graphic design direction of the Trilharty company cases collection – 2012.
-Director of interior design project at PopKai store located in Riberão Preto – 2011.
-Provision of graphic design and illustration services. Highlights: DPTO Advertising Agency, Playcenter, Rayovac, Volkswagen, ACP Plásticos and Faculdade Inesp.
-6 month internship at Menes Learn Insight (2006) and at ATR-2 Japan (2005).
Youtube channel Crás Conversa
Thiago Skyped also supports a youtube channel with more than 350,000 subscribers. The Channel addresses topics such as how to draw and how to make comics with free tutorials and classes together with several designers from Brazil.
About Publisher Cras
Editora Crás was created in 2007 on the initiative of comic book artist Thiago Spyked, who for a long time thought about an idea that could make the publication of his comics more viable, reaching a greater number of readers.
As an independent author, Thiago saw that professional growth opportunities were very limited, and that it took much more than quality work to gain the attention of readers and break the "amateurism" barrier.
That's where the idea of create a brand that identified a work of quality and with editorial commitment. This brand represents common concepts and focuses, coherent and applicable to the market and contemporary culture, Publisher Crás.
The publisher's objective is to publish comic books and products derived from them focusing on information and entertainment. Enable authorial publications of comics with graphic and editorial quality. His online store also sells products for designers.
The company provides partners with editorial solutions, innovative and creative proposals and a professional attitude in negotiations. To new authors, provide structure and paths for their ideas to materialize and for them to enter the job market.
If you still think that Thiago Skyped is not a suitable teacher to teach you how to draw, I don't know who else it could be. I hope you enjoyed this article, if you liked it share and leave your comments.