Ever heard of portable translators? I've seen several similar products being sold in Instagram ads, but I never paid much attention, even because the ads were in English. In this article I want to talk a little about these translators.
There are several portable translators. Some work by pairing with a cell phone, others need internet, others more expensive promise to do everything alone without depending on the internet, through storage and internal system.
Why do I need a portable translator?
Some might question why having a portable translator with the existence of smartphones. The advantage of this device is that it works fully with audio and instantly.
Another advantage of the portable translator is that many of them do not need the internet. No matter where the end of the world is, you can be worry-free when it comes to communicating with the natives of each country during your trip.
It is also very portable with a battery life of over 6 hours. Most devices translate into more than 40 languages. These devices can range from 100 to 1,000 reais according to model and functionality.
We recommend reading: Tips and Cautions when using Google Translate in Japanese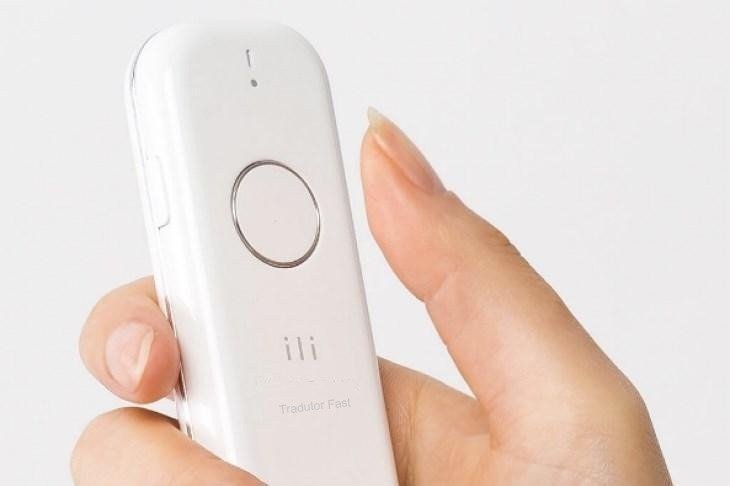 How to buy a decent portable translator?
People use misleading advertisements to make crappy portable translators look extremely spectacular. People are attracted to the product's features and end up buying a product of dubious quality on impulse.
The products do usually deliver what they promise, but unfortunately it is difficult to identify a true advertisement or find an original translator that fulfills its function without relying on smartphone or bluetooth applications.
These products are viral, which has given rise to thousands of low-quality products made in China that promise to perform the same functions.
Unfortunately I have not had my experience with these portable translators to give an opinion. This article was originally to promote the portable translator that a friend was selling with dropshipping, but unfortunately it let me down and didn't fulfill the promised requirements. What made me modify that article.
Fortunately, no one was harmed with the purchase of a translator from China and a somewhat misleading advertisement that promised translation without depending on the cell phone and offline. Everyone received their refunds.
The product of the photos in this article belong to the translator: New Offline Type Speech Translator ili LM11-JA002A. This model really promises offline translation independent of apps and other functions. So much so that it costs a lot more than the others.
We recommend reading: Complete Guide – Japanese Translators and Translation