A genre widely explored in Japan is music, whether with bands or classical instruments. With that in mind, we wrote this article with a complete list of the best music anime of all time. In addition, we will leave a complete list with these anime for those who want to explore the genre 100%. We will also include the famous Idol anime.
In order not to get messy, let's leave it separated into categories of bands, instruments (classical songs) and idols. We will not leave any order or ranking, we believe that each music anime mentioned in this list has its merits, the other anime will be in the final list. If any anime is missing from the list, or if you want to comment on it, use the comments section at the end of the article.
Some music anime are focused only on the music, while others have a deeper story and leave the music in the background. Let's leave a number of • (1-3) that represent how much music is present in the anime.
We also recommend reading:
Classical music anime and instruments
Let's start with classical or instrumental anime recommendations:
Shigatsu wa Kimi no Uso
This is without a doubt one of the best and saddest music anime of all time. A heavy drama involving piano and violin. The art, designer, soundtrack, story, characters and direction is worthy of a masterpiece.
Like any anime, it has its flaws, but it's a must-have anime for anyone who likes the genre. It tells the story of a boy with trauma from playing the piano because of his mother, until he finds a violinist who will help him get over it. MANDATORY! •••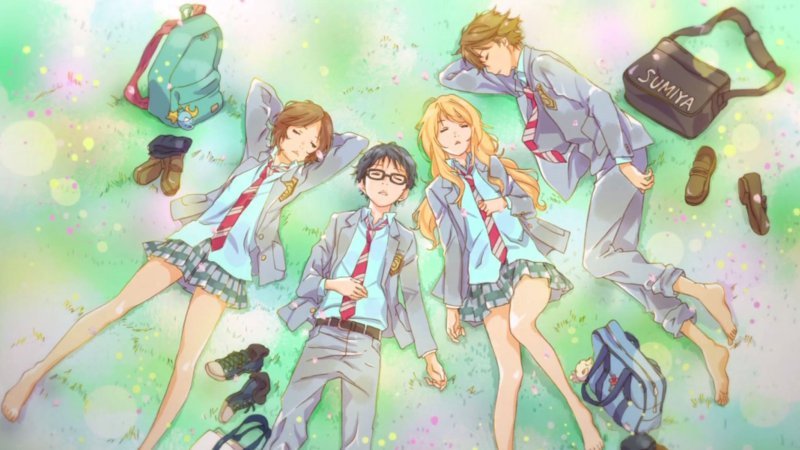 Nodame Cantabile
Another very good anime, with a lot of comedy and drama involving classical music. This was one of the anime that brought the genre to life, it tells the story of a crazy pianist who likes to play freely without depending on rules and scores and a perfectionist musician who only knows how to follow rules. The anime has several seasons and even drama. SUPER RECOMMEND! •••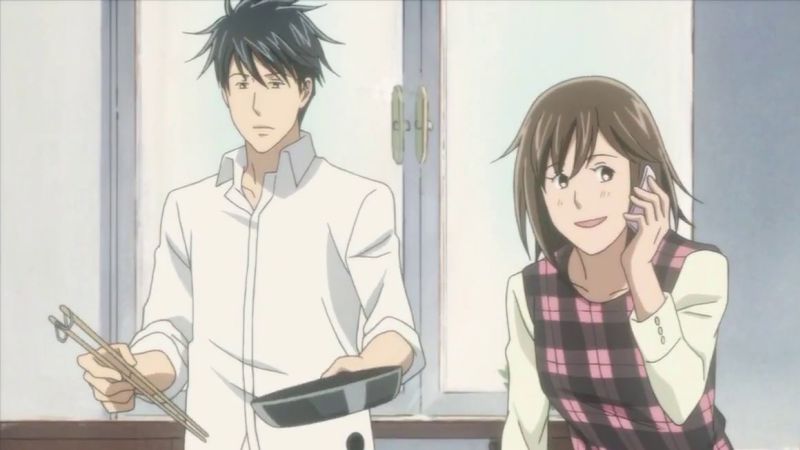 Sakamichi no Apollon
An anime that deals with the often overlooked jazz genre. It tells the story of a classical pianist named Kaoru who is introduced to the world of jazz music by a delinquent named Sentarou. The anime shows the bonds formed by friendship and music. VERY GOOD! •••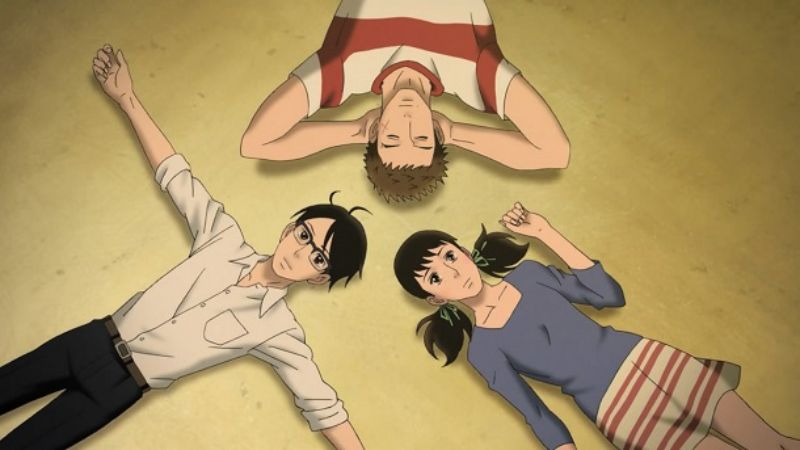 Piano no Mori
A film involving a piano in the woods. I don't really know how to describe this story, but I recommend it!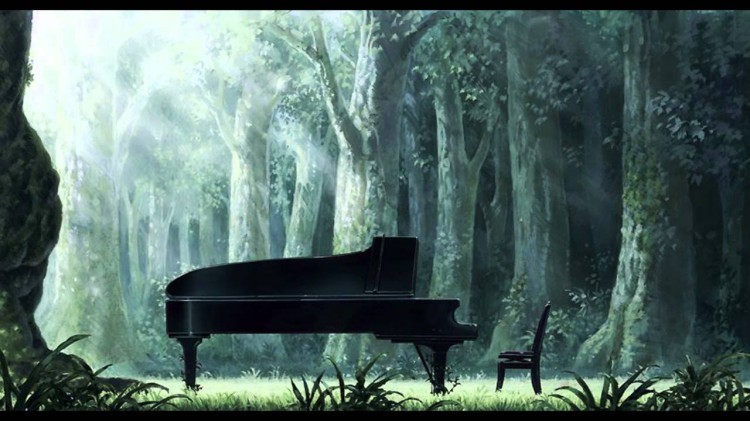 Hibike! Euphonium
A fresh and light anime with a different proposal, mixing music, moe and instruments that we didn't expect to see in an anime. The anime has a good backstory, full of secrets and drama. We chose to put them in the instruments category, but they are a band from a school club. RECOMMENDED! ••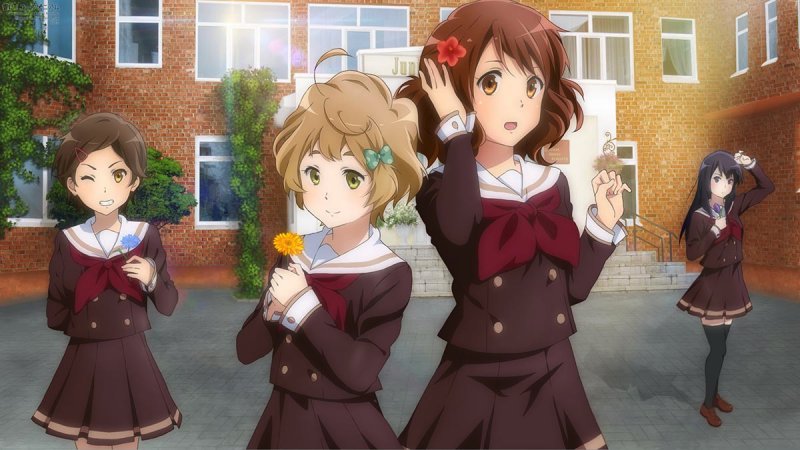 Other classical music anime:
Kono Oto Tomare!
Detective Conan – Film 12;
Piano;
Haruchika;
Princess Tutu;
La Corda D'Oro;
Music anime involving bands
K-On
One of the most moe and famous anime of the genre. It tells the story of a light music club with five adorable, cute and talented girls. The anime is light, funny and quite popular. SUPER RECOMMEND! ••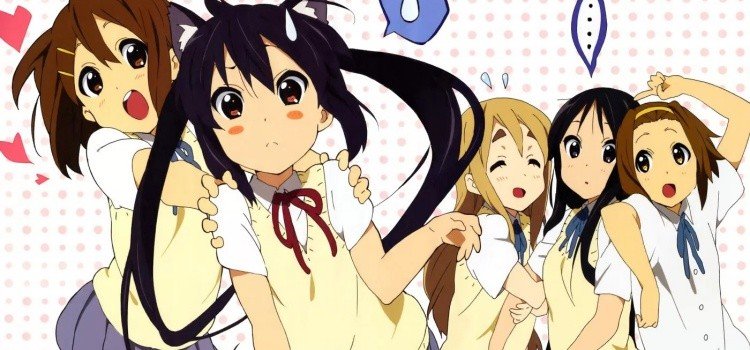 nana
An anime focused on drama and adult people. It tells the story of 2 girls named Nana who start sharing an apartment. One is a punk rocker the other is a dreamer looking for a romance. The anime has a great soundtrack and hooks viewers with a deep story. MANDATORY! •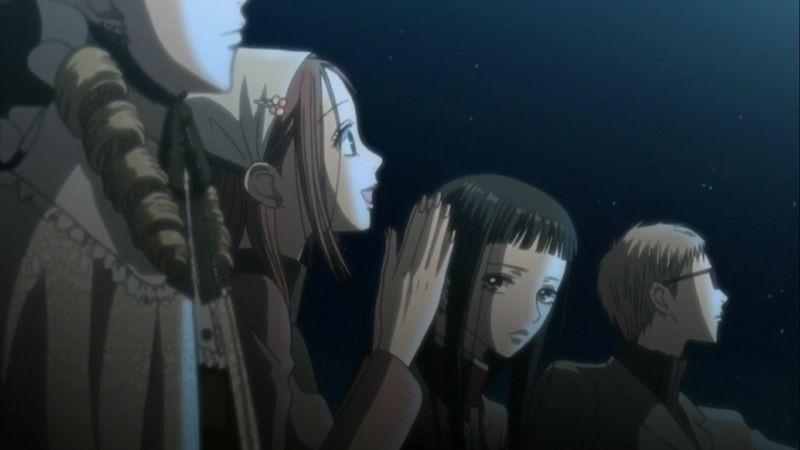 Beck
It tells the story of a band of the same name, with 5 young musicians who have to deal with growing fame and daily struggles. The anime's songs are made by the voice actors themselves, who will take you on a wild rock journey. SUPER RECOMMEND! ••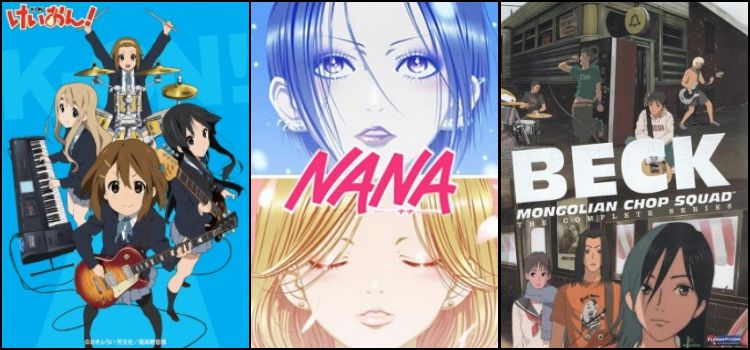 Detroit Metal City
This hilarious anime follows the story of a shy boy who always dreamed of being a pop idol, but ends up joining a death metal band to pay the bills. SUPER RECOMMEND! ••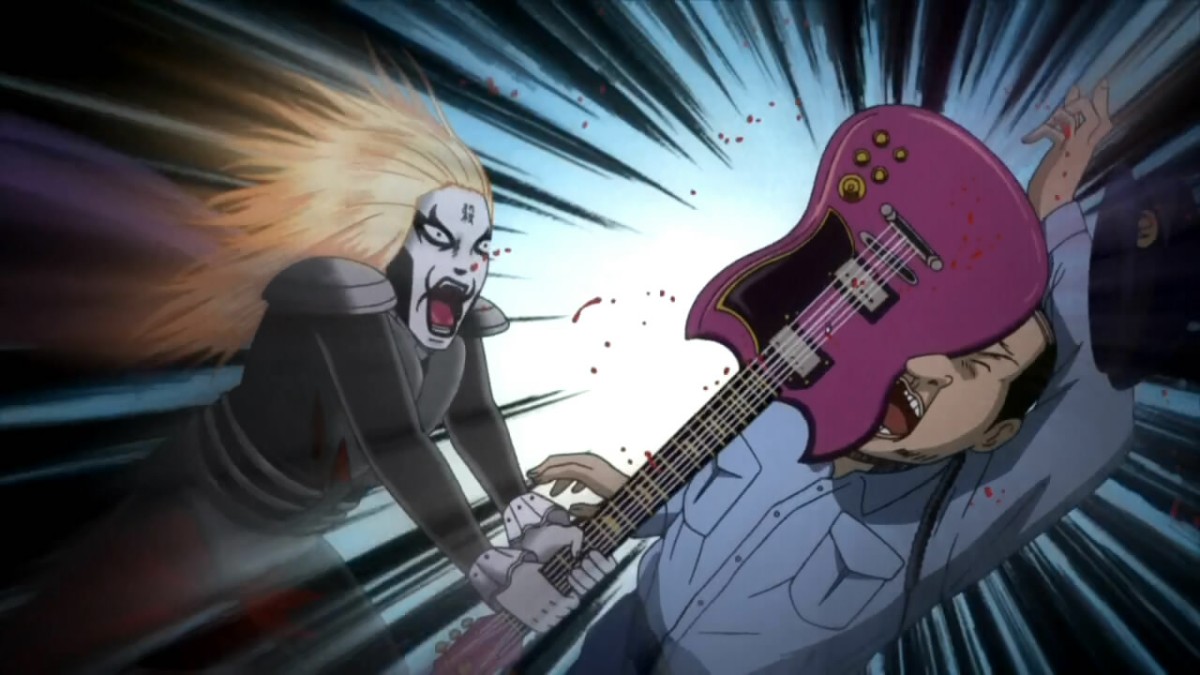 White Album 2
Despite being written 2, they are different stories. It shows the story of a vocalist, pianist and an indecisive boy, a very heavy drama with a surprising ending. Anime seems to start by focusing on music, but the romance of the story goes much further. MANDATORY! • (The 1 is also nice…)
We also recommend reading: Netorare - Unveiling the Japanese Betrayal Genre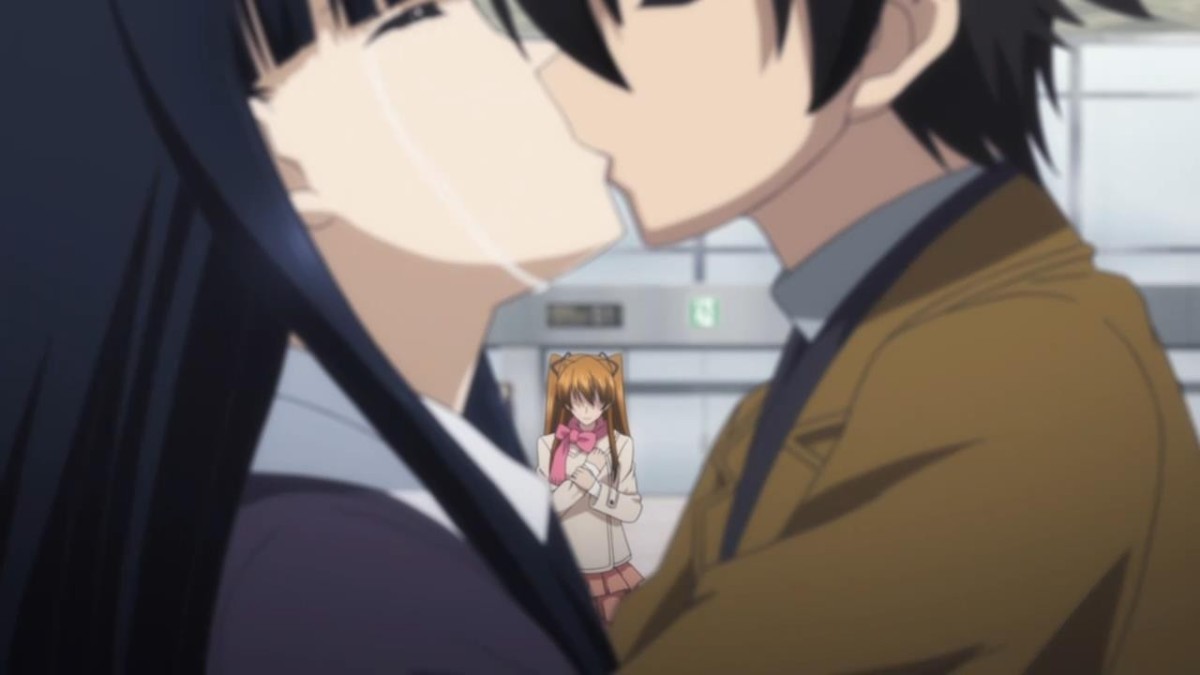 So Ra No Wo To
It tells the story of Kanata who enlists in the military just to play the trumpet. The anime shows the motivation and inspiration in music, in addition to the hard training of the army. VERY GOOD! ••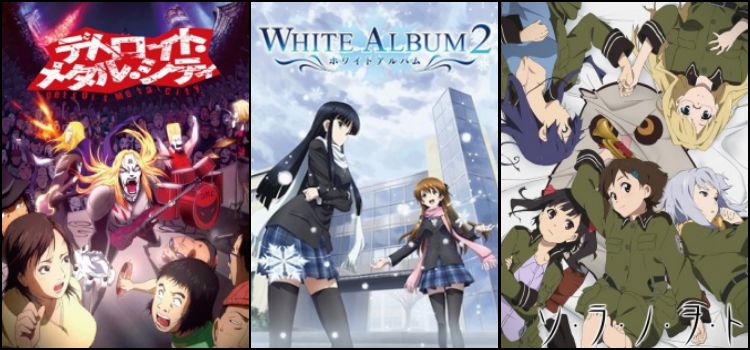 Other musical anime involving bands:
Macross Frontier (Recomendado);
Tari Tari;
Fuuka (2017);
Kami nomi zo Shiru Sekai;
Super Sonico;
Fukumenkei Noise;
Shinkyoku Soukai Polyphonica;
Bakumatsu Rock (2017);
Shelter;
Show By Rock!!;
Kowarekake no Orgel;
BanG Dream!;
Fukumenkei Noise;
Music anime involving idols and singers
Love Live!
The story features a group of talented students who want to compete in an event called Love Live. For those who want to know the genre, this is MANDATORY! ••
The second most famous idol anime, with the story of 13 struggling moe girls! The anime depicts a story of friendship and struggle! VERY GOOD! ••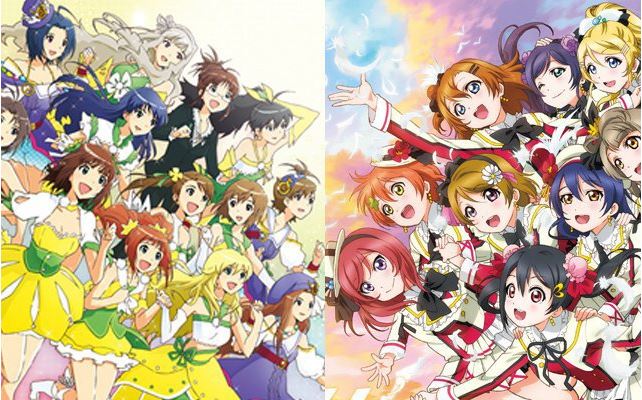 Full Moon wo Sagashite
It may look more like a Sailor Moon-looking moe anime, but it deals with a dark theme different from traditional shoujo anime. The main character is diagnosed with throat cancer and her singing career seems to be hopeless, but she doesn't want to give up. PERFECT! ••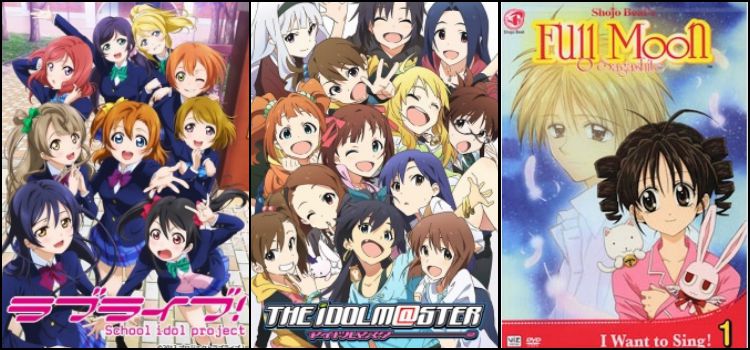 Other anime involving Idols:
Macross Frontier;
Uta no☆Prince-sama;
Suite Precure; Symphogear;
Kaikan Phrase;
Shinkyoku Soukai Polyphonica;
Pretty Rhythm;
Mermaid Melody Pichi Pichi Pitch;
AKB0048;
Wake Up, Girls!;
Sekkou Boys;
Miss Monochrome;
Starmyu; B-Project;
Aikatsu!; Magical☆Star Kanon 100%;
Magic-Kyun! Renaissance;
Tenshi no 3P!;
ClassicaLoid;
Honorable Mention: Guilty Crown
A great action and drama anime, where the protagonist is an idol. The anime tells the story of an apocalyptic world dominated by a disease and under military rule. A boy has the power to take weapons out of the protagonist. Perfect soundtrack! MANDATORY! •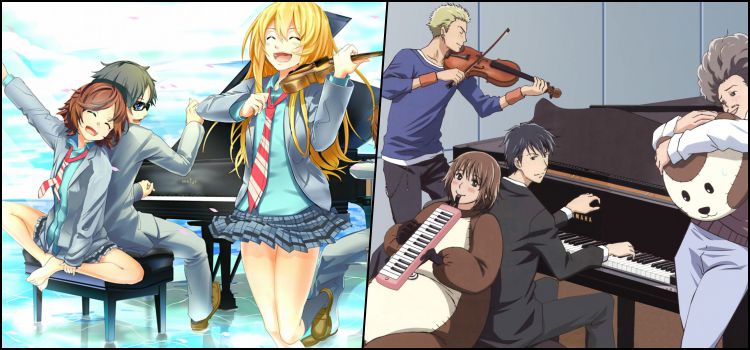 Ranking of the best music anime
Below I will share in numerical order a ranking with about 12,000 votes from the Ranker showing which are the best music anime. You may prefer to follow this order when watching anime of this genre.
Your Lie in April
K-On!
BECK: Mongolian Chop Squad
Uta No Prince Sama
Kids on the Slope
Love Live! School idol project
NANA
Comic Book Series
Nodame Cantabile
Corda D'Oro – primo passo
Video Game
Full Moon o Sagashite
Nodame Cantabile: Paris
Fuuka
Mermaid Melody Pichi Pichi Pitch
Comic Book Series
Sound! Euphonium
fukumekei noise
Pretty Rhythm Aurora Dream
Gravitation
Tari Tari
B-project
Show by Rock!
Uta No Prince Sama: Legend Star
Wake Up, Girls!
Lost Song
White Album
White Album 2
Kaikan Phrase
Valvrave the Liberator
Senki Zesshō Symphogear
Senki Zesshō Symphogear G
Sugar: A Little Snow Fairy
Fancy Lala
The best music manga
Not all music, band, and idol manga and light novels receive anime adaptations. Now we are going to recommend some music manga and light novels, and some can be purchased on Amazon Brasil itself.
Unfortunately we found few manga available in Brazil.
BECK: Mongolian Chop Squad – Harold Sakuishi
Your Lie in April – Naoshi Arakawa
Forest of Piano – Makoto Isshiki
Fuuka – Kōji Seo
Kids on the Slope – Yuki Kodama
Nodame Cantabile – Tomoko Ninomiya
Fukumekei Noise – Ryoko Fukuyama
K-On! – Kakifly
Full Moon o Sagashite – Arina Tanemura
NANA – Ai Yazawa
Pretty Rhythm – Mari Asabuki
Tari Tari – Evergreen (original work), Tohru Naomura (construction)
Detroit Metal City – Kiminori Wakasugi
Bremen – Haruto Umezawa
Mermaid Melody Pichi Pichi Pitch – Michiko Yokote
Seishun Pop! – Touta Kitakawa
Uta No Prince Sama – Utako Yukihiro; Broccoli; Kunozuki Kanon; Kurahana Chinatsu
Love Live! School idol project – Sakurako Kimino
La Corda d'Oro – Yuki Kure
Watashitachi no Shiawase na Jikan – Sumomo Yumeka
Gravitation – Maki Murakami
White Album – Leaf
Sensual Phrase – Mayu Shijou
Idol Dreams – Arina Tanemura
Solanin – Inio Asano
THE [email protected] – Tatsuya Takahashi
Rin Miasa – B-Project: Mousou*Scandal – Morino Mizu
Mashiro no Oto – Marimo Ragawa
Nousatsu Rock Shounen – Kamuro Kikuchi
Aozora Yell