Wanting to know the name of that paid currency for a specific online game? Are they gems? Crystals? Credits? Gold? In this article we will see a complete list of games and the currencies used in them.
With the growth of the gaming industry, the use of virtual currencies in online games has become more and more popular. These coins can be used to purchase virtual items, resources and in-game upgrades.
In many cases, coins can be acquired by playing and performing in-game tasks, but in other cases, they can be purchased with real money. With that in mind, we've compiled a list of over 100 popular games and the virtual currencies that can be purchased with real-life money.
There are a wide variety of online games that use virtual currencies as a form of monetization. Among the most popular games, titles such as Clash of Clans, Candy Crush Saga, Fortnite, Pokémon GO and League of Legends stand out, which use currencies such as Gems, Gold, V-Bucks, PokéCoins and Riot Points, respectively.
The list covers different platforms such as mobile, console and PC, and features games from different genres, from action games to strategy games.
We recommend reading: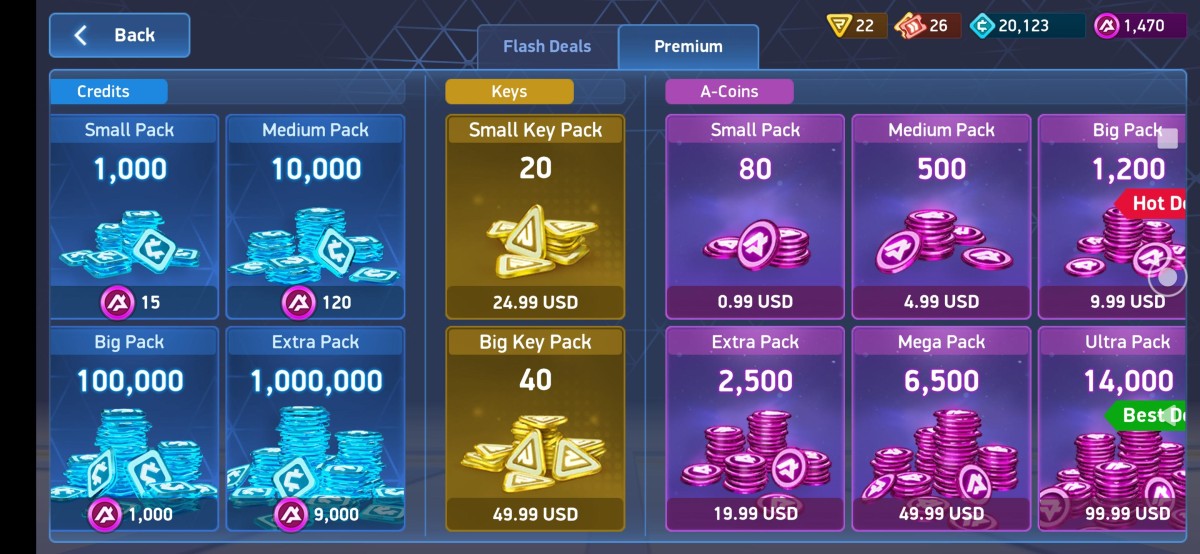 List of virtual currencies of online games
The list below may end up containing some games that do not have paid virtual currency, or may have some outdated information. Use your browser's search function (CTRL+F) to find the desired game or currency.
It is worth mentioning that the list below has the name of the currency in the native language of the site, literally translated. This can lead to rare errors, depending on the language and the translation adapted for that location.
Clash of Clans - gems
Candy Crush Saga - Gold
Pokémon GO - PokéCoins
Fortnite - V Bucks
Among Us - Coins
Call of Duty - COD Points
Grand Theft Auto V - game money
FIFA - FIFA Points
Rocket League - Credits
League of Legends - RP (Riot Points)
Dota 2 - battle coins
World of Warcraft - WoW Tokens
Hearthstone - Gold
Apex Legends - Apex Coins
Valorant - Valorant Points
Genshin Impact - Crystal Genesis
Clash Royale - gems
Brawl Stars - gems
Roblox - robux
Minecraft - Minecraft Coins
Warframe - platinum
Rainbow Six Siege - R6 credits
Assassin's Creed Valhalla - Helix Credits
Red Dead Online - game money
The Sims 4 - simoleons
NBA 2K - VC (Virtual Currency)
Madden NFL - Madden Points
World of Tanks - Gold
Smite - gems
Paladins - crystals
Dead by Daylight - Auric Cells
Marvel's Avengers - Units
Fortnite Save the World - V Bucks
Path of Exile - microtransaction points
Monster Hunter World - zenny
Destiny 2 - Silver
Tom Clancy's The Division 2 - premium credits
Rainbow Six Quarantine - R6 credits
Marvel Contest of Champions - Units
Lords Mobile - gems
Game of War - gold
Mobile Legends - diamonds
Rules of Survival - diamonds
Arena of Valor - gems
Ragnarok M - Eternal Love - Big Cat Coins
Final Fantasy XIV - mog station
Dead Cells - Gold
Minecraft Dungeons - Coins
Sea of Thieves - game money
Rust - loyalty tokens
Elite Dangerous - arx
Guild Wars 2 - gems
Eve Online - PLEX (Pilot License Extension)
Star Wars - The Old Republic - Cartel Coins
ArcheAge - store credits
The Elder Scrolls Online - crowns
Neverwinter - Zen
Tera - EMP (En Masse Points)
DC Universe Online - daybreak cash
Star Trek Online - Zen
Blade & Soul - NCoin
Aion - NCoin
Albion Online - Gold
War Thunder - Golden Eagles
Crossout - Golden coins
World of Warships - doubloons
Warface - credits
Heroes of the Storm - crystals
Overwatch - Credits
Hearthstone Battlegrounds - arena tickets
Heroes of Newerth - Golden coins
Legends of Runeterra - Coins
Team Fortress 2 - Keys
Rust - rubles
Deadside - Coins
Squad - Coins
Escape from Tarkov - rubles
PlayerUnknown's Battlegrounds - UC (Unknown Cash)
Apex Legends - Coins of Legends
For Honor - Steel
Rainbow Six Siege - renowned credits
Tom Clancy's Ghost Recon Breakpoint - game credits
Assassin's Creed - Helix Credits
Be it crystals, diamonds, credits, diamonds, coins, points, gems, tokens, bucks, virtual currencies abound. Hope this article helped you to find the name of your favorite game currency.