Don't know how to say soccer in Japanese? Want to learn how to speak basketball, baseball, volleyball and other sport-related words in the Japanese language? In this article we are going to see everything about sports in Japanese.
We recommend reading: The 100 best sports anime
list of sports in japanese
Our list of sports in Japanese is quite extensive, so we recommend using CTRL + F to find the name of the sport you want. It is worth remembering that some sports have more than one way of referring to themselves in Japanese, a way imported from another language and the traditional way with ideograms.
アーチェリー (ācherī) – archery
アーチェリー (ācherī) – archery
アイスホッケー (aisuhokkē) – ice Hockey
アメフト (amefuto) – football/soccer
アメリカンフットボール (amerikanfuttobōru) – football/soccer
エアロビクス (earobikusu) – aerobics
カーリング (kāringu) – curling
カヤック (kayakku) – kayak
クリケット (kuriketto) – cricket
クロスカントリースキー (kurossukantorīsukī) – cross country skiing
ゲーム (gēmu) – match
ゴルフ (gorufu) – golf
サイクリング (saikuringu) – cycling
サッカー (sakkā) – football / soccer
ジャンプ (janpu) – jump
シュノーケリング (shunōkeringu) – snorkeling
ジョギング (jōgingu) – Running
シンクロナイズドスケーティング (shinkuronazudosukētingu) – synchronized figure skating
スイミング (suimingu) – swimming
スキー (sukī) – ski
スケート (sukēto) – skating
スケートアグレッシブ (sukētoagureshivu) – aggressive skate
スケートストリート (sukētosutorīto) – street skateboard
スケートパーク (sukētopāku) – skate park
スケートボーダー (sukētobōdā) – skateboard
スケートボード (sukētobōdo) – skateboard
スケートランニング (sukētoranningu) – speed skating
スノーシューティング (sunōshūtingu) – ski shooting
スノーシュート (sunōshūto) – alpine skiing
スノーボード (sunōbōdo) – snowboard
ダンシング (danshingu) – Dance
ダンススポーツ (dansusupōtsu) – dance sport
テニス (tenisu) – sneakers
テニス (tenisu) – Sneakers
トライアスロン (toraiasuron) – triathlon
バスケットボール (basukettobōru) – basketball
バドミントン (badominton) – badminton
バレーボール (barēbōru) – Volleyball
バレーボール (barēbōru) – Volleyball
フットサル (futtosaru) – futsal
ブレイクダンス (bureikudansu) – Street dance
フレンチブル (furenchiburū) – Beach volleyball
ボウリング (boringu) – bowling
ボクシング (bokushingu) – boxing
ホッケー (hokkē) – Hockey
マラソン (marason) – Street race
マラソン (marason) – Marathon
ラグビー (ragubī) – rugby
ラグビー (ragubī) – Rugby
ラクロス (rakurosu) – lacrosse
ラフティング (rafutingu) – rafting
ランニング (ranningu) – race
レスリング (resuringu) – Wrestling
乗馬 (jōba) – Equitation/Equestrianism
体操 (taisō) – fitness
体育 (taiiku) – PE
卓球 (takkyuu) – table tennis
将棋 (shōgi) – Shogi/Japanese Chess
射撃 (shageki) – Shooting
水泳 (suiei) – swimming
登山 (tōzan) – Climbing
碁 (gō) – Go (board game)
競走 (kyōsō) – race
競馬 (kyōba) – Horses race
試合 (shiai) – Game/Event
運動 (undō) – exercise
野球 (yakyu) – baseball
釣り (tsuri) – fishing
陸上競技 (rikujō kyōgi) – athletics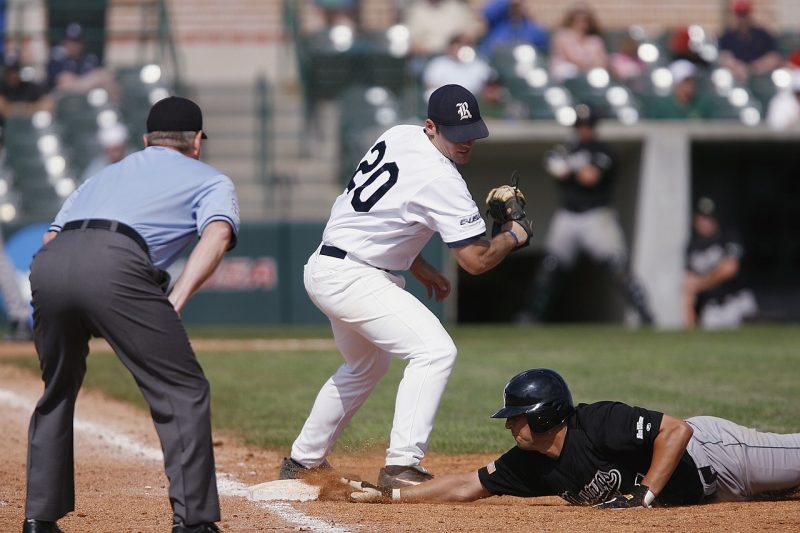 Terms Related to Sports in Japanese
In addition to sports names, we are going to share a list of vocabulary and terms that are related to the vast majority of sports:
選手 (senshu) – player
チーム (chīmu) – team
試合 (shiai) – game/match
勝つ (katsu) – win
負ける (makeru) – lose
スコア (sukōa) – scoreboard
引き分け (hikiwake) – a tie
ホームラン (hōmuran) – home run
スリーベース (surībēsu) – triple
グランドスラム (gurandosuramu) – grand slam
セーブ (sēbu) – save
ゴール (gōru) – goal
アシスト (ashisuto) – assistance
パス (pasu) – pass
シュート (shūto) – kick
セット (setto) – set
マッチ (matchi) – match
スイング (suingu) – swing
スイミング (suimingu) – swimming
トレーニング (torēningu) – training
試験 (shiken) – test/exam
練習 (renshuu) – practice
練習試合 (renshuu shiai) – training game
スタート (sutāto) – start
Martial Arts in Japanese
Martial Arts are also very popular sports in Japan, so we've separated them here. We also recommend reading our specific articles on martial arts below:
List of Japanese Martial Arts:
柔道 (jūdō) – judo
剣道 (kendō) – Japanese swordsmanship
空手 (karate) – karate
剣術 (kenjutsu) – traditional Japanese sword art
和武道 (wadō) – modern Japanese martial art
相撲 (sumō) – sumo wrestling
武道 (budō) – general Japanese martial art
居合道 (iaidō) – Japanese martial art of unsheathed sword
古武道 (kobudō) – ancient Japanese martial art
武者修行 (mushashugyō) – traditional Japanese martial training
忍術 (ninjutsu) – ninja spying techniques
忍者 (ninja) – Japanese spy or warrior
武士道 (bushidō) – code of conduct for Japanese warriors
合気道 (Aikidō) – Path of Harmonization
弓道 (Kyūdō) – Way of the Bow
武術 (Bujutsu) – Japanese Art of War Systems
小林流空手 (Shorin-Ryu Karate) – Small School Karate
居合道 (Iaidō) – Art of Drawing Your Sword
柔術 (Jiu-jitsu) – Art of Flexibility
武者修行 (mushashugyō) – traditional Japanese martial training
和武道 (wadō) – modern Japanese martial art
相撲 (sumō) – sumo wrestling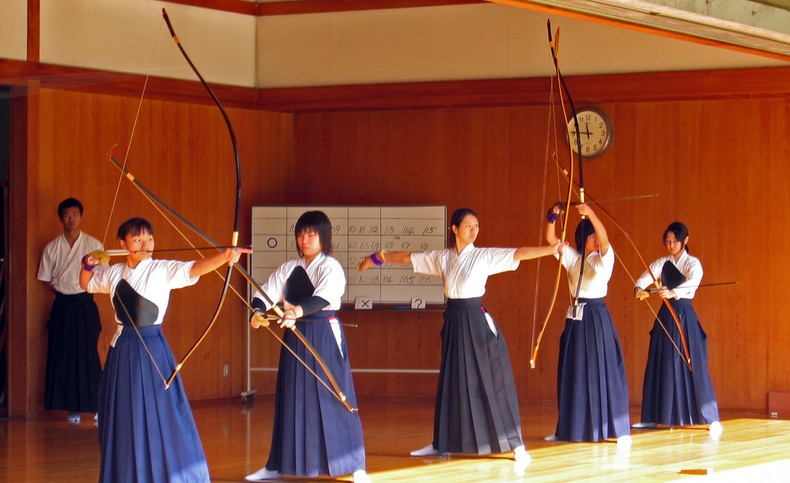 Types of Diving in Japanese
There are so many sports categories that we need to make a list just for diving and water sports:
スカイダイビング (sukaidivingu) – scuba diving
スキンダイビング (sukindivingu) – scuba diving
スキューバスイミング (sukyūbasuimingu) – free diving
スキューバトゥデイ (sukyūbatōdei) – day dive
オープンウォータースイミング (ōpunwōtāsuimingu) – open water swimming
スキューバダイビング (sukyūbadivingu) – dive
フライ (furai) – backstroke
バタフライ (batafurai) – butterfly stroke
シンクロナイズドスイミング (shinkuronazudosuimingu) – synchronized Swimming