In Western culture we have many comics, cartoons, movies and series of heroes. Do the Japanese also create anime about superheroes? In this article, we are going to see an extensive list of manga and anime of heroes like Boku no Hero and others.
Boku no Hero Academia – The School of Heroes
In this anime more than 80% of the population has some individuality (or power), which generates a growing wave of villains and heroes. Midoriya Izuku is a boy in love with superheroes, he wants to become one, but he doesn't have any individuality.
One day he meets the greatest hero of all, All Might who invites him to be his successor, passing on his powers to him. From there he enters the greatest school of heroes to learn to control his new powers that the body can't handle.
Boku no Hero Academia is a huge success, one of the new mainstays of Shounen Jump, with many seasons and movies. You must have probably watched it, otherwise I recommend giving it a go, even with the first half slow season.
R$ 28number_format_decimal_point80
R$ 33number_format_decimal_point90
-
-
-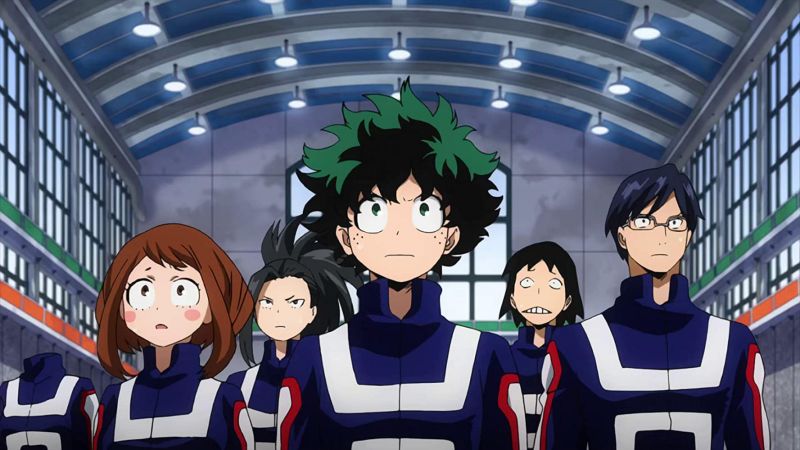 One-Punch-man – Fighting boredom
In One-Punch-man we follow the unsung hero called Saitama, probably the most powerful man in the universe capable of destroying anything with just one punch (in theory). He lives in a chaotic world full of villains and heroes.
Saitama got so strong who can't find a fun fight, living in great boredom. The anime is quite funny, full of satire, comedy and with a really interesting and captivating backstory, with well-crafted secondary characters.
In this universe, heroes participate in a kind of popularity ranking, villains do gigantic damage that make a hero question the usefulness of a hero. If you haven't watched One-Punch-man yet, maybe it's time!
R$ 56number_format_decimal_point90
-
-
-
R$ 85number_format_decimal_point00
R$ 90number_format_decimal_point00
-
-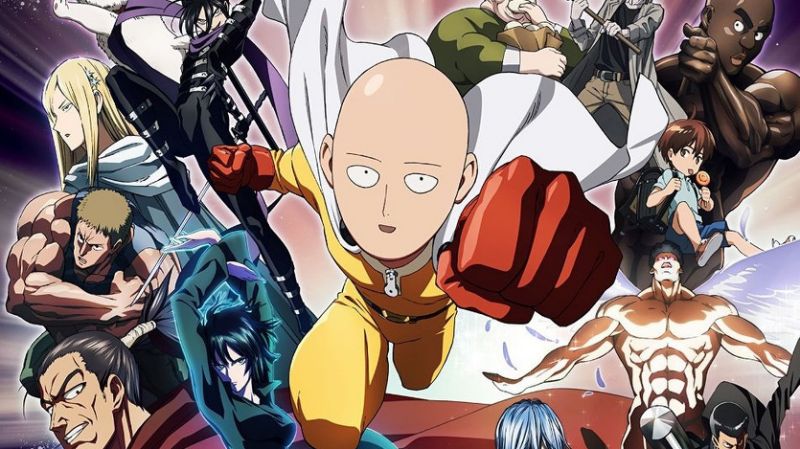 Tiger & Bunny – Sponsored Heroes
In Sternbuild City, corporate logos not only cover billboards, but also the costumes of the superpowered heroes who act as their protectors. You justice warriors veterans and newcomers compete in a reality show that offers points for arresting criminals while also giving champion sponsors a chance to promote their brand.
When the low-ranking Wild Tiger loses his support after a series of outrageous and unsuccessful rescues, he finds himself paired up with a spotlight seeker named Barnaby.
But with their totally different personalities, will the duo be able to save their beloved Sternbuild City and win the game show, or will their constant tension be the undoing of the world's first team of heroes?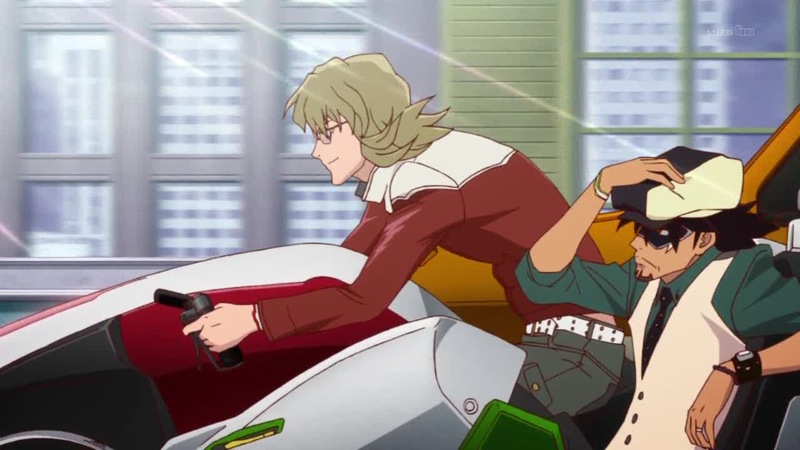 Inuyashiki – The Last Hero
In this incredible anime, an elderly man with cancer ends up being reconstructed by aliens as a super powerful robot. At the same time a young psychopath also undergoes the same transformation. The anime has a lot of action and reflection on life.
The young psychopath starts using his powers to commit sinister crimes, while the old man uses his powers to save people and play a hero. What will the outcome of this story be?
Inuyashiki is a very interesting and impactful anime, its only negative point is the use of CG, but it's not as bad as some previous works. It really is worth watching this very different anime from the conventional.
R$ 39number_format_decimal_point90
-
-
-
R$ 59number_format_decimal_point90
-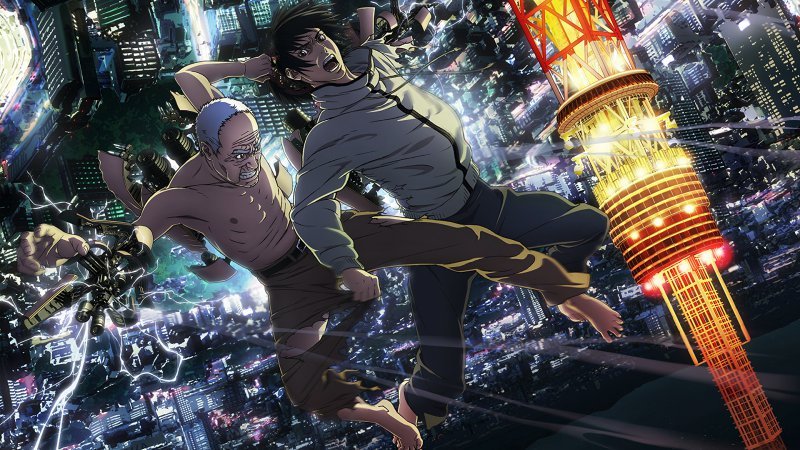 Samurai Flamenco – A realistic anime?
Hazama Masayoshi is a successful role model who has been passionate about masked heroes since he was a child – so much so that, as an adult, he decided to become Samurai Flamenco: the masked hero of justice!
But much to his dismay, the job isn't as easy as it seems and during his first night as Samurai Flamenco, the man is knocked out and saved by police officer Hidenori Goto. Vowing to keep his secret, Hidenori quickly becomes a friend and partner.
Things get complicated when the media is determined to discover Samurai Flamenco's true identity. Plus, your actions also trigger impersonators, flooding the city with other masked heroes!
This anime had everything to be one of the best hero anime in the world, with a well-crafted premise, showing people trying to be real heroes, but unfortunately things get out of whack. Despite that, it might be interesting to watch.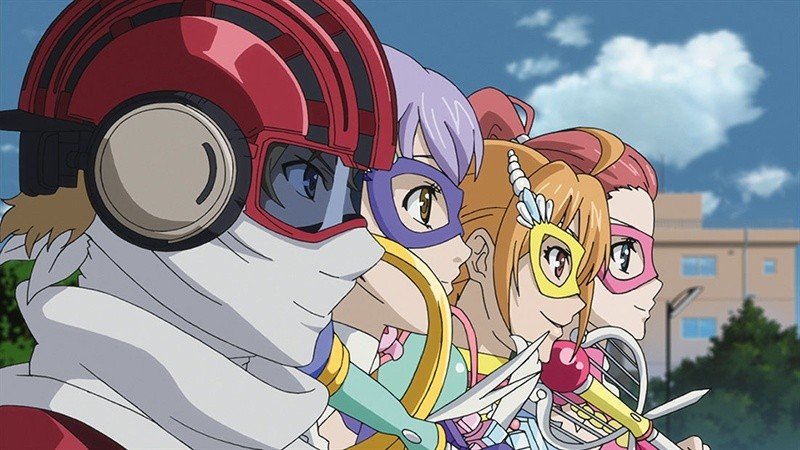 Zetman – The Dark Hero
Jin is an energetic young man who lives in a slum and lives doing good deeds for money. However, when his mentor dies during a fight with a strange monster, he finally learns the meaning of death.
With superhuman abilities and a group of mysterious men looking for him under the name Zet, over the years Jin has found himself drawn into a world of creatures with dangerous powers called "Players".
But what is Jin really, and with his ruthless methods of defeating these threats, is he really a hero for justice or simply another dangerous monster? A typical Japanese Hero story! The manga is also available in Brazil.
R$ 15number_format_decimal_point05
R$ 17number_format_decimal_point50
-
-
-
R$ 221number_format_decimal_point63
R$ 350number_format_decimal_point00
-
-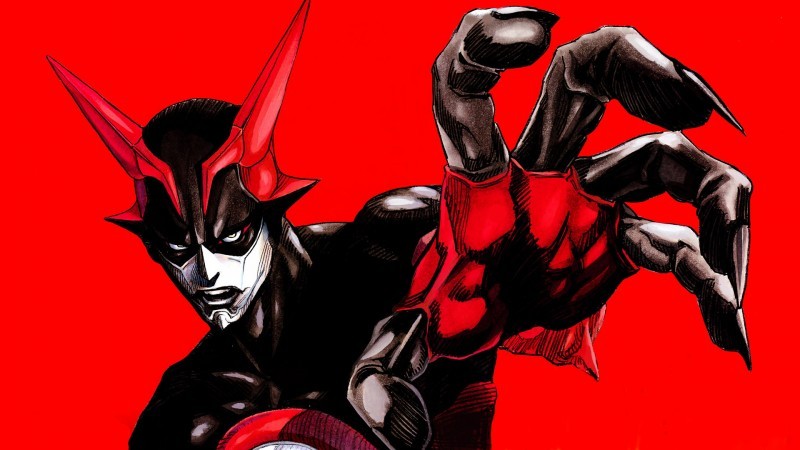 Types of Superheroes anime
The anime we've seen before are the most popular of the superhero genre, but it's worth remembering that almost every shounen anime has a hero as a protagonist or characters with scientific powers or not. Here are some sub-genres:
Western superhero anime
On our website we have an article that talks about Marvel and DC Western Superhero Anime. That's right, in partnership with some Japanese studios, we have some great hero anime in the west.
In that article you will see anime of the avengers, X-men, iron man and Wolverine. Unfortunately these anime are not so successful in Japan or even among Western Otaku, but they can be seen on American TV.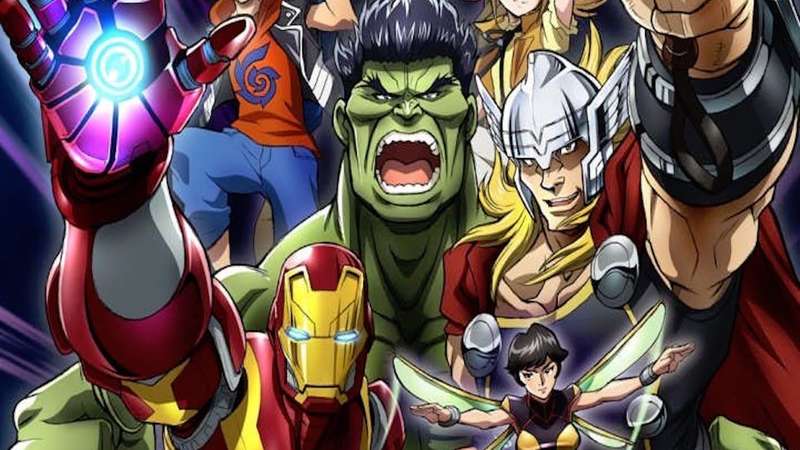 Mahou Shoujo hero anime
When entering the Superheroes category of my research source, I ended up finding hundreds of anime of the Mahou Shoujo genre, which are basically girls who transform and gain powers, most of the time in a magical way.
This is part of a traditional Japanese genre called Henshin Heroes, basically are characters that transform into beings with special powers, usually using a item that changes their clothes and grants their special abilities.
They can be a superhero wearing a mask, a magical girl, or something else. Among them we have the famous Sailor Moon, Tokyo Mew Mew, Pretty Cure, Cutie Honey and many others. We recommend reading the article about Mahou Shoujo anime.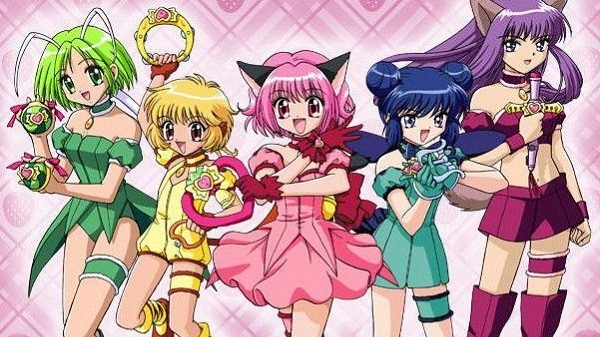 Japanese style hero anime
As well as the aforementioned style henshin heros, Japanese superheroes have other peculiar characteristics. Some are based on tokusatsu, because they were successful in the 80's, many of the superhero anime are very old.
Within the Tokusatsu heroes we have anime with metal heroes, a franchise produced by Toei for Japanese television in the 1980s and 1990s. The protagonists are typically androids, cyborgs, or people wearing metallic armor.
We can mention anime like Kamen Rider, Ultraman, Cyborg 009, Sentai Robin, Kinnikuman, Catman and Skull Man. We also have game anime like Megaman, classics like Astro Boy and Yatterman. There are many Japanese hero anime.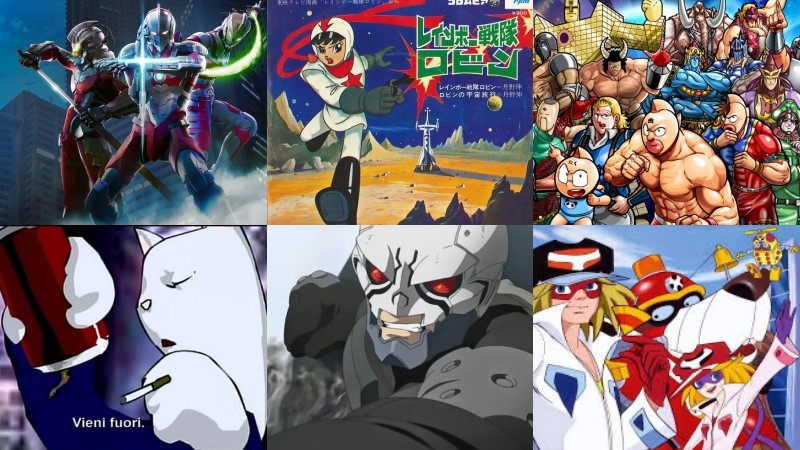 List of Superheroes Anime
To end the article, we will leave a complete list of superhero anime, following their year of release in order of the most popular:
Responsive Table: Scroll the table to the side with your finger >>
| | |
| --- | --- |
| One-Punch Man | 2015 |
| My Hero Academia | 2016 |
| Tiger & Bunny | 2011 |
| Inuyashiki: Last Hero | 2017 |
| I tried Senshi Sunred | 2008 |
| Youkai Gakuen Y: N to no Souguu | 2019 |
| hugto! pretty cure | 2018 |
| Heartcatch Pretty Cure! | 2010 |
| Healin' Good Pretty Cure | 2020 |
| Go! Princess Pretty Cure | 2015 |
| Garo The Animation | 2014 |
| Garo: Vanishing Line | 2017 |
| Kinnikuman | 1983 |
| Mahou Tsukai Pretty Cure! | 2016 |
| Star Twinkle Pretty Cure | 2019 |
| cybersix | 1999 |
| Concrete Revolution: The Last Song | 2016 |
| Cyborg 009 (1979) | 1979 |
| Zetman | 2012 |
| Fresh Pretty Cure! | 2009 |
| Suite Pretty Cure♪ | 2011 |
| Gozonji! Gekkou Kamen-kun | 1999 |
| Choujin Sentai Baratack | 1977 |
| The Daichis: Earth's Defense Family | 2001 |
| Ryuusei no Rockman Tribe | 2007 |
| Mermaid Melody Pichi Pichi Pitch Pure | 2004 |
| Kirakira Pretty Cure a la Mode | 2017 |
| Smile Pretty Cure! | 2012 |
| doteraman | 1986 |
| Dokkoida?! | 2003 |
| Dokidoki! pretty cure | 2013 |
| Flamenco Samurai | 2013 |
| Happiness Charge Pretty Cure! | 2014 |
| Yatterman (1977) | 1977 |
| Mermaid Melody: Pichi Pichi Pitch | 2003 |
| Kamen no Ninja Akakage | 1987 |
| Casshan | 1973 |
| Chiisana Kyojin Microman | 1999 |
| Cyborg 009: The Cyborg Soldier | 2001 |
| Crayon Shin-chan: Shin-Men | 2010 |
| Astroboy (1980) | 1980 |
| Tokyo Mew Mew | 2002 |
| Nana Seven of Seven | 2002 |
| Yume Senshi Wingman | 1984 |
| Cutey Honey Flash | 1997 |
| remain | 1967 |
| Sonic Soldier Borgman | 1988 |
| heroman | 2010 |
| X-Men | 2011 |
| concrete revolution | 2015 |
| Iron Kid | 2006 |
| Hurricane Polymar | 1974 |
| 8 man | 1963 |
| Well | 2019 |
| devilman | 1972 |
| Jetter Mars | 1977 |
| cutey honey | 1973 |
| Jushin Riger | 1989 |
| Ultimate Muscle | 2002 |
| blade | 2011 |
| Infini-T Force | 2017 |
| Wolverine | 2011 |
| Iron Man | 2010 |
| Marvel Future Avengers | 2017 |
| Youkai Ningen Bem | 1968 |
| Ultraman Kids no Kotowaza Monogatari | 1986 |
| Super Shiro | 2019 |
| Prince Planet | 1965 |
| Ryuusei Sentai Musumet | 2004 |
| Yuusei Kamen | 1966 |
| The Ultraman | 1979 |
| Cutie Honey Universe | 2018 |
| Marvel Disk Wars: The Avengers | 2014 |
| Himitsukessha Taka no Tsume: Golden Spell | 2020 |
| The Reflection | 2017 |
| Himitsukessha Taka no Tsume MAX | 2013 |
| Himitsukessha Taka no Tsume NEO | 2012 |
| Himitsukessha Taka no Tsume EX | 2014 |
| miniforce | 2015 |
| Sentai Hero Sukiyaki Force | 2017 |
| Himitsukessha Taka no Tsume | 2006 |
| Himitsukessha Taka no Tsume Gaiden: Mukashi no Yoshida-kun | 2012 |
| Himitsukessha Taka no Tsume Countdown | 2009 |
| Himitsukessha Taka no Tsume DO | 2015 |
| Himitsukessha Taka no Tsume GT | 2016 |
| Zet Ranger | 2008 |
| Sakuran Boy DT | 2009 |