Will the Saitama from One Punch Man Have you ever been defeated?
Since the hype of the first season of the anime and its manga, OPM has been gaining more and more fans.
Many theories arise around the protagonist regarding his strength, but everyone forgets that he cannot be compared to any manga or anime character, as he is a satire on the most famous characters.
Alert! Contains spoilers for the two released anime seasons and the manga as well.
And that must be one of the reasons why the animation has achieved a lot of success more the characters that are part of the OPM like Tatsumaki, Fubuki, Garou among others.
Origin of One Punch Man
The One punch man series started in 2009 with the webcomic created by the mangaka that uses the alias One.
The lines/drawings made by One were not pretty, but even so, the story was very successful in its publications on its website.
His inspiration to create the main character was in the anime of anpanman which has been on the air in Japan since 1988 and is aimed at children.
In 2012, manga began to be published in partnership with another mangaka called Yusuke Murata which drew even more public attention, due to the quality of its drawings.
For those who still don't know Saitama (not to be confused with the Saitama prefecture in Japan) he is the "main character" of the manga/anime One Punch Man who trained so much that he ended up getting so strong that with just one punch he defeats his opponents (usually monsters).
After enrolling in the Hero Association, he started at C-Class, but is currently at B-Class rank 7.
His daily training that made him extremely strong was:
100 push-ups;
100 sit-ups;
100 squats;
10 km run;
Eat 3 good meals (sometimes I would only eat a banana for breakfast);
Didn't use the air conditioning, even though it was very hot;
This type of training, according to Saitama, was what made him strong, but as a result all of his hair fell out, leaving him completely bald.
Not only has he gone bald, but he's always bored because he can't find anyone who can measure up to him or take more than a punch from him.
Evidently we will never know the truth (only the One) of what is the source of its strength. As the entire OPM universe is satire, so we already have the answer to that question.

anime
The popularity increased even more after the big Japanese animation studio madhouse made the adaptation of the manga, producing in 2015 the One Punch Man season one.
Already in 2019 in second season made by the studio JCStaff the quality of the animation left many people disappointed, as it wasn't even close to the previous one.
However, the story managed to faithfully deliver the essence that is the OPM universe, with its satires on shounen anime and lots of funny moments.
Where to watch?
Unfortunately, we have few streaming services that make it available to watch the seasons released by OPM here in Brazil.
One Punch Man season 1 has 12 episodes and 7 ROE;
Season 2 has 12 episodes and 6 OVAs;
We can only watch the 1st and 2nd season on Netflix and also on crunchyroll.
He was recently announcing that there will be a 3rd season, but the date has not yet been announced.
Now let's get down to business and show 4 times One punch man's Saitama was defeated.
The artigo is still half finished, but we recommend opening it to read the following later:
Saitama vs Genos
Saitama on the outside may be invincible, but on the inside his organs are apparently normal like any other human being.
At the season 1 episode 5 from the anime he sees an advertisement in the restaurant he is in and decides to challenge his disciple genos (ジェノス), a cyborg, rank 14 S-class hero.
After Genos accepts the contest to see who can eat the entire bucket of udon and win the prize, Saitama can't take it and gives up.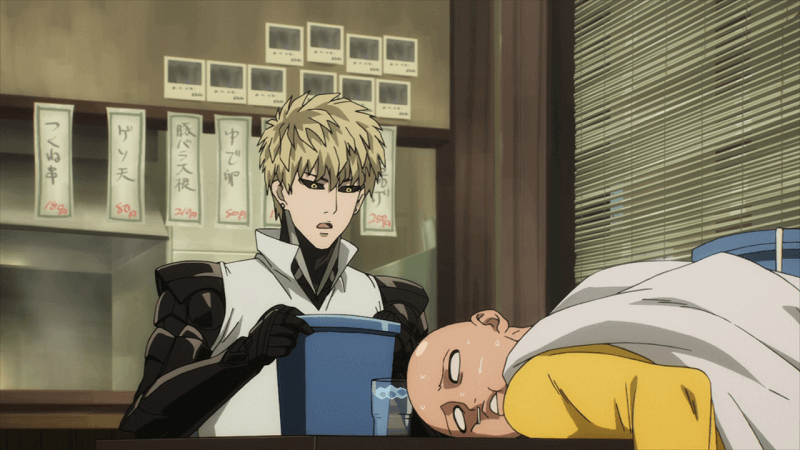 From what is shown in the episode, Genos could eat a lot more.
Saitama vs Bang
In OVA 5 (Bang, Who is Too Overbearing - 強引すぎるバング), which takes place after the events of Season 1 Episode 7, Silver Fang (シルバーファング), also called Bang, begins observing Saitama and Genos.
In a first approach he invites the two to go to his dojo, but neither of them appears.
He doesn't give up and keeps watching them and makes the invitation again (after they lost the meat they bought in an accident) saying that his dojo has top quality meat, and the two end up accepting.
The dispute is nothing but jokenpo and whoever loses needs to put on his helmet in time to protect himself from a hammer blow (toy hammer).
Genos loses in the first round and then Saitama loses all the following rounds to Bang.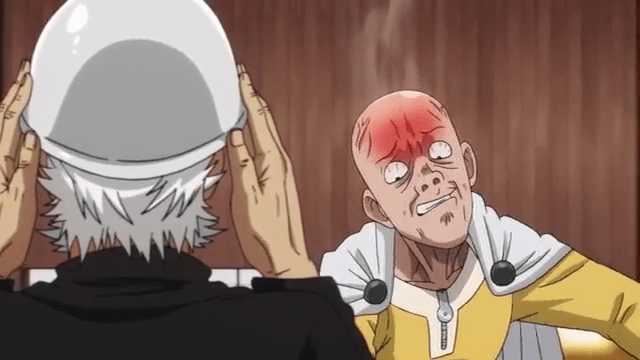 Getting more and more nervous behold, after several defeats Saitama puts scissors and Bang paper, with this "victory" he tries to take the hammer, but it slips from his hands giving Silver Fang time to dodge, predicting that a hammer would come with extreme force.
Saitama vs King
We've already seen that Saitama is not an ordinary hero like we see in other anime.
Its main features are:
Live bored and unmotivated
Doesn't have one of the best uniforms compared to other more popular heroes
It's too simplistic and clunky
At the second season episode 10 this becomes evident when he is invited by the S rank hero 7 King to play a game of video game at your house.
He always sticks to the one-button tactic and King realized he's not good with games. In a few commands he defeats Saitama in the fighting game.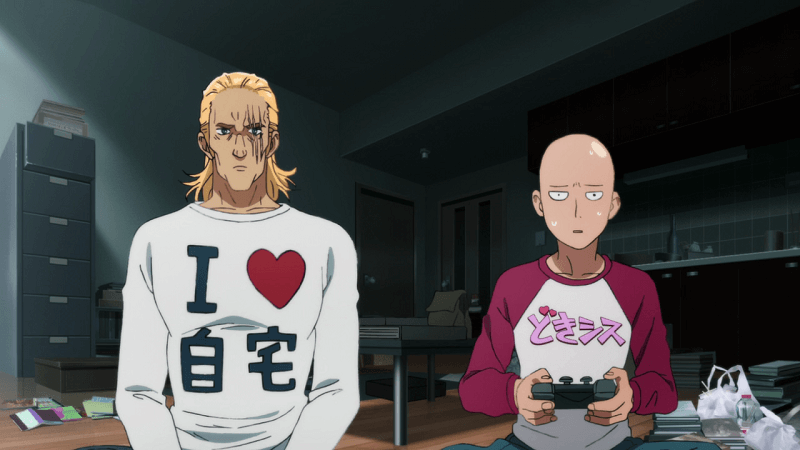 Saitama vs Mosquito
Mosquito? Yes, amazingly Saitama with all his super strength, agility couldn't kill a mosquito that was bothering him while irrigating his plant.
It happens in beginning of episode 2 of the first seasona, after trying to "eliminate" the mosquito, when he runs after it with a kind of insecticide and accidentally ends up swallowing it.
It doesn't make much sense for him not to be able to kill a mosquito, but with one slap he eliminated the Mosquito Girl. It's the One punch man universe has these things that don't have a logical explanation.
So far we've seen some defeats he has suffered, even though it's not necessarily a battle.
On his journey to being the strongest hero he suffered a lot from his training as a child.
child Saitama
At the age of 12, a special chapter of the manga is shown which was the first monster he faced and caught a lot.
A characteristic that he has from that time until today is the bored/inexpressive face.
Gabi Xavier tells in more detail in the video below:
Curiosities
In the fight against Lord Boros, when being punched by Saitama he loses his protective armor releasing his hidden power, and when describing this we saw that face that became famous on the internet as saitama ok.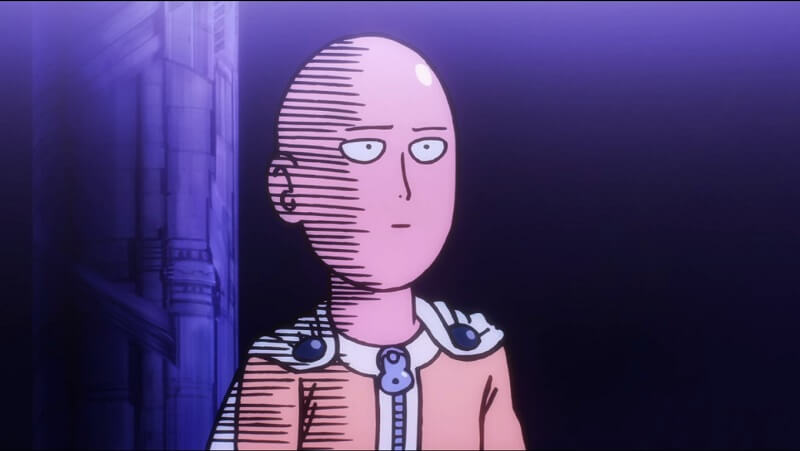 In the original Japanese audio it says "そうか" which means something like I understood/really and in the Brazilian dub he says "ah ok".
Hope you enjoyed the article! And do you have any theories about the origin of Saitama's strength? Leave a comment counting!