In today's article I'm going to talk about one of the best anime I've had the pleasure of watching, the unpopular Gyakkyō Burai Kaiji. Why unpopular? What is this anime about? Is Kaiji worth watching? In this article I will tell you everything about this great work, and without revealing spoilers.
Why is Kaiji unpopular? Because most do not accept the traits and drawings that are very different from traditional anime, it is based on an old manga and has very thick traits. I myself was reluctant for years to watch this anime because of the traits, but finally when I had the courage, after 2 episodes I already got used to these traits and finished it in 2 days.
For this reason, if you're a guy who hasn't watched this anime yet because of its features, you're missing out on a great work that is even compared to Death Note, Steins;Gate and several other Psychological Thriller anime.
What is the Kaiji anime about?
Kaiji is an anime very similar to Liar Game where the main character has to participate in betting games that uses a lot of strategies, tricks and that are even deadly. Anime and manga synopsis Gyakkyō Burai Kaiji tells the story of Kaiji, a tramp who inherits a debt of millions of yen, from a friend, whom he accepted as a guarantor. He is invited to join a Ship where he will gamble on trivia games with other players to pay off his debts. It sounds simple, but the anime goes much further.
Unlike Liar Game, the main character Kaiji is not super smart, in reality he is dumb, he always gets chipped, but he ends up turning around, and then he chipped again. The anime works a lot with our psychological, and holds us from beginning to end. Despite the traits seem childish, the anime has very heavy scenes that mess with our emotional and psychological. Sometimes Kaiji becomes more agonizing and scary than horror movies and anime, even though it's not an anime focused on fights and action.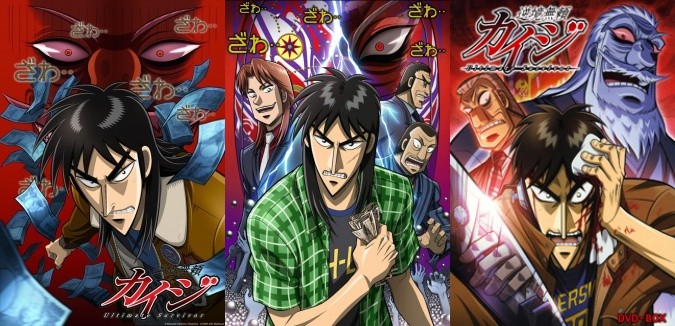 Kaiji's Artwork Details
Kaiji's work has 2 adapted seasons of 26 episodes and 2 Live Action movies. Manga was created by Nobuyuki Fukumoto and deals very well with the art of gambling. It is divided into arcs. I'll leave a list of all Kaiji's works:
anime 1 – Gyakkyō Burai Kaiji: Ultimate Survivor
anime 2 – Gyakkyō Burai Kaiji: Hakairoku-hen
sleeve 1 – Tobaku Mokushiroku Kaiji
sleeve 2 – Tobaku Hakairoku Kaiji
sleeve 3 – Tobaku Datenroku Kaiji
sleeve 4 – Tobaku Datenroku Kaiji: Kazuya-hen
sleeve 5 – Tobaku Datenroku Kaiji: One Poker-hen
movie 1 – Kaiji: Jinsei gyakuten gemu
movie 2 – Kaiji 2: Jinsei dakkai gemu
We recommend that you watch the 2 seasons of the anime and then you can follow the manga in the Dantenroku arc. The anime is full of twists, suspense, cheating, techniques, terror and fear. Despite the traits it is a great work on the level of Death Note and Steins;Gate, but like all works, there are points that failed in its anime adaptation. To end the article I will leave the opening of the Anime for you to know the music and the proposal of the anime: