The dream of many is to visit Disney in California! Some still don't know, but the Japanese don't need to leave their country to visit Disney. That's because in Tokyo there is a Disney. Of course, Disney in Japan is not the same as in California, but there are many better things that are worth following, and in this article we will see them.
Tokyo Disney Resort is where the 2 Disney parks in Japan are located. Here you will find sets of hotels and various attractions. It was founded on April 15, 1983 as a replica of California's Magic Kingdom.
Disney Japan was the first Disney park built outside of the US. It also has its own unique water park called Tokyo DisneySea. Disney Japan is the 3rd most visited park in the world. Let's get to know a little about each of these 2 Disney parks in Tokyo.
We also recommend reading:
Disney Japan – Tokyo Disneyland
Disney Japan is located on an artificial island called Shin-Urayasu located in Chiba. The island has about 465,000m² and has a resort with 7 themed areas and 5 hotels. This park features the same attractions as Disneyland and the Magic Kingdom at Walt Disney World California. Of course, both have their exclusives, see the main attractions and a map of the place: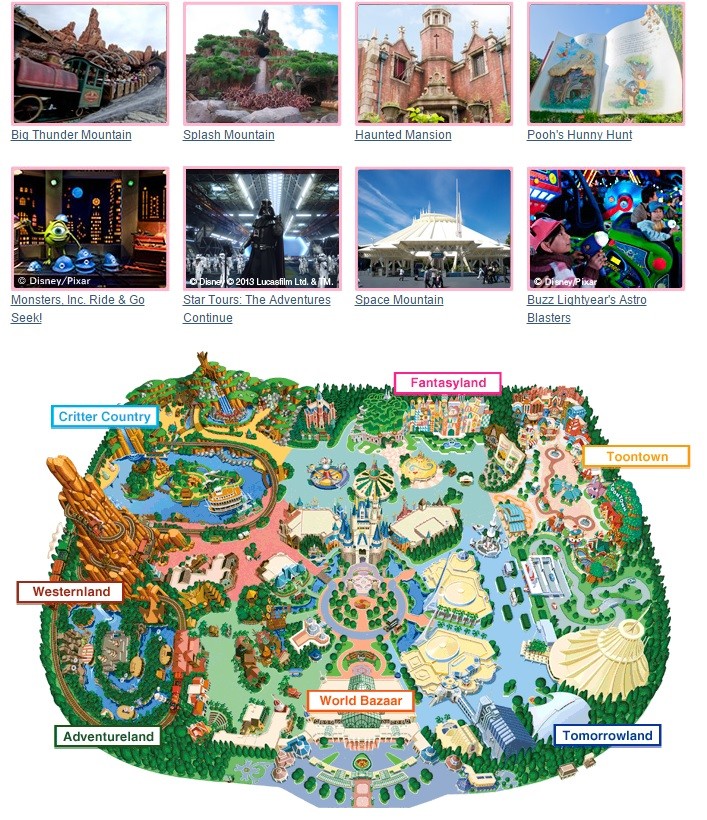 Tokyo DisneyLand attractions list
Below we will leave a list of attractions that the park has. Of course, as with any park, these attractions may have been replaced or removed over time, but here is a list of them in English so you can imagine and google videos and images.
Omnibus;
Penny Arcade;
Jungle Cruise;
Lilo's Luau & Fun;
Mickey's Rainbow Luau;
Minnie Oh! Minnie;
Pirates of the Caribbean;
Swiss Family Treehouse;
The Enchanted Tiki Room: Stitch Presents Aloha e Komo Mai!
Western River Railroad;
Big Thunder Mountain;
Country Bear Theater;
Horseshoe Roundup;
Mark Twain Riverboat;
Tom Sawyer Island Rafts;
Super-Duper Jumpin' Time;
The Diamond Horseshoe;
The Diamond Horseshoe presents: Mickey & Company;
Westernland Shootin' Gallery;
Beaver Brothers Explorer Canoes;
Splash Mountain;
Alice's Tea Party;
Cinderella Castle;
Cinderella's Fairy Tale Hall;
Dumbo the Flying Elephant;
Haunted Mansion;
It's a Small World;
Mickey's PhilharMagic;
Peter Pan's Flight;
Pinocchio's Daring Journey;
Castle Carrousel;
Pooh's Hunny Hunt;
Snow White's Adventures;
Snow White Grotto;
Chip 'n Dale's Treehouse;
Donald's Boat;
Gadget's Go Coaster;
Goofy's Paint 'n' Playhouse;
Mickey's House and Meet Mickey;
Minnie's House;
Roger Rabbit's Car Toon Spin;
Toon Park;
Buzz Lightyear's Astro Blasters;
Space Mountain;
Star Jets;
Star Tours–The Adventures Continue;
Stitch Encounter;
Monsters, Inc. Ride & Go Seek;
One Man's Dream II: The Magic Lives On;
Dedication
To all of you who come to this happy place, welcome. Here you will discover enchanted lands of fantasy and adventure, Yesterday and Tomorrow. May Tokyo Disneyland be an eternal source of joy, laughter, inspiration and imagination for the people of the world. And may this magical kingdom be a symbol of endurance of the spirit of cooperation and friendship between the great nations of Japan and the United States of America.

E. Cardon Walker, April 15, 1983
Watch a video showing TokyoDisneyland:
Water Park – Tokyo DisneySea
Tokyo DisneySea is approximately 712,246m2, is a park with a nautical exploration theme, which offers you a trip around the world. Unlike Tokyo Disneyland, the overall intention is to create a more adult theme park, including faster, scarier rides, as well as shows designed for an older audience. Considered a major attraction and one of the most beautiful parks ever made. The two symbols of the park are:
DisneySea AquaSphere – A water fountain with a giant model of the earth located at the entrance to the park;
Mount Prometheus – A volcano located in the center of the park with the same height as Cinderella's Castle;
See some of the attractions and the park map: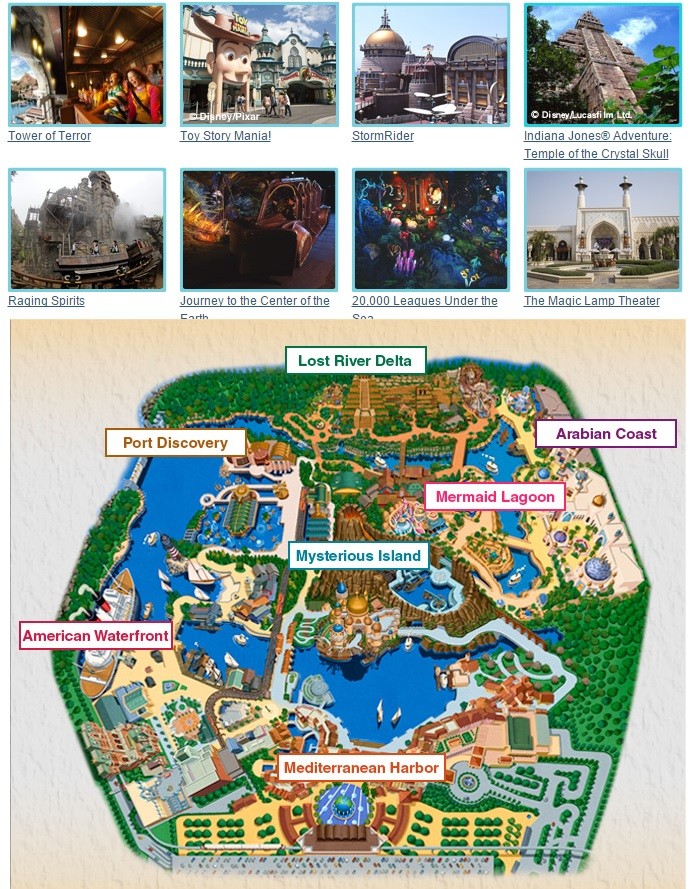 Tokyo DisneySea Attractions List
Again we will leave a list of attractions, but this time from Disney Sea park.
DisneySea Transit Steamer Line;
Fortress Explorations;
Venetian Gondolas;
The Tower of Terror;
Turtle Talk;
Disney Sea Electric Railway;
Toy Story Mania;
Big City Vehicles;
Aquatopia;
Stormrider;
Indiana Jones® Adventure: Temple of the Crystal Skull;
Raging Spirits;
Caravan Carousel;
(a two-story carousel modelled after Aladdin);
Sindbad's Storybook Voyage;
Jasmine's Flying Carpets;
The Magic Lamp Theater;
Ariel's Playground;
Jumpin' Jellyfish;
Scuttle's Scooters;
Flounder's Flying Fish Coaster;
Blowfish Balloon Race;
Mermaid Lagoon Theater;
The Whirlpool;
20,000 Leagues Under the Sea;
Journey to the Center of the Earth;
Dedication
Welcome to the world where imagination and adventure embark. Tokyo DisneySea is dedicated to the spirit of exploration that lives in each of us. Here we'll chart a route to adventure, romance, discovery and fun on a journey to the exotic and fanciful Ports of Call. May Tokyo DisneySea inspire the hearts and minds of all of us who share the water planet Earth.

Michael D. Eisner, September 4, 2001
Watch a video showing the Tokyo DisneySea:
See more details about the attractions and shows on the official website: https://www.tokyodisneyresort.jp/en/
Visiting Tokyo Disney Resorts
Don't expect to spend less than 40 USD to visit one of these parks. Although they are different parks, they are located in the same resort and you can buy a pass for both parks. It is possible to go around the entire park in one day, but the lines for the rides can take a long time, so look for a day that is not crowded, as a midweek away from the holidays, this can lighten things up a bit.
There are several ways to get to Tokyo Disney resort, there is even a special line at the location called the Resort Line. It's not complicated, always have a cell phone with internet and Google Maps handy. Remember to consider booking online, and see the options that fit your pocket. In the park there is a FASTPASS system where you can book your ticket to a ride and walk around the park without having to wait hours in line.
Thank you for reading our article, I hope you enjoyed it and until next time! We appreciate the shares and comments.