In this article, we are going to give you an important tip that will help you find your destination in Japan, regardless of where you are using a tool that everyone has access to called Google Maps.
And even better, this trick will allow you to create a complete travel itinerary. To perform this trick you need a mobile electronic device (smartphone or tablet) and a wifi connection.
Cool! How do I use this trick then?" Maybe you say that, with a big smile on your face, in awe of my skills as a tech magician.
How to use Google Maps to search for your destination?
Using Google Maps is very simple. First write a place you want to know, then you put where the starting point will be, then the options will appear: car, public transport and on foot. When tracing the route, using the public transport option, you will be able to choose the day and time when the trip will start.
When you do, Google Maps will tell you exactly which stops to get off at and which means you need to use. Generally, he always chooses the most expensive and fastest means of transport, which is why it is recommended that you have the "JR Rail Pass". That way, you can be worry-free.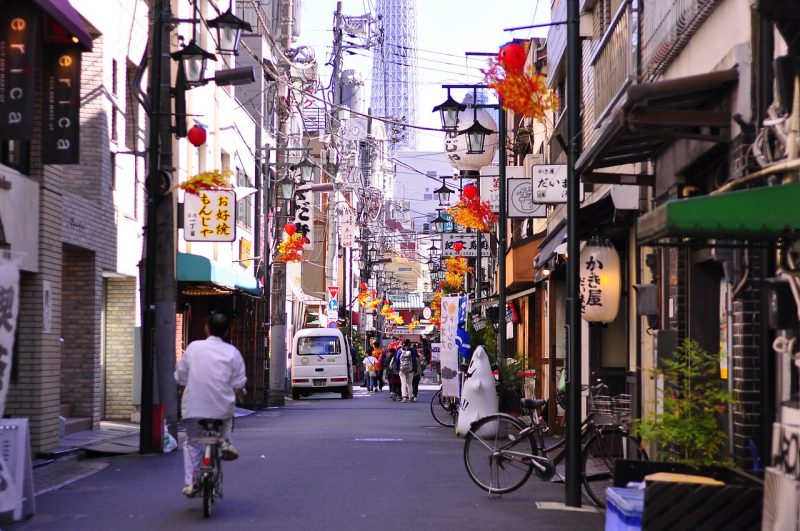 The advantages of Google Maps for tracing your destination in Japan are numerous. Stopping to think a little about how Google Maps helped my travels in Japan I can list:
Time spent from one place to another;
How many trains should I take;
What are the train times for each line and station;
Helps to avoid traffic jams and mountain paths;
Helps me find restaurants and places I want to visit;
Alert on closed places and opening hours;
Displays information about tourist places, photos and reviews;
Helps to find hotels, onsens, convenience stores and others;
Google Maps is a complete and must-have app that everyone should have and learn to use. to make learning easier, let's do a hands-on demonstration of using the app (or trick, as I like to call it).
Using the Google Maps App
First, suppose you are calm and serene, lying in your room, suddenly you want to go to a very nice neighborhood called Asakusa which is in Tokyo, you read about this neighborhood on a website called "suki desu" and there it says that this neighborhood is very good.
To know which way to go, you don't have to wait until you arrive in Japan to see how you get there, just open Google Maps and first type "Tokyo Station".
Since the neighborhood is in Tokyo, it's good to put the station as a starting point, but you can use a hotel address as a starting point if you already know where you're staying.
Just write where I put the arrow: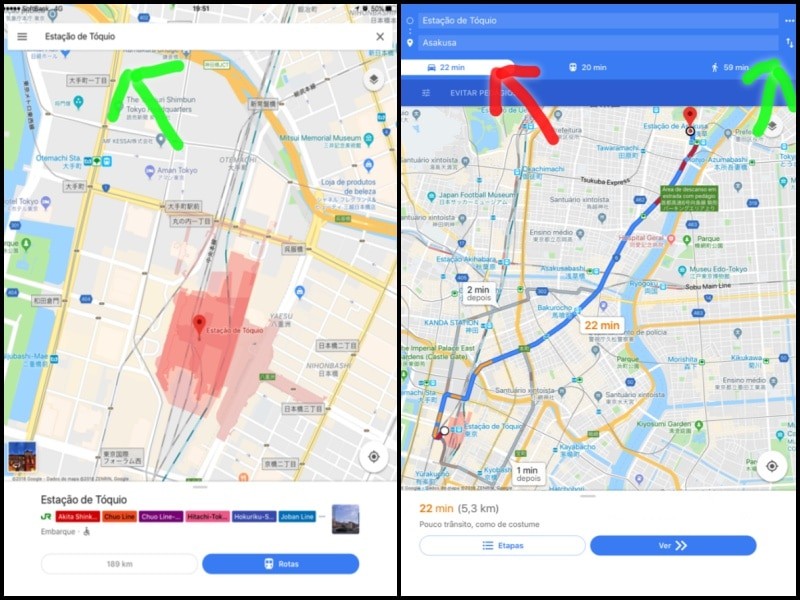 First you click on the two little arrows indicated by the arrow on the right, then click where you want to go, leaving Tokyo station, to Asakusa, then just write the name where it is being indicated by the arrow on the left.
Then you click on the train, which represents public transport and then just click on "Exit ace" which is being pointed out by the arrow on the left if you want to see the times of the day you want to take the tour.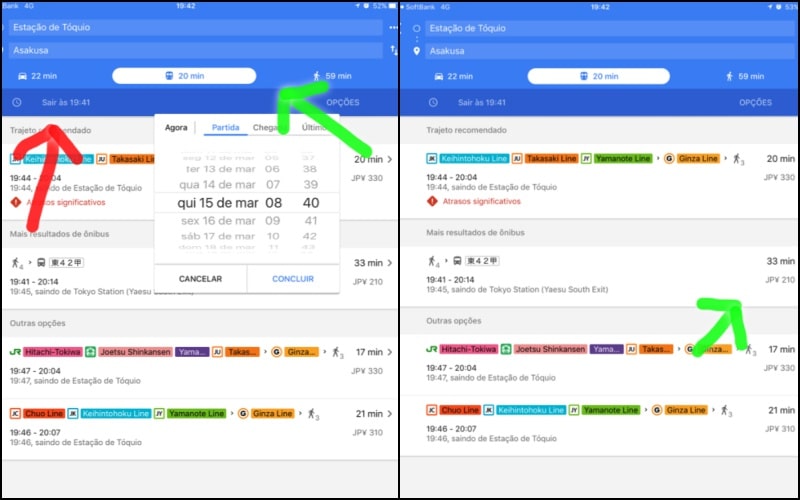 Then just choose the option that most appeals to you, in this case I chose the bus because there are fewer transfers. As my cousin would say, "it's potato!"
And this trick works for any city in Japan or the world you want to visit. There are countless other options and information about Google Maps that can help you chart your trip to Japan, but unfortunately we can't talk about everything about Google Maps if it doesn't get tiresome to read.
Problems when looking up paths on google maps
Google Maps, like every human being, is imperfect and has flaws. For example, always prioritizing the most expensive option, which involves riding a high-speed bullet train! You can easily resolve this by going to settings and checking the cheapest route option.
But when it comes to travel to unknown places he always helps us find ourselves, and that's what we're looking for in an app and in a friend, someone who never lets us down!
But there's a problem, how to access Google Maps when your 4g internet agreement from "Oi" only works in Brazil? How to access Google Maps if my neighbor does not allow Wifi? And how then to lose 20 kilos in 10 days?
Luckily you can get free Wifi in Japan with ease. An internet chip is also a must-have item on your trip to Japan. 
The answers to these questions can be found at Suki Desu! I hope you enjoyed the article and share it with your friends. I hope you now understand that there is no better option to get around Japan than Google Maps! If so, leave it in the comments!
Remembering that this text is part of our digital book "Getting along in Japan", which you can download for free by subscribing to our email list, you do so in this email box that appears in the header of every article.