Have you heard about the controversial, viral and meme maker Belle Delphine? In this article we are going to talk about this famous girl who helped to spread the ahegao fetish. She was also famous for selling bath water.
Belle Delphine is a cosplayer and model from the UK, her real name is Mary-Belle Kirschner. She became popular and became rich on social media for posting videos and photos of ahegao and shaking the perverts on duty.
The origin of Belle Delphine
It all started on March 27, 2015, where she posted her first photo on Instagram under the name @belle.delphine. Since then, she has posted sexy cosplay photos on her social media and has gained a huge following.
On August 14, 2016 Delphine uploaded a makeup tutorial as her first YouTube video. Just on September 5, 2018, she posted a second video showing a tour of her room.
In March 2018 she created a Patreon entitled "Belle Delphine is creating lewd photos and content" in order to raise money. Supporters had access to private snapchat and exclusive photos.
In just 8 months she reached over 1190 supporters. In the month of September 2018, she started posting photos making faces of ahegao. One of her popular photos, she was cosplayed by D.va from Overwatch.
She also created a reddit which in less than a month gained over 22,000 followers. It is believed that at its peak it generates over $15,000 a month from its 2500+ supporters alone.
ahegao is when a woman makes a strange face expressing an intense amount of pleasure during intercourse. Very popular in Japanese pornography, hentai and even in certain situations in anime.
Belle Delphine – Troll meme maker
Since she started gaining a huge following, she has always posted provocative and engaging content to gain more followers. I honestly have to clap my hands for this girl and call her smart.
His videos are always meaningless, doing unusual things that turn into memes and go viral. There are videos of her playing with a dead octopus, getting into a fridge, which have become memes in the 9gag and reddit.
The octopus' video alone titled "finding my best friend" has amassed over 4.3 million views and 52,000 comments. While some ridiculed, others followed the uproar.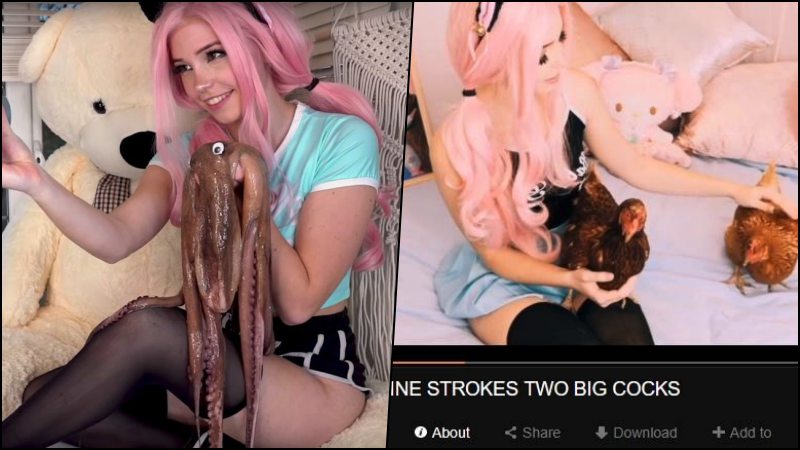 The most incredible thing happened on June 16, 2019, where Belle Delphine promised her followers that she would create a page on the Pornhub website if she got 1 million likes. In 5 days your publication got 1.8 million likes.
She kept her promise and created a page and posted several videos with catchy and provocative titles, but in reality they weren't pornographic at all. This further boosted its popularity and gave rise to several memes.
On Pornhub she posted a video with a title where she said she would caress 2 "cocks" (which refers to the male genital organ) but which also refers to roosters. She actually petted two birds.
She also posted a video where she says playing with her "pussy" which also means cat in English. In the video she just played with a stuffed cat. In another video she said she would squirt "squirt" all over the room. She did this, using a water gun.
Belle Delphine's Bath Water and Shop
On July 1, 2019 Belle Delphine launched the BelleDelphineStore, an online store that sells products with pictures of her, things like mousepads, posters and the controversial bath water.
Delphine posted a photo on Instagram of herself cosplaying as D.Va from Overwatch while sitting in a bathtub announcing that she would be selling her own bath water in the new online store.
After this announcement, his fame rose on Twitter and news sites. Several YouTube channels started making videos on the subject, some criticizing her, others calling her a genius.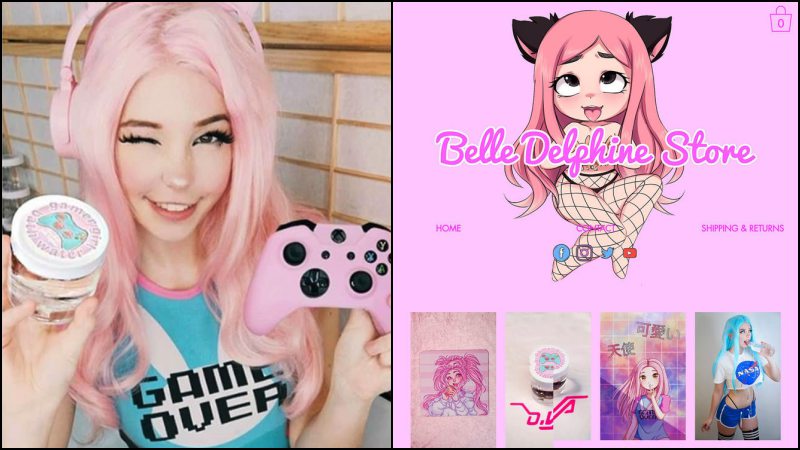 Hundreds of stupid men were willing to pay 30 dollars for a measly pot with a few ml of water with a stamp entitled "GamerGirl Bath Water". Is this girl smart or not?
In a short time, the stock of bath water ran out. She got even richer by selling chewing gum and even a pot of her urine for around $10,000. How far does the idiocy of virgins go?
Some even claimed to have contracted herpes from bathing in water. Others said they did analysis in the water and claimed to find no trace of DNA. Did she just fill the pots with tap water?
Once again, this was a hit on social media and increased the girl's popularity. Sadly, her joy ended when she lost her official Instagram account on July 18th. Not that it was a problem.
Interestingly if you start typing Belle Delphine into Google it will suggest Belle Delphine died.
People who pay for exclusive content
Despite tons of pornography on the internet, there are sick people who desperately follow a person, even paying to have exclusive access to Snapchat and lewd videos and photos of that person.
In recent years, several social networks have emerged just with the aim of making people pay to have access to adult content from certain girls who spend their time posting sexy photos on social networks like Instagram.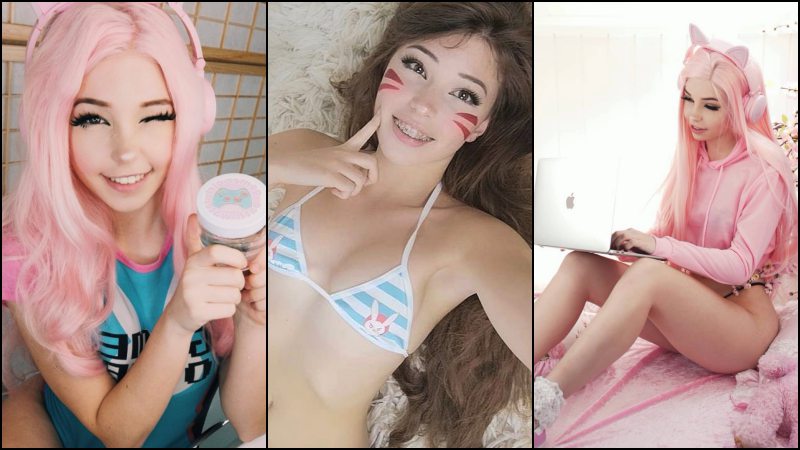 This is the new modality of pornography, where any girl can become a prostitute and sell her own magazine, without depending on being chosen by tests. In fact, many do not even engage in sexual intercourse.
After such a phenomenon, other girls, including Brazilians, tried to raise money with unusual fetishes that are also popular in Japan. Some even raised a lot of money by selling standing photos.
It tells me? Why would anyone pay for bath water? Why would anyone pay for standing photos? What is your opinion on this nonsense? I hope you enjoyed the article, if you liked it, share it and leave your comments.
Belle Delphine's Networks Links
If you want to follow Belle Delphine on social media, we recommend the links below:
Videos about Belle Delphine
Finally, I will leave some videos of famous youtubers commenting on this controversial girl:
Video of Orochinho talking about standing pack: