Ever wondered "What are some Japanese violinists?" or "Who are the most famous violinists in Japan?" In this article, we are going to see a list of notable and famous violinists from Japan. These violinists are among the most prominent in their field.
The list features Shinichi Suzuki, Hirotsugu Shinozaki, and many others. These prominent violinists from Japan may or may not be alive at the moment, but what they all have in common is that they are all respected Japanese violinists.
Use this list of renowned Japanese violinists to discover some new violinists you may not be familiar with. Don't forget to share this list and leave comments with friends.
Shinichi Suzuki – Creator of the Suzuki Method
Suzuki Shinchi was born in Nagoya City on October 17, 1898. He was a Japanese musician, philosopher and educator and the inventor of the Suzuki international method of music education and developed a philosophy for educating people of all ages and abilities.
Shinichi spent his childhood working at his father's violin factory (now Suzuki Violin Co., Ltd). He started playing the violin at age 17, without access to professional education, he listened to Mischa Elman's recordings and tried to imitate what he heard.
At 22, the Marquis Tokugawa, a friend of Suzuki's, convinced his father to let him study in Germany, where he studied with Karl Klingler. Even without any formal education, in Germany he spent some time under the care of Albert Einstein.
It was there, in Germany, that he met and married Ms. Waltraud Prange (1905-2000). Upon his return to Japan, he formed a string quartet with his brothers and began teaching at the Imperial School of Music and the Kunitachi School of Music in Tokyo.
During World War II, his father's violin factory was bombed by American warplanes and one of his brothers died. The family was left penniless as a result, so Suzuki decided to leave his positions and move to a nearby town, where he built wooden plane parts to raise some money.
Extremely poor, he taught orphaned children in the outer cities where he lived. He adopted one of his students, Koji, and began to develop teaching strategies and philosophies. He then combined practical teaching applications with traditional Asian philosophy.
The essence of his philosophy can be found in the following quotes:
"Teaching music is not my main objective. I want to make good citizens, noble human beings. If a child listens to good music from the day of his birth, and learns to play it himself, he develops discipline, sensitivity and endurance. He You have a beautiful heart."
"Music is a language that goes beyond speech and lyrics - a living art that is almost mystical. This is where its emotional impact comes in. Bach, Mozart, Beethoven - without exception, live clearly and palpably in their music, and speak forcefully to us, purifying us, refining us, and awakening in us the greatest joy and emotion."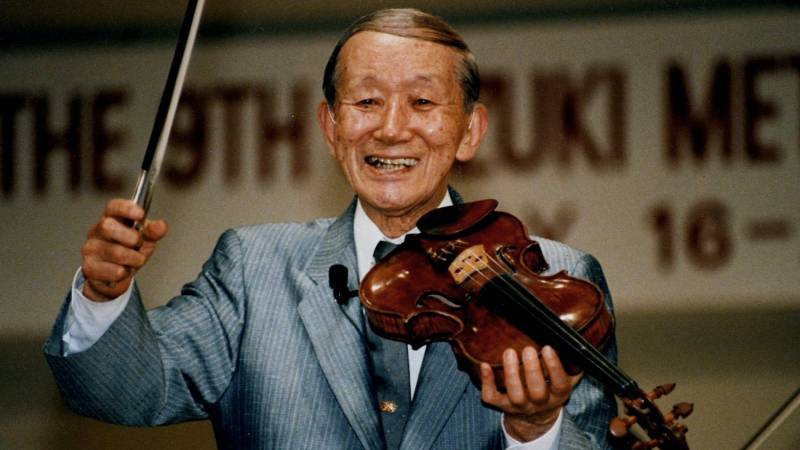 Mari Kimura – Creator of Sub-Harmonics
Mari Kimura [まり木村] is a violinist and composer who was born in 1962. She is known for her use of sub-harmonics, which are achieved through special bending techniques, they allow for tones below the instrument's normal range.
She is credited with "introducing" the use of violin sub-harmonics, which allow a violinist to play a full octave below the low G on the violin without adjusting the instrument's tuning.
Mari studied violin with Joseph Fuchs, Roman Totenberg, Toshiya Eto and Armand Weisbord. She also studied composition with Mario Davidovsky at Columbia University and computer music at Stanford University.
Kimura holds a doctorate in performance from The Juilliard School. Since September 1998, she has taught a postgraduate class in Interactive Computer Music Performance na The Juilliard School.
Mari Kimura is the daughter of a renowned Japanese environmental architect, Ken-ichi Kimura. She grew up in a solar house designed by her father in Japan. Kimura has been composing for solo violin and violin with various media since 1991.
Karen Gomyo – The Western Japanese
Karen Gomyo was born in Tokyo, Japan and grew up in Montreal, Quebec, Canada, where she started violin lessons at age 5. At age 10, she moved to New York to attend the Juilliard School at the invitation of legendary pedagogue Dorothy DeLay.
At age 15, Gomyo won the International Concert Artists Young Auditions, starting his international career as a soloist and chamber musician. She participates in esteemed orchestras, venues, and with fellow colleagues around the world.
Gomyo participated in a 2014 documentary about Antonio Stradivarius called "The Mysteries of the Supreme Violin", in which she is a violinist, guide and narrator, a program that was broadcast worldwide on NHK World.
She was also invited to perform at the First Symposium for Victims of Terrorism, held at the United Nations Headquarters in New York in 2011. Karen Gomyo is also acclaimed for her rendition of the song Nuevo Tango.
She worked with pianist and Astor Piazzolla's tango legend Pablo Ziegler and his partners Hector del Curto (bandoneon), Claudio Ragazzi (guitar) and Pedro Giraudo (double bass).
Yūko Shiokawa – The Immigrant Fiddler
Yūko Shiokawa is a Japanese violinist who was born in 1946. Shiokawa was born in Tokyo and began studying the violin at age 5. In 1957, his family emigrated to Peru, where he studied with Eugen Cremer and began to give concerts.
In 1963, he began mastering classes with Wilhelm Stross in Munich and with Sándor Végh in Salzburg from 1968 onwards. At the age of 19, he received the Preis der Deutschen Musikhochschulen and the Mendelssohn Prize.
Shiokawa began his professional career in 1963, performing with the Bavarian Radio Symphony Orchestra under Rafael Kubelík and the Berlin Philharmonic under Herbert von Karajan. Since then, she has played with most of the major orchestras in Europe, the United States, Japan and Israel.
She is also active in chamber music and solo recitals, especially with her husband, pianist András Schiff. She made numerous recordings, including Mozart's sonatas and Bach's solo sonatas and partitas.
In 1967, Rafael Kubelík allowed her to use her father Jan Kubelík's violin, the Stradivarius "Emperor ex Gillot" made in 1715. She played this instrument until 2000.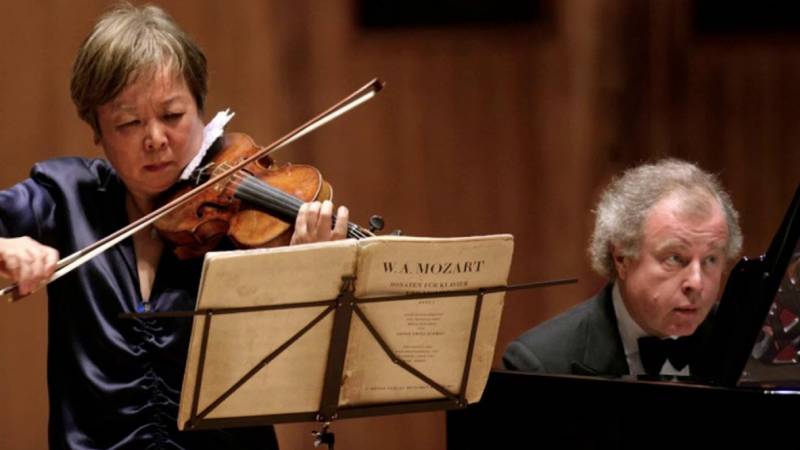 Other Japanese violinists
Violinists in this category are not inferior or superior to the previous ones. We just didn't find much information about these renowned violinists. In fact, some of them were among the first in the Ranking I found.
Chisako Takashima [ちさ子高嶋] is a violinist who was born on August 24, 1968 and is represented by J-two. Below we can see some of their performances.
Hirotsugu Shinozaki was another renowned violinist from Japan who lived between 1902 and 1966, unfortunately we don't have much information about her and her holdings. We know she was born in Fukuoka.
We can't forget about other famous Japanese violinists but I didn't find much information on the internet:
Isako Shinozaki;
Junichi Natsume;
Takehisa Kosugi;
Sayaka Shoji
Takehisa Kosugi;
Yuuko Shiokawa;