Can you imagine having coffee while playing with cats? That's the idea of Neko Cafe!
You may have heard of the "maid cafe" where girls dressed as maids serve you coffee and food. Or you must have also heard about the cosplay café, which is the same thing, but the girls are dressed as characters from some anime or other work. But things don't stop there, in Japan there are also "Neko Cafe" or "Cat Cafe" where you interact with real cats.
Inside a neko café you can play with cats, pet them, hug them while having a coffee. Perfect for those who can't have cats at home, and want to enjoy the benefits of owning one.
We also recommend reading:
Origin of Neko Cafe
The world's first "cafe with cats" opened in Taiwan in Taipei City in 1998. Neko Café became famous in Japan and began to attract many tourists. In Japan, the first Cat Café opened in Osaka in 2004.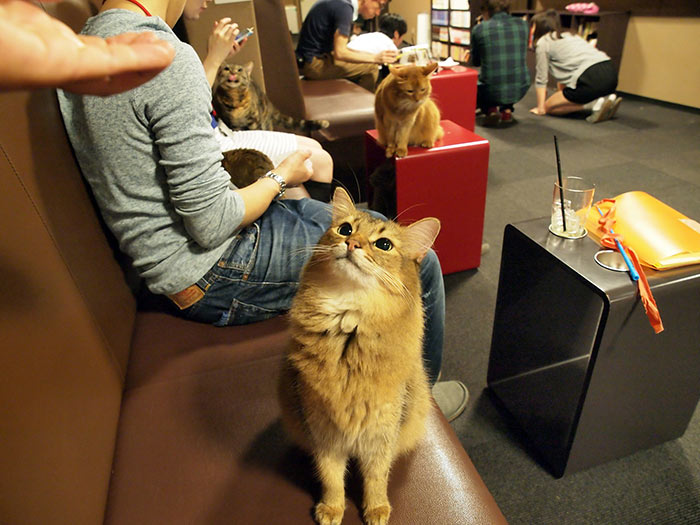 Like Cats, Cat Cafés are quite popular in Japan. To improve marketing and earnings, some take advantage of the cat cafe to sell souvenirs and build a complete cat store.
The first Cat Café was created by Norimasa Hanada in 2005. Over time this business expanded and by the year 2010 more than 100 Cat Café had appeared in Japan. Currently in Tokyo alone, there are more than 40 Neko Café. 
Cafés with cats have strict rules to ensure the cleanliness and welfare of the animals. They need to ensure that cats are not disturbed by excessive or unwanted attention, such as from young children or when they sleep. Some cafe with cats encourages the adoption of animals.
cat cafe videos
Cat cafes is a very kawaii and adorable setting. Here you can find cats of various breeds and sizes, an environment made for cats to feel at home and totally comfortable, as well as toys to interact with them.
See below some videos for more details of Cafés de Gatos: