Hello Kitty is certainly one of the greatest icons of kawaii culture in Japan. Its success and popularity have marked not only Japanese culture but also much of the world.
It is very difficult that you at least have not seen Hello Kitty or other Sanrio characters printed on school materials such as cases, bags, mechanical pencils, as well as film designs and various other products.
In this article, we will learn a little more about Hello Kitty and other iconic characters in the series. Will we see how Hello Kitty was conceived? As she became an icon of kawaii culture?
Who is Hello Kitty?
Her full name is Kitty White (キティホワイト, White Cat), is a character that is portrayed as being a white kitten of the Japanese Bobtail breed. She is usually wearing a blue jumpsuit, yellow blouse and a red bow on her head.
The kitten has a simple design with few strokes but is incredibly cute. One of the most interesting details about her design is the fact that she did not have a mouth, which later caused a series of rumors about the character.
According to Sanrio, Hello Kitty doesn't have a mouth, because they want people to project their "feelings" on the character and have a connection with her. Another explanation of the company is that your pet "speaks with the heart" and is not stuck in any language.
Hello Kitty was born in London on November 1, has a sweet friendly and very outgoing personality, she is very close to her family which consists of her father George, her mother Mary and her twin sister Mimmy.
In addition to her family, she has a boyfriend named Daniel and several friends in which we can highlight My Melody who is her best friend. We'll talk about those characters later.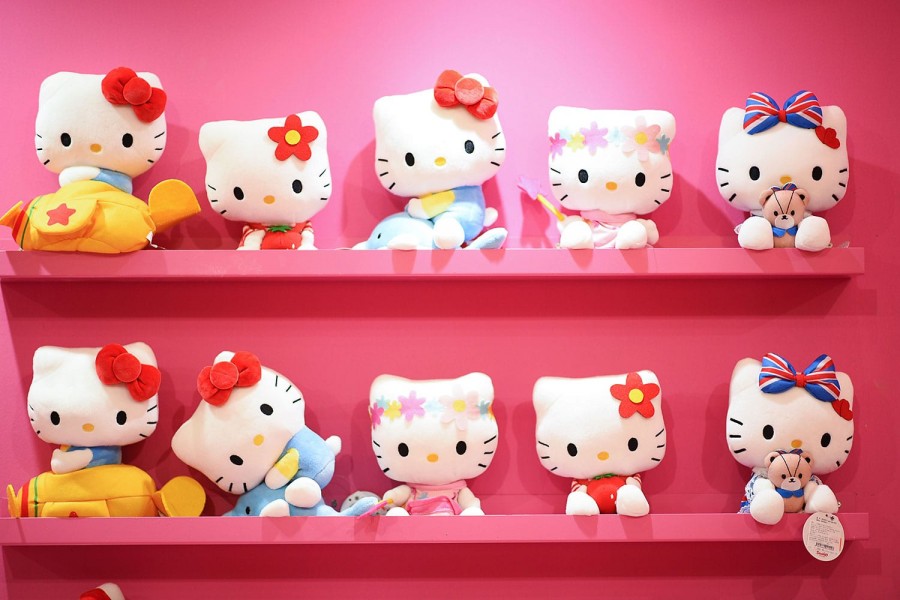 Its origin
Hello Kitty was originally created by the designer Yuko Shimuzo in 1974 for the company Sanrio where she worked, about a year later she left the company and her character passed into the hands of Setsuko Yonekubo until 1980, from where the responsibility passed to the hands of Japanese design Yuko Yamaguchi.
The name "Kitty" was based on a black cat that the main character Alice played in Lewis Carroll's book "Alice in the Country of Mirrors".
After choosing the name Kitty, the founder of Sanrio Shintaro Tsuji wanted the kitten to carry the motto of the company "social communication", so the character became "Hello Kitty".
She was intended for the pre-teen female market, and had a good acceptance from the public leading to the expansion of her products to clothing, school supplies, plush toys, earrings, stickers, bags, and a giant myriad of products.
It first appeared on a vinyl coin bag that became the best-selling item of the year in Japan. The great popularity of Hello Kitty has made her one of the most influential characters in Kawaii and the official mascot of Sanrio who also created the Gudetama, with a recognition of about 92% of the global population.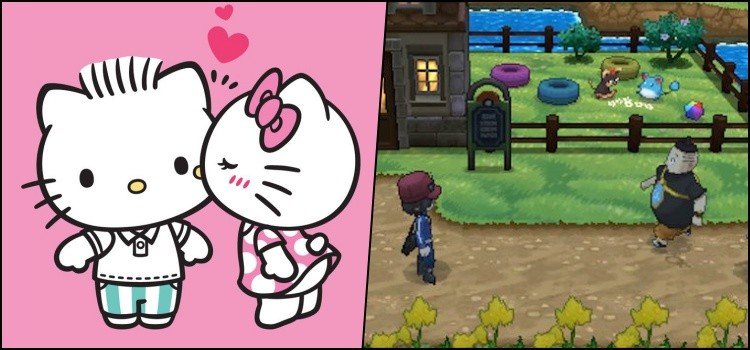 His animated series
His first animated series on television was called "Hello Kitty's Furry Tale Theater "which was produced in 1986 and contains 13 episodes. Her plot was basically Hello Kitty along with her friends re-enacting famous fairy tales.
In 1993 a new animated series entitled "Hello Kitty and Friends" was released which also contains 13 episodes. Some time later it was released in 1999 "Hello Kitty's Paradise" with 16 episodes.
In 2004 it was released in the choir "Hello Kitty Stump Village" containing 26 episodes. In 2006 Sanrio Digital and Dream Cortex produced a 3D animated series called "The Adventures of Hello Kitty and Her Friends", which had 52 episodes.
In 2018 Hello Kitty wins an official channel on You Tube, in which she has videos in the vlog style in which Kitty talks about her interests and shows her travels. Already in 2020 Sanrio launches a free series on You Tube on the channel "Hello Kitty and Friends".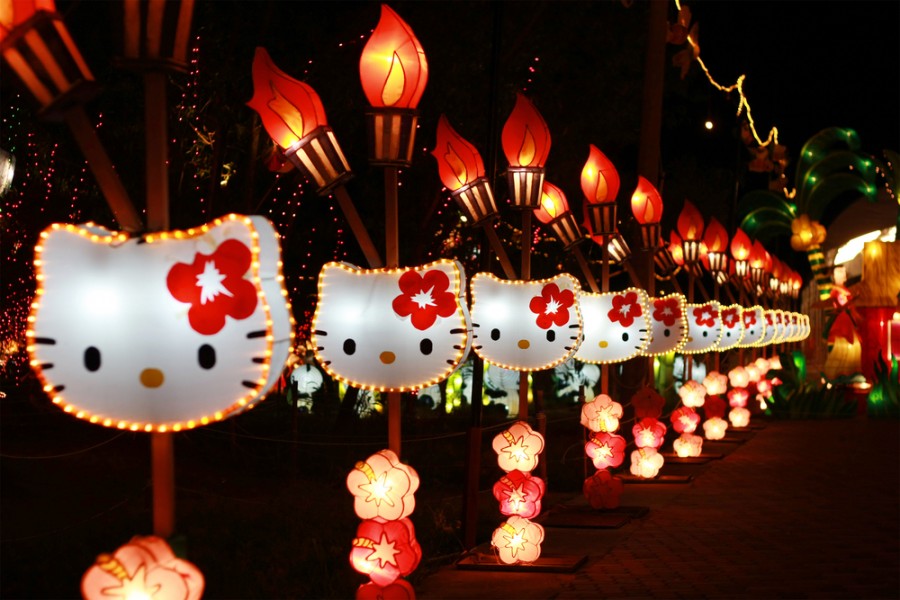 Some of the Hello Kitty characters
Now, let's talk a little bit about some of the Sanrio characters who make company in the Hello Kitty series.
Mary White
Marry White is Kitty's mother and George White's wife. She is a white cat that looks quite like the design of Hello Kitty, has a yellow hat, wears a long dress with an apron and shoes.
Marry has a rather cheerful, gentle personality and proves to be quite protective and caring with her husband and daughters.
In addition to her pleasant personality, Marry has excellent culinary skills and is also an excellent seamstress. She has a clothing concert business in which she is successful.
George White
George White is the father of Hello Kitty and Mimmy and husband of Marry. He is the head of the White family and his appearance is also similar to that of the rest of the family, that is, he is a white cat.
He has a more serious appearance and usually wears office suits such as: collared shirts, ties, social pants, shoes and black glasses. He also wears a pipe.
George has a calm and serious personality, he is very hardworking and despite spending a lot of work he always manages time to enjoy together with his family.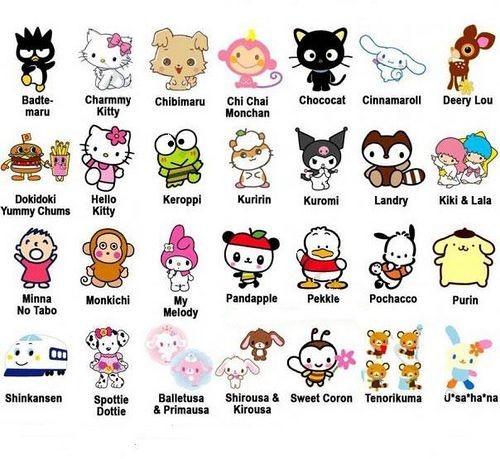 Mimmy White
Mimmy White is Kitty's twin sister. Being an identical twin, she has the same physical appearance as her sister, being a white cat with a yellow nose and just like Kitty does not have a mouth. She also wears a yellow bow on her left ear.
She has a more introverted and shy personality than her sister and is also very polite and attentive. Mimmy is quite close to Kitty and they have a strong bond.
My Melody
My Melody is Hello Kitty's best friend, she is a white rabbit and wears a red or pink hood with a flower or a bow on the right side of the hood.
My Melo (as she is frequently known) is an animated girl who was born in the Mariland Forest in London. Her favorite food is an almond pound cake and her hobby is baking cookies with her mother.
expensive Daniel
Dear Daniel or Daniel Star (as he is generally known) is the childhood friend and lover of Hello Kitty, he is a cat of the same breed of Kitty (Bobtail), they have known each other since childhood.
Daniel is vain and always cares about being in fashion, he is also very kind and attentive. Both he and his family had already lived in various parts of the world, before returning to England they had a passage in New York.
That experience provided Daniel and he to become an excellent dancer. He dreams in the future of becoming a celebrity or a photographer just like my father.
Some images belong to Depositphotos