This is an escape room: An immersive puzzle-solving experience that will test your mental and problem-solving skills and for everyone's delight, is being offered in English and Chinese.
An escape room is basically a version of real life but inside a "video game" where you are trapped in a room along with some other participants and you must explore around you until you can find the key to escape within a certain period. of time. Some escape rooms are purely problem solving, while others have a story with an immersive atmosphere to drive the participants' action.
In recent years, the Escape Room has become very popular. Since the first achievements of the game which started around the year 2000, the number of fixed escape rooms has grown to approximately 3,000 occurring globally and with the number of participants of approximately 1.6 million.
Escape Room in Asakusa
In Japan, the SCRAP corporation is the pioneer in the genre and is very popular among Japanese puzzle fans. In addition to offering various settings for their escape rooms, they also host large-scale special events. For example, they once held an escape event at the Tokyo Dome.
Starting in 2015, SCRAP started offering two of its most popular escape rooms, Escape from the Red Room and Escape from the Haunted Manor, both of which have English and Chinese versions. in the Real Escape Room Asakusa. Both cost ¥1,800 in advance and ¥2,300 at the door.
Escape from the Red Room looks extremely simple, but it's not. Six participants are locked in a room painted entirely red, with nothing but two padlocked doors. They have 30 minutes to figure out the code that will unlock the exit, something that only about 3% of groups can do. Fortunately, participants can get a 10-minute extension for an additional ¥800, but even so, the success rate is around 15%.
Escape from the Haunted Manor has a rather frightening story as it concerns a murdered child and strange disappearances that horror fans will love. Gameplay is more involved than Escape from the Red Room, combining elements of haunted house, treasure hunt and problem solving, plus low and high lights and spooky music to distract and scare. Cost and time rules are the same as Red Room.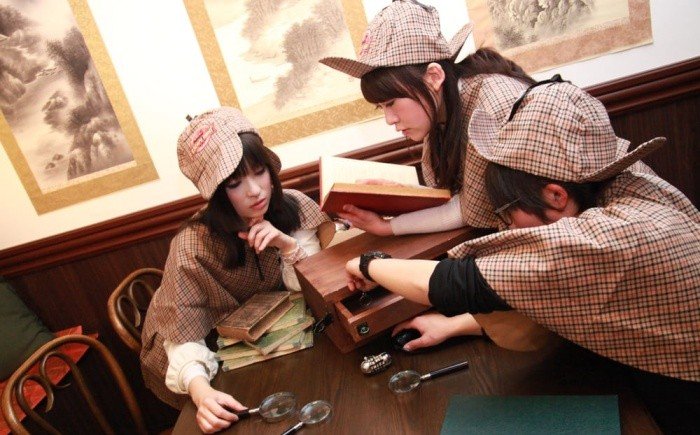 Other Escape Room
For the third year in a row, SCRAP is also collaborating with Tokyo Metro to offer The Underground Mysteries, a problem-solving game that takes you around the Tokyo subway system to find clues. If you manage to complete all the puzzles, you can enter the final answer on the SCRAP website to complete the game. As of 2015 this game started to be offered in English and Chinese.
Unlike the traditional Escape Room format, The Underground Mysteries lets you solve the puzzle at your own pace. In addition to game materials, it includes a full day with the Tokyo Metro open just for the event, so participants can move freely between stations, and it takes about four hours to complete the game. One of the cool things about the game is that participants can access places they normally wouldn't be able to visit.
With multiple languages and a variety of different games now available, there's nothing to stop you from pitting your brain against SCRAP's puzzle masters if you're in Japan, except maybe a little claustrophobia. But even then, you won't feel like the walls are starting to close in on you. Unless, of course, they really are closing...
There is also an Escape Room in Brazil in the city of São Paulo. Finally, we will leave some links that can help you to know more about an Escape Room.
Escape Room in Sao Paulo 
Tokyo official website