A few years ago football/soccer was not so popular among the Japanese. But now it has become 3rd most popular sport in the country. Much owes itself to the 2002 World Cup, the first held in Asia, hosted in Japan and South Korea. In Japanese, "football" is sakkā, being a word derived from the English "soccer".
But much of the popularity of this sport is also due to numerous works, both by sleeves like anime, which depict football/soccer. What, in a way, boosted a sport until then little practiced in the country.
While perhaps the sport is sometimes portrayed in a fanciful way, it also shows the reality of football. Many of these manga and anime came to Brazil and were very successful, from the classic Captain Tsubasa (Super Champions) to the most recent Super Eleven (Inazuma Eleven). See now a list of soccer anime:
Captain Tsubasa (Super Champions) (1983)
The anime tells the story of Oliver Tsubasa, a football/soccer fanatic boy. After moving to another city, he finds new friends and a world of competition in the sport.
Having as main dream to defend the Japanese soccer team in FIFA World Cup. So he trains a lot and overcomes many challenges on his journey. Always striving to improve their strength and skills.
The series is kind of fanciful with football/soccer moves. But it also deals with relationships between friends, rivals, training, competitions and the progress of games.
The main character even comes to play in a Brazilian team
It was announced that for 2018 we will have a remake from anime;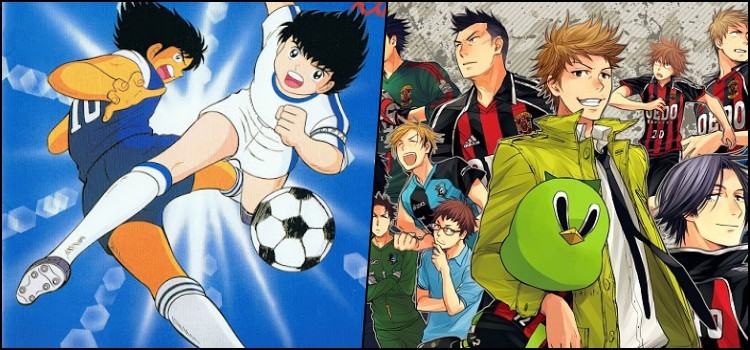 Giant Killing (2010)
This anime tells the story of Tatsumi Takeshi, a former famous player, which now becomes a coach of football/soccer. Your goal is to get your old team off the bottom, now as a coach.
The story doesn't just focus on Tatsumi, but also on the players, fans, management and management of a team. Really showing how everything works in a football/soccer club.
Inazuma Eleven (Super Eleven) (2008)
In this anime we meet Mamoru Endou (in Brazil Satoru Endou), a young and talented goalkeeper for a school team. Even with so much talent, his school doesn't have a competitive soccer team. But everything changes when a skilled new student moves into Endou's school.
Then the goalkeeper goes out in search of new players to boost the team. Very fanciful games, players full of powerif diverse skills, lots of action, and stages that come true combat arenas.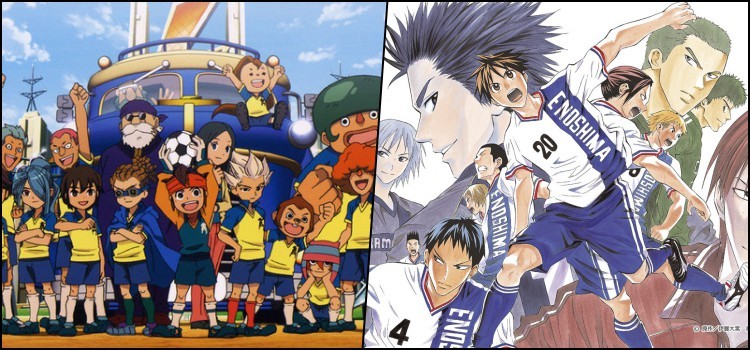 Area no Kishi (2012)
Kakeru Aizawa is the younger brother of shirt 10 of Japan's under-15 national team. Kakeru is a bit skeptical of being a player, so much so that he's just a sidekick on his brother's varsity team. But everything changes when an old childhood friend who played soccer with them returns.
She doesn't understand how Kakeru lost confidence in playing football/soccer. A terrible event marks their lives, from which the young Kakeru decided to pursue his dream of participating in a National Championship.
Days (2016)
The series shows the development of Tsukushi Tsukamoto, a shy and clumsy teenager and not very skilled at football/soccer. But one day, after some events, he proves to be very hardworking and dedicated, despite his little skill with the sport.
His friend Jin, considered a soccer genius, seeing Tsukushi's dedication invites him to join the team. Tsukushi despite being fragile, weak and clumsy, shows a great disposition, which helps the team to work together, even if it seems difficult.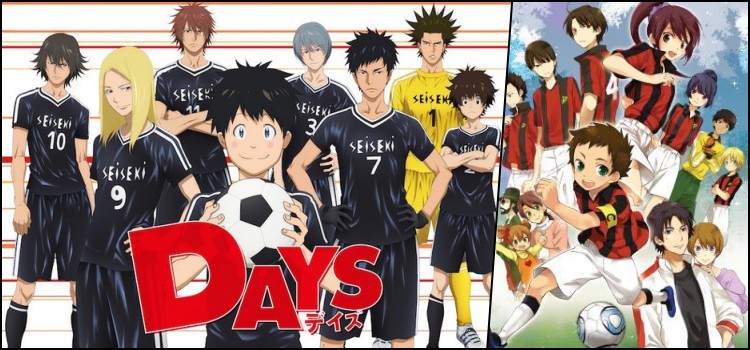 Other football/soccer anime
Whistle! (2002)
Ginga e Kickoff!! (2012)
Aoki Densetsu Shoot! (1993)
Hungry Heart: Wild Striker (2002)
Ganbare, Kickers! (1997)
Keppeki Danshi! Aoyama-kun (2017)
Eyeshield 21 (2004)
And have you watched any of these football/soccer anime? Do you like this anime style? Leave your comments and share with your friends. We also recommend reading:
6 psychological thriller anime