Argento Soma - Information, curiosities and spoilers
On this page we present all the information, curiosities, spoilers, summary, main characters and any other question that someone may have the anime: Argento Soma.
Argento Soma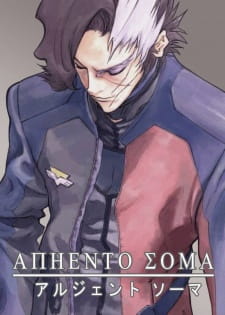 Synopsis: In the year 2059, the land was tormented by aliens for several years. In an effort to learn more about these aliens, Dr. Noguchi and his assistants Maki Agata and Takuto Kaneshiro try to revive the teacher's experiment, a great biomechanic foreigner named Frank. During this process, the alien reaches 'life' and the laboratory is later destroyed, leaving Takuto the only survivor and the alien disappearing in the desert. While Frank travels the desert, he meets Hattie, an emotionally distressed young woman whose parents are killed in the first 'close meeting' of the war. Interestingly, she is able to communicate with Frank and soon after they are arrested by a secret agency known only as 'funeral'. Meanwhile, Takuto wakes up in a hospital bed with his lifelong lifetime and his disfigured face. Motivated by revenge and heartbreak, Takuto accepts an offer from the mysterious' Mr. X 'and receives a new identity as a funeral officer named Ryu Soma.

(Source: Ann)
Table of Content
- Information
- Curiosities
- Characters
- Summary
- Final
- Meaning
- Related
- FAQ
Information
See below all important information about the anime: Argento Soma
Anime Names
Anime Name:

Argento Soma

Anime Name in Japanese:

アルジェント ソーマ

Anime Name in English:

Desconhecido

Other names:

AΠHENTO ΣOMA
Production information
Producers:

Desconhecido

Licensors:

Bandai Entertainment, Sentai Filmworks

Studios:

Sunrise

Other names:

AΠHENTO ΣOMA
Anime Information
Duration:

25

Date:

October 6, 2000 - March. 22, 2001 - Fridays on 0115 (JST)

Genres:

Action, adventure, drama, science fiction

Subjects:

Mecha, Military

Target:

Unknown
If available, a video of the anime:
Curiosities
Below is the main curiosities of the anime "Argento Soma":
Argento Soma is an anime of science fiction released in 2000.
The story revolves around a scientist named Ryu Soma, who becomes a human half and half alien after an accident.
The anime was created by Sunrise studio, known for producing other popular anime such as Gundam and Code Geass.
Argento sum combines elements of action, drama and mystery, creating an engaging plot full of twists.
The protagonist Ryu Soma is voiced by Soichiro Hoshi, who also dubbed characters in other famous anime such as Kira Yamato in Gundam Seed.
The anime has 25 episodes and was originally aired in Japan between October 6, 2000 and March 22, 2001.
The Argento Sum soundtrack was made up of Katsuhisa Hattori, who also worked on other soundtracks of anime such as Nadesic Martian.
The anime received positive criticism for its complex story and well -developed characters.
Argento Soma was also adapted to a manga, which was published between 2000 and 2002.
The anime addresses topics such as identity, scientific ethics and the impact of technology on society.
Main characters
Below is the main characters of: "Argento Soma"With your voice actors and a brief description of the character:
Takuto Kaneshiro (Hiroaki Hirata) - Protagonist of the story, he is a young scientist who joins the funeral organization to fight the alien monsters.
Maki Agata (Aya Hisakawa) - Leader of the funeral combat team, is a strong and determined woman who has a mysterious past.
Dan Simmons (Rikiya Koyama) - One of the funeral combat team members is a calm and experienced man in battles.
Ryu Soma (Toshihiko Seki) - The alien monster that fuses with Takuto's body after an accident, giving rise to the name "Argento Soma".
Sue Harris (Kikuko Inoue) - A funeral scientist is a intelligent and insightful woman who helps Takuto in her missions.
Kyou Sogoru (Kouichi Yamadera) - A Takuto's rival scientist is an arrogant and ambitious man who will do his best to get what he wants.
Summary and events
The earth is attacked by a form of alien life called "Chinomu".
The Doctor. Inagaki leads a team of scientists to develop a biological weapon to combat the Chinomu.
University student Takuto Kaneshiro is recruited to join the Dr. Inagaki.
During a biological weapon test, an accident occurs and Takuto is seriously injured.
To save him, Dr. Inagaki injects Takuto with an experimental serum that gives him supernatural skills.
Takuto joins the team to combat Chinomu, known as "funeral".
The team discovers that the chinomu are actually mutant human beings.
Takuto falls in love with one of the mutants, Maki Agata.
The team discovers that Chinomu are controlled by an artificial intelligence called "Frank".
Takuto and Maki manage to destroy Frank, but Takuto is seriously injured again.
Takuto is saved by a new form of alien life that takes him away from Earth.
What happens in the end?
At the end of the Argento manga sum, the rescue team finally can find the alien ship that contains Takuto's mother, but they discover that she is already dead. Takuto is devastated, but decides to continue fighting the aliens to honor his mother's memory. The team also discovers that the alien ship contains a device that can destroy the earth, so they work together to disable it before it's too late. In the end, Takuto and his friends can save the earth and say goodbye as they continue to fight the aliens.
Meaning of Argento Soma
Let's look at the translation of each word and explanation of the anime's name:
アルジェント ソーマ
アルジェント (Arujento) - Silver
ソソ マ (Sōma) - Body
The name of the anime "Argento sum" refers to the combination of two English words: "Argentum" (silver) and "sum". The history of the anime involves the creation of artificial humans called "Franken", which are composed of parts of human and alien bodies. Silver is an important element in the plot as it is used to control the Franken. The name "Argento sum" represents, therefore, the fusion of these key elements of history.
Related anime
See below some anime similar to Argento Soma

See also related articles
Questions and Answers FAQ
How many episodes have the anime Argento Soma?
Argento Soma has a total of 25 episodes. This number may not represent all seasons.
Where to watch the anime Argento Soma?
You can watch the anime on Crunchyroll, Netflix, or any other streaming site where the work is available.
Is there wrong information on this page?
Mistakes of interpretation may happen by our intelligent writing. If you find any information not consistent with the work, you can contact us so that we can make manual changes.