In this article, we are going to see a list of the 10 highest-grossing Japanese films in Japan. Below we will have the list of films, the year of release, the amount collected at the box office alone, and a brief synopsis. It seems that this list is full of movies from director Hayao Miyazaki of studios Ghibli (6/10), and they like some fantasy movies...
It is worth remembering that in 2016 the famous movie was released Kimi no na wa that broke several barriers and rankings. At the time this article was written the movie has not yet been released, but keep in mind that Kimi no Na wa is at the top of this ranking.
1. Spirited Away
2001 - 30.4 billion yen 
Lost and alone, little Chihiro finds herself facing a world full of spirits, monsters and gods. Lucky for you, Haku will help you. He teaches Chihiro the best way. On the way, she meets Kamaji and Lin. The two, like Haku, help her get used to this world.
2. Howl's Moving Castle
2004 - 19.6 Billion Yen
Sofia is an 18-year-old girl who works in her father's hat shop. On one of her rare trips to the city, she meets Hauru, a very seductive but dubious magician. Confusing their relationship, a sorceress casts a curse on Sofia that makes her 90 years old. Desperate, Sofia runs away and ends up finding the Hauru Animated Castle. Hiding her identity, she manages to be hired to perform domestic services in the place, getting involved with the other residents of the castle.
3. Princess Mononoke
1997 - 19.3 billion yen
The village of Ashitaka is invaded by a strange demon, and the brave prince decides to face him. He fights with the animal and manages to kill it, but before he gets his arm injured and is contaminated by a curse. He will corrode with hatred until he becomes a demon like the other and dies, unless he goes after the cure in the forbidden forest. This is where Ashitaka's journey begins, as she will face fantastic animals, cursed princesses and the mysteries of nature. The prince will also meet the men who want to destroy the forest and little San, or Princess Mononoke.
4. Bayside Shakedown 2
2004 - 17.3 billion yen
Continuation of the first film that is in 7 place on the list, based on a television series.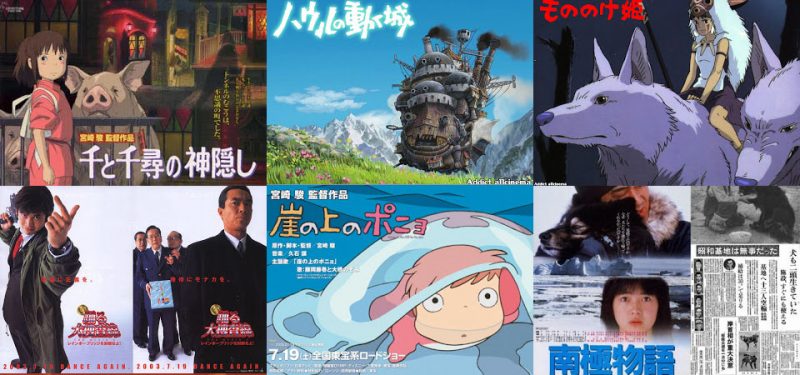 5 . pony
2008 - 15 billion yen
Sosuke (Hiroki Doi) is a five-year-old boy who lives on a cliff overlooking the Inland Sea. One day, while playing on the beach, he meets Ponyo (Yuria Nara), a goldfish whose head is stuck in a jam jar. He saves the goldfish and puts it in a green bucket. It's love at first sight, as Sosuke promises to take care of her. But Fujimoto (Jôji Tokoro), who was once a human and is now a sorcerer at the bottom of the sea, demands that Ponyo return to the depths of the ocean. To stand by Sosuke's side, Ponyo makes the decision to become human.
6. Nankyoku Monogatari - Antarctica
1983 - 11 billion yen
Akira Ushioda is part of a team of Japanese researchers that undertakes an expedition to Antarctica in 1957, and he is responsible for looking after the sled dogs. Due to the harsh weather conditions, the team is forced to abandon the station, and Ushioda feels responsible for leaving 15 dogs at the mercy of fate. Based on real facts.
7. Bayside Shakedown: The Movie
1998 - 10.1 billion yen
The film continues a few months after the end of the TV series. Main character Detective Sergeant Shunsaku Aoshima worked his way back to the investigation division of the Wangan Precinct of the Tokyo Metropolitan Police Department, after being demoted back to patrol duty for insubordination.
8. Koneko Monogatari
1986 - 9.8 billion yen
Chatran, is a small and restless yellow cat who lives with his brothers on a ranch in northern Japan. One afternoon when he was playing with the dog Puski, he went to hide in a box by a river and ended up being carried away by the current. There begins a journey with waterfalls, bears, snakes, rain, hunger, vultures, holes, raccoons and foxes, while Puski comes running through the forest looking for him. The film will follow the growth of the animal and the relationships established between living beings and nature, which can alternate between sweetness and companionship as well as aggression.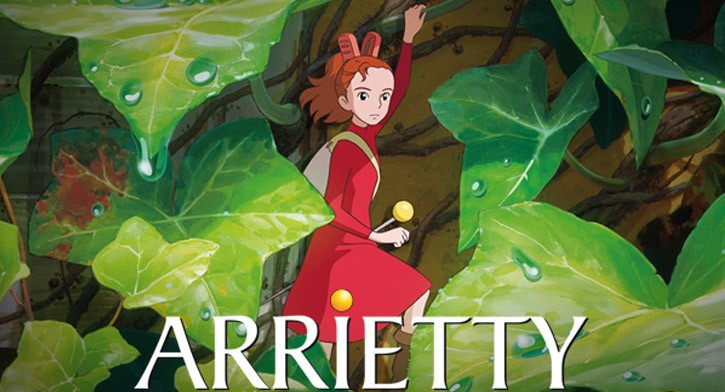 9. Arrietty's Secret World
2010 - 9.3 billion yen
Arrietty, a small but persistent 14-year-old girl, lives with her parents in the backyard of a suburban house, unbeknownst to the owner and his maid. Like all little people, Arrietty remains hidden from people, except during occasional undercover ventures beyond the floor to "borrow" small fragments, like sugar cubes, from the humans, owners of the house. But when Sho, 12 years old, a human boy, comes to stay at the house, discovers his mysterious companion one night, a secret friendship blossoms. If discovered, their relationship could lead Arrietty's family from home, straight into danger.
10. Heaven and Earth
1990 - 9.2 billion yen
Set in feudal Japan, the daimyo Kagetora (Enoki) must protect her lands and her people from the warlord Takeda's (Tsugawa) ambitions.