Marvel Snap is an incredibly fun card game. Released on October 18, 2022, the game was developed by Second Dinner, a studio run by Ben Brode, the same director responsible for Hearthstone.
Marvel Snap features themed cards featuring Marvel Comics characters and is available in several languages, including Portuguese.
In this article, we will know more about this wonderful TCG (Trading Card Game) that has achieved enormous popularity in recent months.
We recommend that you also read:
About the game
In Marvel Snap, you start matches with 3 cards in your hand. Each turn you draw 1 card from the deck. The game has three important concepts: energy, power and place. Energy (in blue) is the cost to play a card, similar to mana in Hearthstone and lands in Magic: The Gathering.
Each turn the energy goes up by 1. In turn 1 each player has 1 energy and can only play cards with a cost of 1. The power (in orange) is what decides who will win the duel. Each card has a certain amount of power.
Finally, the places (locations) are the most interesting part of the game. There are several locations with different effects that can appear in matches. Each clash has three places and the player who has the most power in 2 of the 3 wins. The tiebreaker is the sum of the power of all places.
Explaining it like this may seem difficult, but as you play the rules become clearer. Other important features of the game are card skills. Cards have skills that can help increase power in each location. Another essential information is that it is only allowed to place 4 cards per location, that is, 12 per game.
Decks can be edited in the collection menu and new cards are acquired through missions and passes. It is also possible to purchase card skins, enhancements and special cards from the in-game store, with real money or gold (in-game virtual currency).
Check out the trailer for the game below:
My Opinion on Marvel Snap
Marvel Snap emerged and became a phenomenon in no time. With a fun, creative and innovative gameplay, MS manages to hold the player for several hours of the day. I started playing and when I saw it, more than 3 hours had passed! The game is so good that it's hard to stop playing. Combining classic Marvel characters and an intuitive and easy-to-understand power system, this card game is set to get even better with each new update.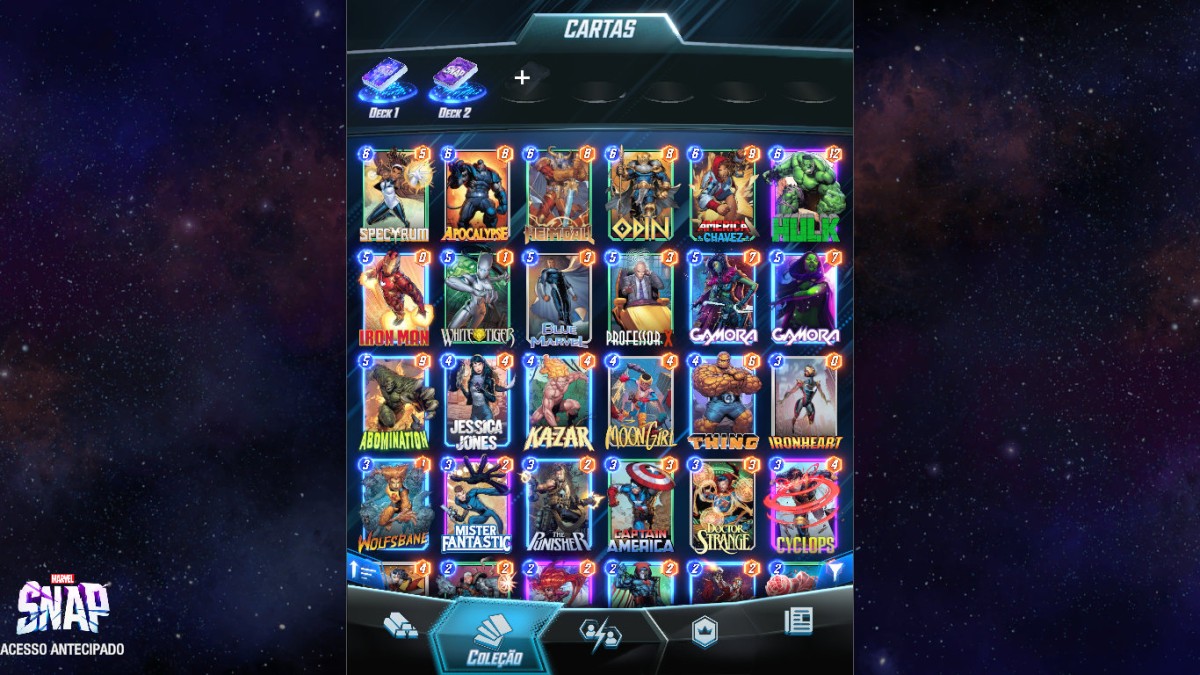 In general, we can list as positive points of the game the speed (with short games of 6 turns), the gameplay (simple and fast commands), the design and animations (great special effects and card design), the fun (various characters from Marvel are present) and creativity (the concept of "place" in the game works very well, greatly expanding the possibilities of strategy, making each duel unique).
If there is a downside, it might be the scarcity of competitive modes and championships. However, being a new game this is more than expected. The developers have already announced that at the end of this month of January the PVP mode will be launched, where it will be possible to battle with friends.
Anyway, the game is excellent. With the decay of Hearthstone, Marvel Snap is a great alternative for fans of this genre. If you are a fan of Marvel comics, the chance of liking the game is even greater, as the game brings together iconic characters from the franchise, such as Hulk, Mister Fantastic, Spiderman, Ant-Man, Iron Man, Silver Surfer, Beast Boy and many others. Even little-known heroes are present.
Strengths:
Funny
easy to play
beautiful design
Excellent sound effects
Marvel Comics character cards
Strategy is more important than RNG
constant updates
High number of players
Fast and exciting matches
unpredictability
Negative points:
In the PC version (Steam), the game screen can be small (even in Full Screen), making it difficult to read the effects of places (you need to click on it to enlarge).
Championships and PVP are still under development.
There are very few negative points. Nothing that can't be fixed in the future.
game download
Download the Marvel Snap clicking here. You can play it on both PC (STEAM) and Mobile (Android and iOS). Visit the Google Play (Android) and App Store (iOS) apps to download mobile versions.
Other Online Card Games
What's up? Did you like the article? So don't forget to share it with your friends!