Gartic Fone is a new way to play the famous Gartic and classic wireless phone game. In this article we will share some information about the game and a list of Ideas and phrases for Gartic Phone.
In this game you can think of anything or any phrase, but many still run out of ideas for Gartic Phone. In addition to the list of ideas, we will also share some suggestions for you to create perfect phrases that suit the tastes of your class.
We also recommend reading:
What is Gartic Phone Game?
This is an online version of a children's game, which tests your drawing skills. Logged into the site, you can create rooms with friends to have fun. It all starts by receiving an anonymous phrase in the chat, then the participants have to draw until the end of the round where the results will be displayed.
How to play Gartic Phone?
To start the game, you need to create a room and invite your friends to join. It won't take long for you to define what the round will be like. There are several options on the screen of the room you create.
After that, you must create a very funny, or completely random, phrase to start the game.
After submitting your sentences, all participants will eventually receive one, so you need to rely on your creativity and time as participants will need to create an illustration for each sentence described.
When completed, the sentence ends up being shown to the participants as well as the creator's drawings, as if it were a final gallery. All players display their illustrations until the round restarts.
It's not a competition, but a fun game to have a laugh and show your artistic skills. Also perfect for having funny ideas.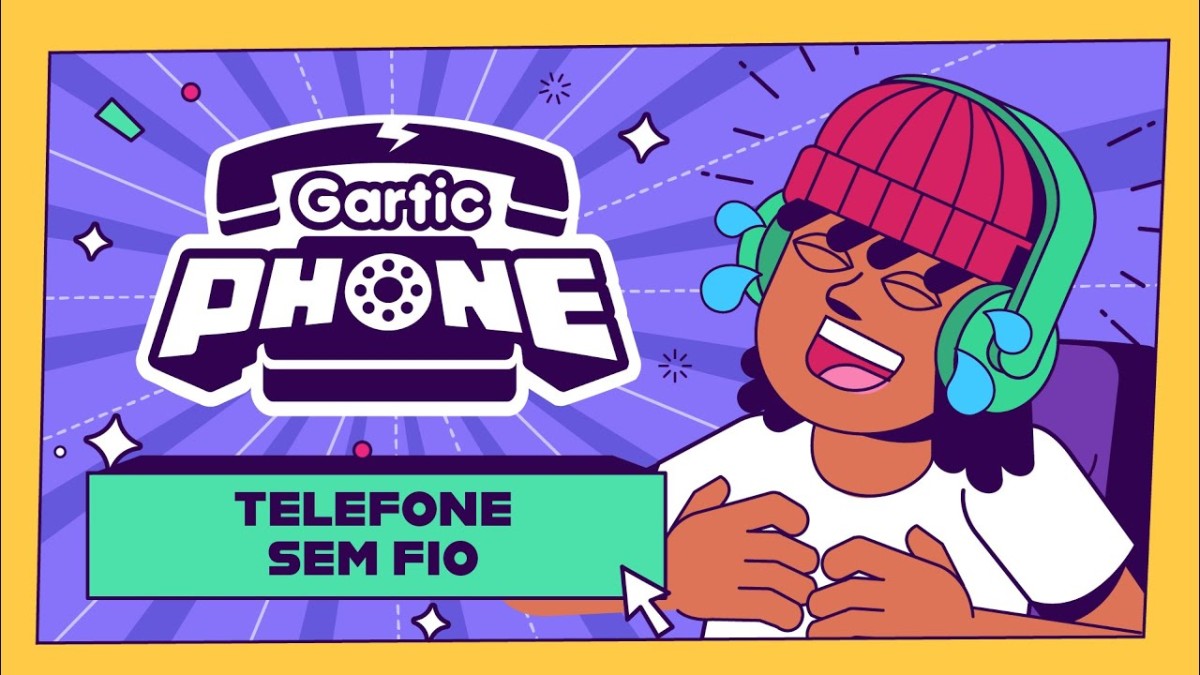 How do I access Gartic Phone? Is there a Mobile App?
To access Gartic Phone, you need to go to the game's official website. This is currently the only available way to play with friends. However, there are no secrets.
This allows anyone to play directly from their browser. So if you want to play games on your phone, no problem. Just go to the official website, or download some application that runs the website in full screen.
Currently, unlike the first Gartic, the game does not have an official app for Android and iOS. The game's developer, Onrizon, also didn't say if the game would have a specific app for the game.
How to create a room in Gartic Phone?
To play Gartic Phone, you need to create a room to invite your friends to join the game. This is very simple:
Enter the game and put your name or any nickname you want in the space. Then click on "Create Room";
After that, it will give you options like the number of participants and the round format. You make the choices and organize how you want to play with your friends;
At the bottom of the disk, there is a button called "Invite";
Click on it and the room link will be copied automatically. Then just send it to your friends and wait for them to enter the room and start playing.
How to have Ideas for Gartic Phone?
Although we have a list of phrases in this article, we prefer that you use your creativity to generate the phrases. Always try to include the hobby of the friends who are playing to make everything more fun.
If you are a Gamer, you can use game elements, if you are an Otaku, you can use anime and manga elements. If you are a fan of Japanese culture, you can use elements from Japan. Just think of a hobby and create your sentences.
Another way to create basic sentences is to think about how they are formed. You might think of an animal or person first, followed by some color or adjective, followed by an action and some object.
Always remember to think of the subject first, then the adjective, followed by the action and then the object. Here are some ideas for creating your own phrases:
An Animal of a Certain Color plays a Musical Instrument;
A Famous Person with a certain outfit practices a certain activity and a certain place;
A Person Attacks something with some object;
A person takes some action against another person in a certain place;
Of course the phrases will vary depending on the language you are playing. If the above explanations don't make sense to you, try using the phrase lists in this article for inspiration. No need to copy them, just swap her actions, objects and people.
Anime Ideas for Gartic Phone
As the main focus of our site is anime and Japan, before random phrases and weird ideas for Gartic, we want to make a personal selection of phrases involving anime and fanservice.
Goku Getting beaten by 5 characters;
Naruto running on Mount Everest;
Edward and Alphonse transformed into Kimera;
Two waifus fighting in Galaxias;
Minecraft giving Roblox a beating;
characters from Fall Guys in the world of Fortnite strafing General;
An anime character spending money on Diamonds in FreeFire;
Ideas and Cool Phrases for Gartic Phone
Let's see some phrases and ideas for Gartic Phone?
The eraser erases the pencil, the eraser erases the chalk;
Ted's toolbox fixes Fred's friend's Ford;
The big box on the road;
Grandma's house, surrounded by vines, the coffee is taking a long time, it's certainly not powdered;
Chinese food is made with sugar and spices, and lots of rice;
Nobody's favorite food is cabbage;
Education is important, but big muscles are more important;
The entrance is guarded by a myopic fire-breathing dragon with a fear of heights;
The entrance is guarded by a seer and seer dragon with a fear of heights;
The store ran out of yoga mats;
The easiest way to make a grown man cry is to force him to watch Toy Story 3;
The door closed behind the poor;
The low light looks dreary;
The queen sat on her throne and ate prickly kumquats;
The quick brown fox jumps on the lazy dog and says hello to the cat;
The secret password is cock-a-doodle-doo-diddle-doodad;
The eiffel tower at my uncle's house;
The only thing better than a tall, dark, handsome man is carrying a pizza box;
The only thing I enjoy more than reading a book is watching the movie and never reading the book;
The spotted cow was wet by another spotted cow;
The spotted cow was wetted by another spotted and wet cow;
Sparkling sweet sugar;
Alex the Alsatian ate eleven Éclairs in the evening with an espresso;
Someone opening a jar of ice cream and finding beans;
Crunchy Candy Coconut Lovers;
I learned to swim when I was 14;
The best fries are chocolate chips;
Astronaut meditating in the middle of space;
Unlucky Laura missed lunch at the library last week;
Too blue to survive;
Fat dwarf Batman running with the thrush;
Round SpongeBob with glasses and a high limbo passing by;
Bob the builder rented Oswald's apartment and borrowed Noddy's car;
My cousin's doll dressed in a tutu;
Dog chasing its own tail;
Blue chair at the table;
Dogs dig holes for big bones;
Kaleidoscopes, Calliope and Christopher Columbus;
Walking in a Winter Wonderland;
Cell phones invading a mall shooting laser beam;
Chocolates make my teeth hurt;
Blonde koala, flat iron, getting married in church;
Cold crispy coconut toppings;
Rabbits rumble, giants grumble, dogs bark in the dark and wolves run in the blue;
Classmates climb cars for money;
Counting cars silently;
Jokers, fools, and jugglers swung, jumped, and swung for the King of Jordan;
Ten cups in the cupboard;
Two tiny frogs ate fat flying flies;
Twelve purple people falling pulled turnips;
Dracula drinks dark drool;
It's good to have black mice;
What if we all gritemos "CRABAPPLE!" In unison now?
She sells sea shells;
Elephant playing guitar in a country band;
Do they permitem bumbershoots at the noodle bar?
So Betty told me Ali told you that Carmen sat on Martha's bean bag;
Scarecrows steal soft sandwiches;
I am cursed with the terrible fate of tirelessly interrupting everyone around me;
I'm screaming now; can you hear me? I think I may have laryngitis;
Bursting pure purree;
I would love to eat toasted cheese and tuna sandwiches;
I still think Nicolas Cage would have made a great Superman;
I love money, but I am not reciprocated;
I would like to have a pet rabbit;
I like Voltage more than Code Red, but not as much as Livewire;
I broke my toy robot;
I really need to break my habit of opening a million new tabs that I'll never look at;
I only Riverdance when I'm happy;
I'm a ladybug rowing a lettuce boat with paddles made out of baby spoons;
Farofa made with a lot of fluffy flour makes ugly gossip;
Puppies surfing lava;
End of year 2021 on Jupiter;
Dental floss is my favorite snack;
Fiona crying for Shrek in the castle;
Snowflakes will glide smoothly soon;
White flowers with thorny stems;
Leaves as loose piles;
Gira turns sunflower, in the circle of a flower pointing to the sun;
Giraffe with short legs, in a bathtub drinking soda;
Ghostly gum tastes sticky;
Little Hulk in the Garden;
Jackie Chan dancing ballet in a tutu;
Jackie Chan dancing ballet in space;
Red-haired ladybug at the circus;
Junie B Jones likes Jamba juice;
Caterpillar Cleo wearing ballet shoes;
Lane didn't do the dishes;
Orange, are you glad I didn't say cabin?
Justice League assaulting an old lady;
Lightening McQueen likes packed lunches;
Jumping flying monkeys;
Handles and stops with hasps and hinges;
More maids scrub hotels;
Suitcase with a new suit;
Whether open or closed, I am always the padlock;
Messi scoring a penalty;
Messi at Shakira's house;
Is my breath really bad right now, or is it just me?
Phrases and Ideas for Cordless Telephone
Below are some more ideas for Gartic Phone or phrases to use in games similar to Cordless Phone (Phone Game).
My father gave me a pink balloon;
My guilty pleasure is watching FailArmy;
My ponytail got stuck in my shirt;
My sexy dance moves have been described as a mix of Beyoncé and Mr; Bean;
Micky Mouse likes raw fish;
My underpants are financiers;
Many maids clean motels;
Grumpy mummies chew on moldy mothballs;
In second grade, I peed on my own shoe and pretended to step on lemonade;
Don't tell me brands and generics are the same until you try generic macaroni and cheese;
Do not move! There's a gigantic spider behind you!
I have no idea what I'm doing, but I know I'm doing it very well;
Noisy Ned needs nuggets;
Not even an iceberg could sink our friendship!
No one could sink our friendship!
In high school, I was voted most likely to become a cat lady;
The three-headed dog at a party;
The dog says "woof", the cat says "mew", and the aardvark says some really unflattering things about his grandmother;
The cashew of the juca and the jackfruit of the cajá; The jackfruit of the juju and the cashew of the caá;
Funny bunny hid the colorful candies in the colorful tin;
The wolf that sings in the favelas of Brazil;
Dumbo's real name is Jumbo Junior;
The mouse gnawed the clothes of the King of Russia, which the Queen, in anger, resolved to mend;
The green bag burst large bubbles;
The ice cream was melting;
The shark tank has a guppy;
Look at the frog inside the bag;
The minions would be very awkward with the contacts;
Martians invested in stocks when the NASDAQ dropped several feet;
The eggs just broke on the way;
The angry birds ate candy and crushed the subway surfer;
Koala bears are cute and panda bears are cuddly;
The Avengers taking a car ride;
I hear you have strong opinions about condos;
For Christmas this year, I'm asking Santa for an Amazon gift card;
Recess stones restless roosters;
Peter drove a nail into the black door;
Deep Thoughts: Does "butt" rhyme with "but"?
Piano who wanted to work as a clown and is playing in a circus;
Penguin coughing in the snow while calling for his mother;
Teachers take tons of mushrooms;
When I grow up, I want to be an excavator;
When you're on an exam and can't stop coughing;
Wednesday is hump day, but the camel is happy about it;
Whoever whispers the tail stings eats bread with lizards;
Who is your friend who likes to play, Bing Bong, Bing Bong!
Rapunzel dancing next to Puss in Boots;
Mouse taking a bath;
I recently retired from the apple sauce factory;
Roger pressed seventeen balls against Sylvester alone;
Red roses with thorny stems;
Sally sells sushi by the sea;
If life gives you lemons, make lemonade;
If marbles were dumbbells, we'd all have some pie!
If I could go back in time, I'd yell at Troy, "It's a trap!"
If there's one thing that ruins my day, it's the night;
Mermaid dancing ragatanga in space;
I'm something that rolls, that's why I give the ball;
Fat dwarf superman exercising;
Fat superman and dwarf exercising;
Bull drinking juice on top of a stage;
Bring three plates of wheat for three sad tigers to eat;
Trump with Michael Jordan eating pizza;
A plane dancing reggaeton on the Eiffel Tower;
A puppy dancing at a party;
A dog named Moose ran free through the fir forest chasing a goose;
A dog dancing on a table at a party;
A winged dog that has laser eyes;
A computer accessing a human;
A dinosaur with glasses watching a movie at the cinema;
A long-legged elephant crossing the bridge;
An elephant dancing Argentine tango;
A gorilla with a tie on the roller coaster;
A guppy in a shark tank;
One lemon, a thousand lemons, a million lemons;
Such a sly monkey scares the fearful;
A papaya with eyes singing opera;
A Martian scoring a penalty;
A bunch of yellow bananas tossed into a blue boat;
A strawberry dancing forró with an octopus;
A pink pig and an annoying donkey flew a kite at night;
A building jumping rope;
A whirlpool full of soda would be fizzy but sticky;
A rhino watching a movie at the cinema;
A sick tiger drinking mate tea;
A pumpkin head rolling down a slope;
A short-legged giraffe in a bathtub;
A vegetarian sausage;
A girl eating rice and chicken in Madrid;
A kite meditating in the cinema while watching cartoons;
A Taco Bell chicken quesadilla with extra creamy jalapeno sauce;
A fingernail cooking a chicken rice;
I once saw a rainbow in London;
Vampire strolling through school;
Should you eat moss from a dirty log?
Are you Team Ketchup or Team Catsup?
You are a sad, strange little man, and you pity;
You're smelling great today;
You've been voted off the island;
Have you ever noticed that it only seems to rain when you have to go somewhere?
You know when you're on an exam and you can't stop coughing?
I go to sleep like a two-year-old after eating pizza;
Wend who likes to play, Bing Bong, Bing Bong!