Anime Zero no Tsukaima made the joy of many with its 4 seasons. unfortunately the author Noboru Yamaguchi of the original work the Light Novel passed away in the year 2013 after a long battle with cancer.
The Site maintained a mourning message for a long time: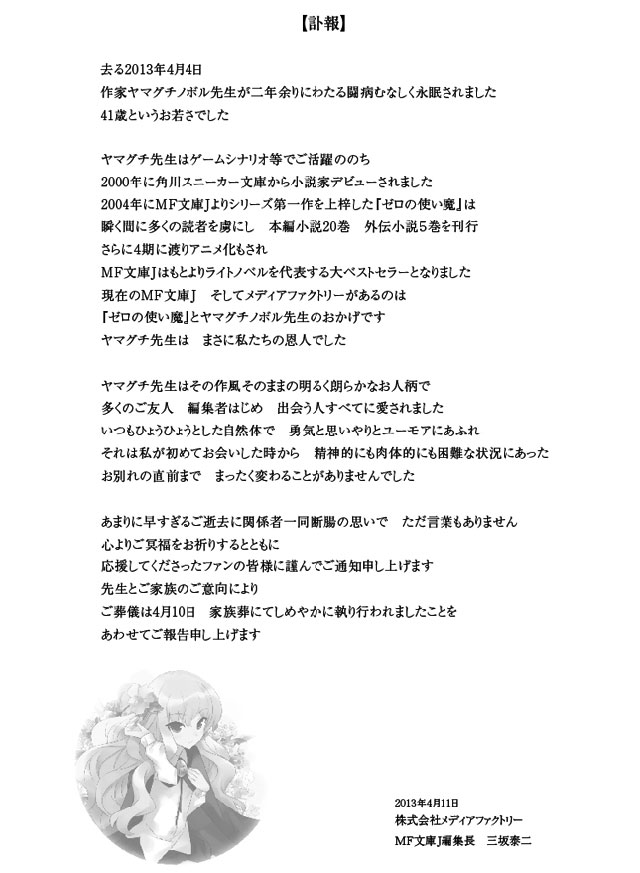 Fortunately the Official Site https://www.zero-tsukaima.com/ has been updated, bringing news that the Light Novel of Zero no Tsukaima will return.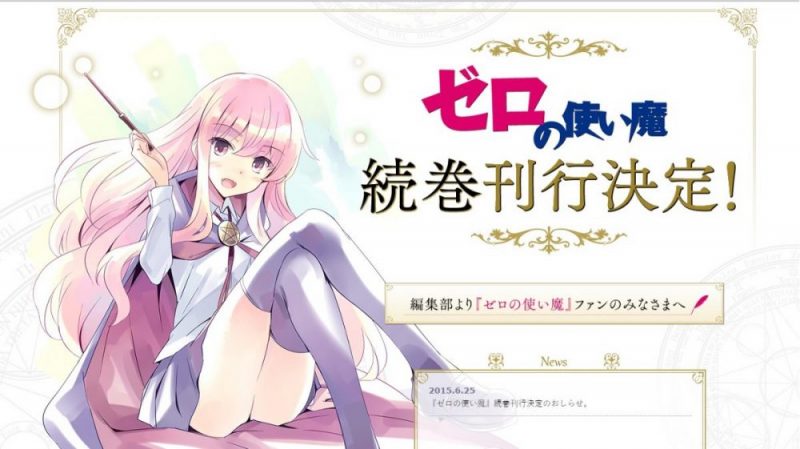 I'm Yurugi, the director of MF Bunko J revealed that they decided to continue the light novel by Zero no Tsukaima after the death of Noboru Yamaguchi in April 2013. It was Noboru and the family's wish to continue the series.
With this result, we can expect a fifth season of Zero no Tsukaima in a few years. We will finally be able to find out what will happen after Saito meets his parents together with Louise.
If you don't know this work, I recommend taking a look, and watching the 4 seasons of Anime.
Synopsis:
"Louise is a noble girl who is terrible at magic, never getting to use it the way she wants. Her classmates nicknamed her "Zero Louise", because of her inability to use any of the four common magic elements. At the beginning of the year in Tristain's Academy of Magic, second-year students invoke their familiars; this is considered a special ritual where a mage summons his eternal protector servant, which is usually some sort of animal or magical creature. However, Louise manages to summon a human commoner named Saito Hiraga, which leaves her totally humiliated.
Zero no Tsukaima tells the adventures of Saito and Louise who together help their colleagues and friends, while occasionally facing situations that risk their lives to save each other. Saito tries to find a way to return to Japan, although he has a mysterious power that allows him to wield swords and other weapons to perform heroic deeds. They also eventually discover the truth behind Louise's magical inability."