Who does not like a romance anime? Even men enchant with these love stories. It is one of the most popular anime genre, who usually portray reality and detonate any clichéd romance movie. In today article, we will see the most romantics anime ever.
We will not enumerate or give a rank. In this list, I will put only anime that worth to watch.
First, let's talk about the anime on the cover, Isshuukan Friends. It is not too romantic, but it is really sad and dramatic, it tells a story about a boy who tries hard to be a friend of a girl who lost the memory every week. Do not ask me why I talked about this one first, I just put it as cover and decided to mention, an anime less know who deserve credits.
Romantic anime to cry
Clannad – Anime with two seasons that shows the life of Tomoya and Nagisa. They start a relationship until a romantic life begins with a lot of challenges. It is without a doubt one of the best romantic anime of all time, with a great soundtrack and does any man cry.
Sukitte Ii na yo – This anime tells a story of Tachibana Mei, who never did a friend or had a boyfriend. Until a boy called Kurosawa Yamato showed interest in her, and the depressing life of Mei start to change. This anime is short, beautiful, soft, and have twelve episodes, a great romantic anime.
Shigatsu wa kimi no uso – If you want to cry, watch this anime who tells the depressing life of Arima Kousei, he lost the ability to play piano until a wonderful girl called Kaori appears in Kousei life and everything change. This anime is amazing, have a great art and 22 episodes.
Nana – This anime is quite adult, tell a story of two girls called Nana that start living together. One of then wants to be a band vocalist, the other wants a normal romantic life. A lot of things happens, doing this anime one of the most dramatic and exciting.
Romeo x Juliet – A tragic and famous love story told in a different way. Although, the anime maintain the same drama and romance.
Bokura ga Ita – This anime tells a story of a girl who gets involved with a boy she considers convinced since it conquered two third of the girls at school. However, this boy hides a bad past, whose the protagonist will try to understand.
Others romance anime to make you cry:
Kimi ga Nozomu Eien;
Ao Haru Ride;
Bokuga ga Ita;
Full Moon wo Sagashite;
Nagi no Asukara;
Plastic Memories;
Ef: A Tale of Melodies;
AnoHana;
Hanbun no tsuki ga noboru sora;
Angel Beats;
Romantic anime with comedy
Golden Time – This romance comedy happens in college where a boy called Banri feel attracted by a stalker girl called Kouko. The problem is, in the past, he lost the memory after an accident. Perfect anime with 24 episodes.
Toradora – Tells the story of Ryuuji, a guy obsessed with cleaning who have terrified eyes, but he falls in love with a girl. He met the friend of that girl called Taiga, a little tsundere who is in love with his friend, that way, both made a partnership to get close to them.
Ore Monogatari – A kawaii desu romance comedy about a story of a big guy who never was loved, met a beautiful girl that fell in love with him. Perfect anime from the beginning until the end, full of comedy and cute scenes. A peculiar anime.
Romance is present in 90% of comedy anime.
Zero no Tsukaima – A romantic comedy full of action with four seasons with 12 episodes. This anime tells a story of Sairo, who was summoned by a girl called Louise from a magic school from another world. He ends up becoming her mascot and then a long love story begins.
Kaichou wa Maid-sama – The story is about a poor student president who works in a Maid-Coffee to maintain the house. Until the most popular boy in school fall in love with her and start to stalker her, the problem is, she hates boys.
Lovely Complex – This romantic comedy tells a story of a tall girl and a small boy, they fight every time until things start to change and a complicated romance happens between them. One of the best romantic comedy of all the time. A classic one.
Others romance comedy anime:
Oregairu;
Niseikoi;
Sakurasou no pet na kanojo;
Haganai;
Chuunibyou Demo Koi ga Shitai;
Tonari no Kaibutsu-kun;
Ouran Highschool Club Host;
Special A;
Gekkan Shoujo Nozaki-kun;
Nodame Cantabile;
Honey And Clover;
Ore no Imouto ga konnani kawaii wake ga nai;
Fruits Basket;
Cute romantic animes (kawaii)
Ao Haru Hide – Story of Fubata who likes a boy called Kou, she approached him and all was doing good until he disappears. When he came back everything happens again, but with some dramatic problems.
Kimi ni Todoke – Story of Sawako, an innocent girl who scary her classmates because your name and appearance remember Sadako from the movie The Sing (2002). Until she falls in love with a boy, but both are slow, the romance is cute and slow, but it is considered one of the best shoujo romance of all time.
Akagami ga Shirayuki Hime – The name of this anime means literary "The red hair of snow white", tells a story of a girl who wants to become a herbalist that met a prince from a neighbor reign. The story is a little slow, but it is a cute romance anime.
Others kawaii romantic anime:
Sasameki Koto;
Kanon;
Sakura Trick (yuri);
Kareshi Kanojo no Jijou;
School Rumble;
Amagami SS;
Others romantic anime
The list of romantic anime is really big. Unfortunately is not good put a big list to you read, but I want to make honorable mentions to the famous movie Kimi no na wa and all the others romantic movies by Makoto Shinkai.
The movie Kimi no na wa tells a story of two young from distant cities that start to change the body, one of the best romantic anime of all time, winning the Japanese box office and worldwide animation.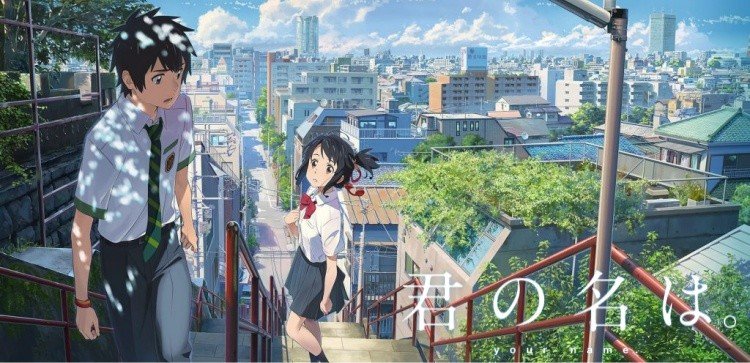 I hope you had liked our romantic anime list! You already watched all? You can suggest romantic animes on the comments.
There are others anime of action and comedy with a little of romance, like Kokoro Connect, Sword Art Online, Norame Cantabile, and more that you cannot forget to watch. To finish, I will leave a list recommendation for you search and watch, and an AMV extra.
ReLife;
Tsuki ga kirei;
Chobits;
Plastic Memories;
Guilty Crown;
Koi Kaze;
Hana Yori Dango;
Onegai Teacher;
Masamune-Kun no Revenge ;
Nisekoi;
Bakuman;
Accel World;
Aldnoah.Zero;
Gekkan Shoujo Nozaki-kun;
Re: Zero Kara Hajimeru Isekai Seikatsu;