When we talk about learning Japanese on the internet, it's impossible not to come across the much talked about Japanese Online Program created by Luiz Rafael Passari and your team. The fact that the course is entirely online and uses a different methodology from the conventional one attracts many people, including haters and critics who raise many questions.
Over the years, the Japanese Online Program has evolved in a great way, and as I had the opportunity to follow this evolution, I would like to make a complete and truthful analysis of the course, its methodology, system, etc. To facilitate the navigation of this long article, we have prepared a summary below:
If registration is open when you click on the waiting list, you will land on a page with a video presentation of the course and the option to register.
Why an online Japanese course?
Nowadays it is much more advantageous to teach online. With online classes, the teacher has complete control over the students, he can dedicate himself to generating more material and content instead of wasting time repeating classes for students and classes individually.
Not only Luiz Rafael, several others embraced this online market, which generated a huge wave of online courses and the famous digital marketing that has attracted and driven people away. It's no wonder that we always find some advertisement or free online event trying to sell a course on a certain subject.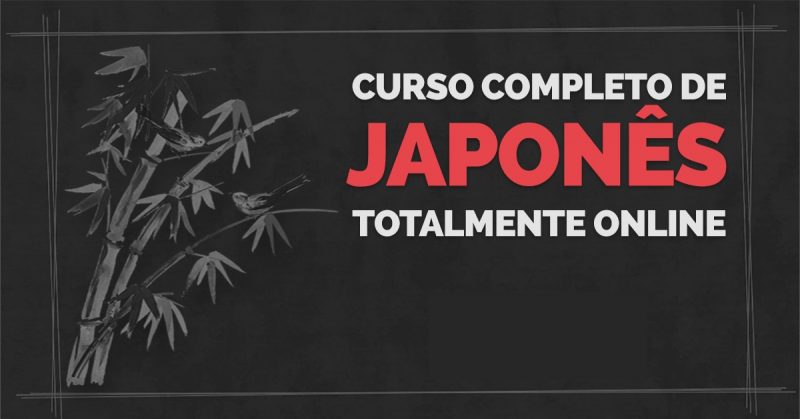 There's nothing wrong with wanting to create an online course using a formula that works. Whenever something goes right, people also try to do the same thing, unfortunately this ends up generating thousands of low quality online courses. Many course authors only think about profit instead of delivering content to students.
In case of Japanese Online Program, the course started like any other, but Sensei Luiz Rafael has invested heavily both in free content that serves as marketing for the course, and in its members area that has undergone drastic evolution in the last 2 years!
Who is the Author of the Luiz Rafael Course?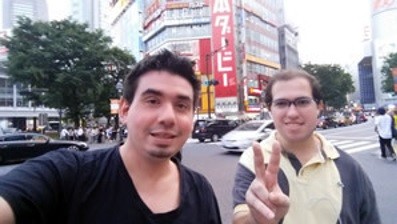 Luiz Rafael Passari is a passionate Japanese student. He has become a Japanese teacher since 2009.
He is not of Japanese descent, he learned the language starting from scratch, as an adult, driven by the dream of knowing and getting involved with Japan.
In addition to Japanese, Luiz Passari studied English and taught face-to-face classes at a language school. The idea to create an online course came from his old work with solar energy.
Today Luiz Rafael Passari is a big name in the world of Digital Entrepreneurship, he even has a blog and personal profile on social networks where he constantly talks about digital marketing and personal development. He has participated in several lectures with great entrepreneurs such as Erico Rocha.
He is not on the journey alone, the Japanese Online Program is made up of an extensive team of competent people who develop content for students, including native Japanese. A team willing to support and help in teaching Japanese.
I had the chance to meet this team in person in 2016 during my first trip to Japan. There's no way not to sympathize with these people, their seriousness and Luiz's with their project, added even more value to the PJO.
How did the Japanese Online Program come about?
Luiz Rafael is a young man like you and me, who had dreams and worked hard to make them come true. Many people give up on their dreams, but Luiz Rafael despite his difficulties managed to turn around and show that anyone is capable! Since 2012 he has been teaching people Japanese over the internet with his somewhat controversial method.
The first version of the Online Japanese Program worked as a test, where he achieved unexpected results and saw a great way ahead. Over the years he has improved the course in many ways. In the first versions of the course there were only 2 modules, until in version 3.0 he decided to create a third module entirely in Japanese.
In 2017, the Japanese Online Program underwent another drastic change, where the members area was completely redesigned, classes were completely redone and native teachers were used to teach the content. The course has gained much more content as live classes with students are recorded in the members area.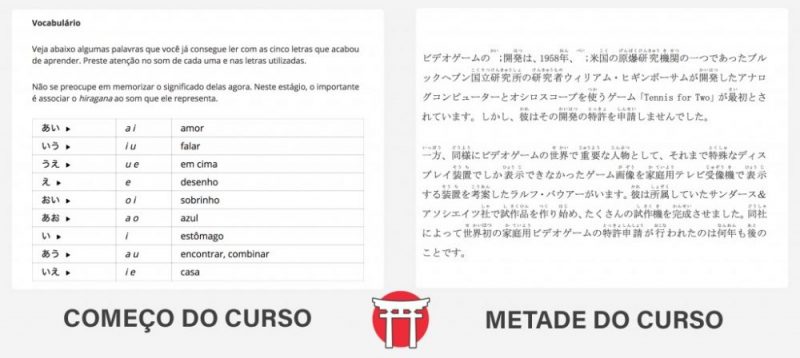 What is the purpose of the Japanese Online Program?
The aim of the online Japanese program is to take the student to learn Japanese from scratch until reaching a level (N3-N2) where the student will be able to read and absorb content on their own, always expanding, until reaching fluency. The promise is that you can learn in less than 1 year, the equivalent of 5 years of traditional Japanese language studies.
The methodology of the Japanese Online Program is different from any face-to-face course and uses absorption and memorization tools in a natural way, without forcing the student to long hours of study that do not give results. The author Luiz Rafael states that every course has been designed in a way that maximizes language learning.
The Online Japanese Program came up with the idea of creating a definitive training for a person to learn Japanese and become completely autonomous in the language, being able to consume and explore everything in the language.
It is believed that to learn a language you need to do it naturally without straining your brain. Therefore, the online Japanese program avoids things like writing, filling in gaps, studying vocabularies individually and other things that do is delay and hinder language learning.
The Online Japanese Program can take you in 10 months of study to an advanced level of Japanese, which allows you to understand spoken and written Japanese in everyday life.
The Popularity of the Online Japanese Program
There are thousands of free video lessons and articles about the Japanese language published on Luiz Rafael's websites and channels. Even their social networks are full of information and rich, well-explained content. It is no wonder that Luiz Rafael and the Japanese Online Program already have about:
Facebook – More than 500,000 likes, daily posts with tips;
Youtube – More than 167,000 subscribers and 250 videos;
Japanese lessons website – More than 200 articles on Japanese;
Instagram – More than 70,000 followers and 500 posts;
(Date: 07/17/2018)
Through these channels, Luiz Rafael and his team post several learning tips, videos studying phrases, vocabulary lists, reading and writing kanji and much more. He spontaneously provides things that schools would charge to teach. He also makes several videos answering questions and giving tips not only related to Japanese.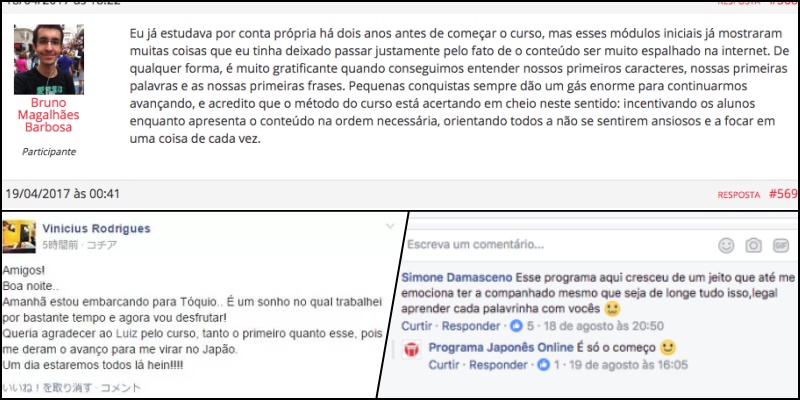 All about the Japanese Online Program
Over the years the Japanese Online Program course has undergone several updates and improvements. Currently, the course is composed of a competent team of teachers, who give full support to the student.
The members area where people access the course has been completely redesigned, with a better design and better organization. All classes have been completely reworked and re-recorded to further improve the student experience.
Now the online Japanese Program members area has features such as:
Mark class as read;
Print and save PDF of the class;
Live classes!
Student community and forum;
Comments system;
3 learning modules;
Extra modules;
Various study materials;
Copy Sentences for Anki;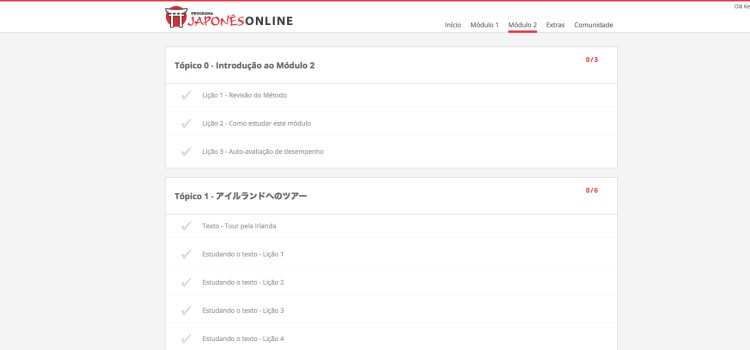 As Japanese Online Program You can learn on your computer, cell phone or tablet from anywhere with internet, on a platform developed exclusively for learning Japanese. You interact with teachers, monitors and students and also constantly receive new content.
The course consists of Main Course which teaches you the basics of Japanese from hiragana, katakana and basic grammar equivalent to N5. The course also has module 2 and module 3 where the content is equivalent to N4 and N3/N2.
In addition we have weekly classes live where students have the chance to study various subjects together with teachers. Classes are recorded and accessible to all other students, regardless of when the person participated in the Japanese Online Program.
We have a section Japanese structures with PDF files explaining every detail of the main structures of the language. We also have a library of separate phrases on various and occasional Japanese subjects.
We have another place called Nihongo Club with full dialogue of people experiencing a particular situation in Japan, examining every phrase and event in detail and with high quality native Japanese audio.
There are 2 lives per week, which total by the end of 2019 more than 80 lives already created. You have access to the portal for 3 years, which means that in addition to the lives already held, you will have access to more than 280 lives. In addition to the course, there are more than 300 hours of live material.
About the Japanese Online Program pricing and investment
The price of the Japanese online program is displayed during the opening of enrollments which take place a few times a year. Some people think the course investment is a little high, but they can't reason the immense value of the product. The Japanese Online Program has a one-time payment that can be split, while many courses in face-to-face schools have exorbitant monthly prices.
Why do you think face-to-face courses are slow and take 5 years? And still you don't reach fluency? They want your monthly money, you end up spending 10,000 on years of face-to-face courses and not enough fluency. Of course, it's not just the school's fault and its methodology, you need to keep in mind that learning a language requires daily immersion!
If you are ready and decided to follow all the methodology presented in Luiz Rafael's course, study and review daily, even for 10 minutes, you will be ready and your investment will be worth it! Now if you buy the course and don't make any effort to use and apply it, your investment really won't be worth it! This is the main mistake of people who buy any online course!
Of course, the Online Japanese Program cannot serve all people, especially if they don't follow what is taught! And that's not easy for everyone, people have different opinions, different tastes… That's why there are study alternatives! But if you're looking for a way to learn Japanese, here's a tip from Luiz Rafael's course!
Applications for the Japanese Online Program
Enrollments are usually open every 3 months, it has a limited number of places to facilitate the administration of students by the Team.
On the registration page you will find a complete video explaining all the details of the course, a support chat so you can answer all your questions and find a payment method that is perfect for you.
Vacancies usually open at 07:00 or 08:00 in the morning, an email is sent to those enrolled in the Japanese Online Program Contact List or our Suki Desu website.
Experiences with Online Japanese Program?
I had the chance to do the Japanese Online Program and I approve of the method and even use it at different times to teach on my website. Luiz Rafael and his team helped many people around the world to learn Japanese, if you are still not convinced of its veracity I recommend watching the videos below and also continuing to follow the rich content of their social networks, youtube channel and website.
How to apply for the Japanese Online Program?
Applications for the Japanese Online Program are released after the online event "Japanese Language Week". During this week Luiz Rafael and his team provide several Japanese learning tips through some videos. During this week all other questions regarding the teaching method and the course are answered.
To follow the Japanese Language Week that takes place, just click here or keep an eye on our website that we are a great partner of Luiz Rafael. Remembering that I always keep the name of those who participated in the Japanese Online Program through the indication of Suki Desu, so I can reward you in the future.
Luiz also opens enrollments without the Japanese Language Week a few times a year. He always notifies me by email and I also do the same for the contacts registered on Suki Desu.
Japanese Language Week, Japanese Intensive and Free Course
Before enrollment opens, Luiz Rafael and his team hold free events such as Japanese Language Week, Japanese Intensivão or even a free Japanese course. These events usually last for a week.
With much advance notice, Luiz Rafael and his team notify all followers by email and social networks. These events usually have live classes, a section to ask questions and a full explanation of the study method used by the PJO.
These events usually happen 2-3 times a year. Some are exclusive to followers, others are widely publicized. If you don't want to miss any of these free events, just follow Luiz Rafael through his registration pages in this article.
Free Online Japanese Program Content
Luiz Rafael and his team provide free classes every week through their social networks Facebook, Instagram and their YouTube channel. In addition, they have a free content site with full articles like Suki Desu.
We will also share some video lessons available on Youtube:
Japanese with Songs – Learning with Songs
One of the most successful article series on the site Japanese classes by Luiz Passari is Japanese with Songs. There are more than 30 articles on this topic, where you break down parts of a song to learn Japanese.
There is also a video on the channel that talks a bit about Learning Japanese with Music. As a reminder, Suki Desu also has articles on the theme of Breaking Up Songs, where we study and examine Japanese songs thoroughly.
Online Japanese Program – Anki
The main study methodology of the Japanese Online Program is the spaced memorization system. For this purpose, we use the Anki app. Luiz has already produced several videos talking about the tool, and it is also the highlight of his events.
Questions and Answers about the Japanese Online Program
We will end the article by answering some questions that are usually asked by those interested in the Japanese Online Program. Remembering that the best way to find out about the product is by talking to the course team on its official channels.
Japanese program online at Hotmart?
The Online Japanese Program course is available on one of the most famous payment platforms for digital products in Brazil. Most Hotmart products have a 30-day warranty and offer numerous payment methods.
The product has a closed affiliation, so it is not possible to find it within Hotmart.
How long is the Japanese Online Program?
Generally the full access period of the course is 2 or 3 years, the 3 course modules generate a total of 10 months if studied every week with consistency. This time may change as new modules and classes are added to the Program.
Online video lessons are over 300, which means we have over 300 hours of live video lessons alone, with new ones being added every week. So the duration of the course is kind of eternal, there will always be new things for you to study.
If your usage license is coming to the end, it is very likely that by then some kind of accessible extension will appear if you still want to be studying. Honestly, I believe that 3 years is more than enough to study Japanese and make good use of the course.
How much does the Japanese Online Program cost?
The course has a one-price payment system, which may scare some, but I guarantee it is much cheaper than any other online course. The student portal has more and more content, which increases its total price each year.
In the first classes taught by Luiz Rafael, the course cost around 500 reais, but over the years it remained around 2,000 reais. With a major course update, team growth, native teachers and live classes, the course is currently set at R$2997.
This amount can be shared in a way that is affordable for your pocket. The Program team also provides accessible ways for you to acquire the course. Just chat with them during registration. Stay tuned for possible promotions during registration.
Where to Download the Online Japanese Program Book? Discovering the Japanese Language?
The PJO team and Luiz Rafael developed the best guide to learn Japanese called Desvendando a Língua Japonesa. This book can be downloaded for free by anyone clicking here.
The way of writing the book is different from all other handouts and books on Japanese, this book always goes straight to the point, explaining in a simple and detailed way all the important points of the Japanese language.
Reputation of the Online Japanese Program in Reclame Aqui?
Some look for the Online Japanese Program at Reclame here. Until the day I wrote this article, I didn't find any complaints, so it's hard to talk about the reputation of the course on Reclame here.
I believe this happens because it is not common for people to complain about the product. And when they complain, they simply ask for a refund without any direct problem at Hotmart. The course also has great support to avoid problems.
I have already come across complaints about the course on a website, but after analyzing it, I discovered that it is about an old partner who lost the partnership for breaking the rules. This made the little guy angry, making fake pages to attack the course.
Are there alternatives to the Online Japanese Program?
There are always alternatives, in fact there are dozens of Japanese courses online, not to mention other ways of studying. The real question is: Is there a better alternative than the Japanese Online Program? I personally believe not!
As much as the taste and sympathy for a teacher will depend on the student, the PJO was the only Japanese course I had the opportunity to take and I give full assurance. I know there are alternatives, but I doubt I have any better than PJO.
If you want to see other courses in the same mold, we recommend reading our article on Online Japanese Courses.
Is the online Japanese program reliable?
This is a question that many ask when searching for the course on Google. I've said several times throughout the article that this course is provided by the Hotmart payment platform, so if you don't like it, just drop it… I doubt you won't like it!
There are thousands of positive testimonials and until today I have not seen anyone who purchased the course through Suki Desu complain… I personally met several students during my trip to Japan, I was able to follow their positive feedbacks.
Of course, no human being is the same, not everyone is obliged to like the course, the teacher or the way it is administered or sold. I'm not a big fan of marketing myself. But about the course itself I have only positive things to say.
Company LR Passari Idiomas
According to the official website, the Online Japanese Program Course is a service offered by LR Passari Idiomas, CNPJ 14.857.020/0001-98, registered and headquartered in the city of Ribeirão Preto and operating in virtual mode.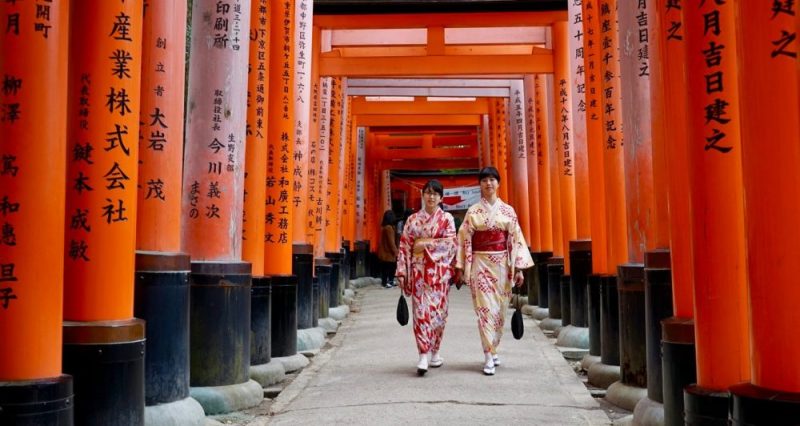 Online Japanese Program Free Torrent Download
Looking for a way to download the Japanese Online Program for free via browser or torrent? Suki Desu will help you find that solution… Reflecting on the matter.
If you fell here looking for the free download pirate of the Japanese Online Program, sorry to disappoint you, but I do not recommend in any way to download this course in a pirated way, besides being a crime, it will probably be useless for you.
By purchasing the Japanese Online Program, you will not only have access to the videos of the 3 modules, but to several PDF handouts that are updated periodically, many hours of live classes every week, in addition to the support and community of students.
Downloading Japanese Online Program by torrent is a complete waste of time. You probably won't even find a torrent, and if you find it it will be a very old and outdated version, get viruses and spam on your computer, have access to few classes, without the support material available in each of them.
Not to mention that the current PJO course is not just video lessons, it is an interactive material that requires numerous audios and texts in a single lesson. In addition to a beautiful formatting and organization of content in the student area.
If you want to learn Japanese for free, I guarantee that the free course classes available on their official channels are already of great help. You can also learn Japanese on your own with our website and our numerous content. The book alone is a great kick to help you navigate native material.
The Online Japanese Program Course is for those who really want to learn Japanese and are willing to invest in it. Those who just pirate courses on the internet just won't get anywhere. Even I was one of those people and I guarantee it!
Don't be a fool, stop trying to download the Japanese Online Program without paying, because this course is not just a simple compilation of videos, it's much more than that, it's something that requires presence, dedication, effort and follow-up.
Do I have access to the Online Japanese Program? Can I download it?
Much of the Japanese Online Program content is officially available for download in the student area. This includes PDFs, audio files and others. We believe that it is not a crime to download videos for personal use, but I don't know how to officially answer this question.
If you want to be an honest person, we recommend not sharing course videos. Ever wondered why Brazil sucks? Because people break little rules like piracy. The nation's heart is totally corrupted.
The Japanese avoid even downloading pirated music. If you want to learn Japanese, why not follow the examples of the Japanese? So avoiding piracy? The first step to learning Japanese is to act like one! Honesty my dude!