Could it be that for those who cannot have a conventional credit card, the prepaid card is it a good option to buy on imported anime product sites?
There are so many sites on the internet that offer the possibility to buy/import items from anime, games, consoles and many more that it is difficult to choose one.
However, when we want to buy something, especially from outside the country, a well-known problem has arisen, we don't have a credit card.
Many national and international sites accept Brazilian bank slips as a form of payment, but this is not a rule/standard.
Sites like Play Asia still don't accept the boleto as a form of payment, so if you liked a product there, you'll have to use another option.
If you still don't know Play Asia, see more details on how to create an account and buy on the website:
How to buy your anime games and products on Play Asia
A suggestion I can suggest is to use a prepaid card, because with it you can buy anywhere in the world, either physically or on Brazilian or foreign websites.
What is a prepaid card?
To make the explanation as simple as possible, just take a prepaid cell phone as an example.
When you want to use it, you need to put credit, because if you don't have credit, you can't use it.
With a prepaid card it's the same thing, or anything that is prepaid, if you want to buy something you have to FIRST put credit/money.
Heads up!
There are also disposable prepaid me cards that you use only once. For example card that puts credits in certain games.
In summary, there are several types of prepaid cards, including:
Meal/food vouchers
Gifts Cards that only work in specific stores (Gift Card)
That add credits in games such as Steam prepaid card
But here in the article we will present what is used to make purchases as if it were an international credit card.
How does a prepaid card work?
Its main functions and features make the prepaid card a good option for those who cannot have a conventional card, see the main ones:
It is not necessary to declare a source of income to apply for your
If you have a restricted/dirty name, you can still request yours (Without consulting SPC and Serasa)
As already described, you put, for example, R$ 20.00 credit and you can buy a product for up to 20 reais in a physical establishment or online store;
You spend exactly what you have on your card or in the account it is linked to;
Many prepaid cards also work in the DEBIT or CREDIT function, so it's good to be aware of this detail at the time of purchase;
No prepaid card can be INSTALLED purchases, we can only buy in cash
Another very important detail is to choose one that is international since in Brazil we have the option of national and international.
Is prepaid card safe?
With this differential of spending only the amount you have in balance, it is possible to avoid many headaches, as it will be extremely difficult to go through the same security problems as a conventional credit card.
Another feature is that many are linked to an online account where you can manage just about everything there, from adding balance, canceling the card, deleting your account and much more.
We will then recommend making a short summary of some prepaid card options among the hundreds that exist.
The ones I'm going to indicate are easier to acquire, load and also have the most used options for recharge.
Card Access
This card is very popular for selling in retail stores such as Extra, Pão de Açúcar and others. You just create an account and then activate the card on the website to start shopping.
It is also possible to order everything through the website where the card, virtual or physical, can be personalized with your name.
You can usually find it in these retail stores in a package like the image below: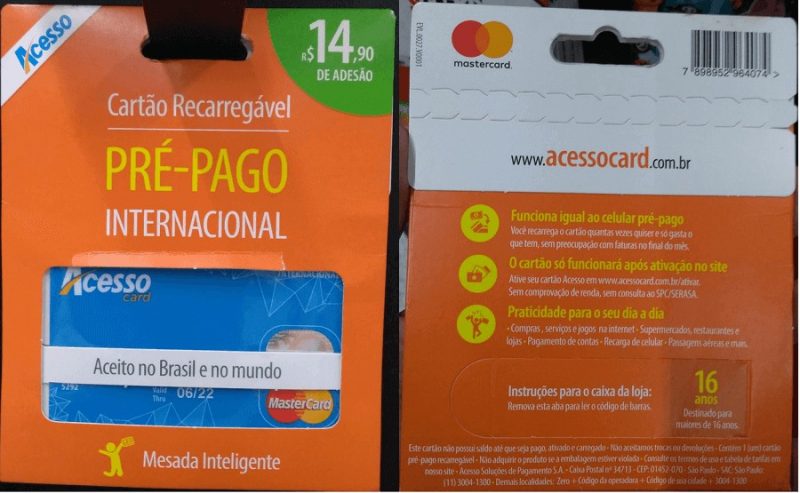 The access card may be a good alternative for you, see some of its features:
Can be acquired from 6 years of age, just have a CPF with regular situation
Rechargeable with bank slip
In addition to being able to buy in stores such as Extra, Pão de Açúcar and others, it is possible to put credits/money in these places;
It is an INTERNATIONAL prepaid credit card under the Mastercard brand.
R$ 5.00 monthly is charged on the 1st of the month
Paypal card
This unfortunately does not have the physical version, that is, we can only request a prepaid virtual card.
But in sites like PlayAsia and many others the option to pay by Paypal is accepted, if this payment option is accepted, then we can buy with this virtual card.
Some of the main features of paypal card are:
When creating your card making the first recharge it will be linked to your Paypal account automatically
You choose how much you want to put in dollars on your card (from 15 dollars)
You can see how much you will pay in fees in Brazilian reais
no annuity
Paypal also offers the possibility for you to add a balance of Brazilian currency with a bank slip, but even if the Play Asia show in reais she charges in dollars.
How to buy?
There's not much secret to using a prepaid card is practically the same as a conventional credit card and one of the main differences is that you can't pay in installments.
We already have two articles here on the blog about how to buy your manga, anime and related products:
Where to buy complete collection of manga and novels?
With them you can learn how to purchase your favorite anime products and even if you don't have a card, use one of the suggested prepaid card options.
It's very simple, if you choose to pay with Paypal, you can use their card that has a balance in dollars or if it's the Access card, you can recharge it in one of the hundreds of retail stores.
I'll leave again the video that was made about Asia, but don't forget to read the article for more tips.
Can I be taxed at customs?
If you decided to buy sleeves, magazines or something similar, you will not be taxed (As is also said in the video above) according to the Federal Constitution in art. 150, VI, "d".
But if you want to buy one Nintendo Classic Mini Super Famicom the chances of being taxed will be higher. Follow the tips in the video to have a better chance of avoiding this problem.
Is it worth having a prepaid card?
If you want to facilitate your purchases by spending only the amount you have in your balance/money, prepaid cards can be an excellent alternative.
Another advantage over conventional cards is the possibility of buying anywhere on the planet, as the vast majority are enabled for international purchases.
With dozens of options for Brazilians, you're sure to find one you like.
These were the tips that I hope will help you to buy anywhere in the world even if you don't have an international credit card.
Don't forget to comment and share the article!