The Japanese type peanut is well known and appreciated in Brazil and in several other countries. However, what many don't know is that, ironically, Japanese-style peanuts originate in Mexico, not Japan. They are also known as japanese mani or cockatoos Japanese in Spanish.
But who had the brilliant idea to create this delicious appetizer? It was around the year 1945 when a Japanese immigrant living in Mexico named Yoshigei Nakatani revolutionized cooking involving peanuts.
Since then, Yoshigei's addictive creation has continued to grow in popularity both in Mexico and here in Brazil, to this day. In 2011 alone, Mexico produced more than 27 tons of Japanese peanuts.
Japanese Peanut Not a Common Appetizer
What do you mean Japanese peanuts aren't just a common appetizer? It's because it's a delicious snack made from whole peanuts, coated in a super-crunchy shell and flavored with a hint of soy sauce.
It is known that soy sauce (Shoyu) is a typical ingredient in Japanese cuisine, but that is not why this type of peanut is known as Japanese. Nishikawa is one of the most popular Japanese peanut brands that resulted from Immigration in Mexico.
Japanese immigration to Mexico began in the late 19th century in It was Meiji between a cooperation with Emperor of Japan and President Porfirio Diaz. It was probably because of its creator that peanuts established themselves as Japanese.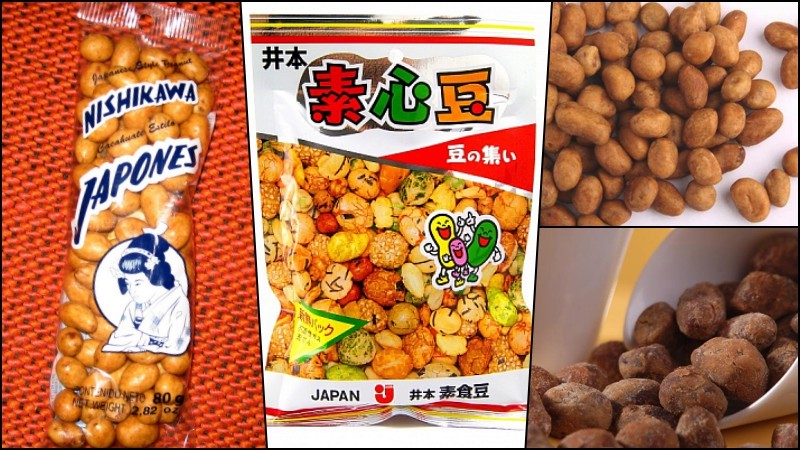 Yoshigei Nakatani, who immigrated from Japan, married a Mexican woman and settled in a Japanese neighborhood in the capital. He invented this snack and sold it in the market under the brand name Nippon meaning Japan.
Japanese Peanuts in Japan
Although the Japanese Peanuts that we know are not as common in Japan as we imagined, we can easily find peanuts and other grains, even beans, with a salty or sweet crunchy layer being sold as an appetizer or snacks in Japan.
The closest thing to Japanese peanuts that we have in Japan is called mamegashi [豆菓子] which consists of some grain such as soybeans, peanuts or beans coated with a sweet or salty layer. This is probably where the Japanese got the idea of inventing the revolutionary Japanese peanut.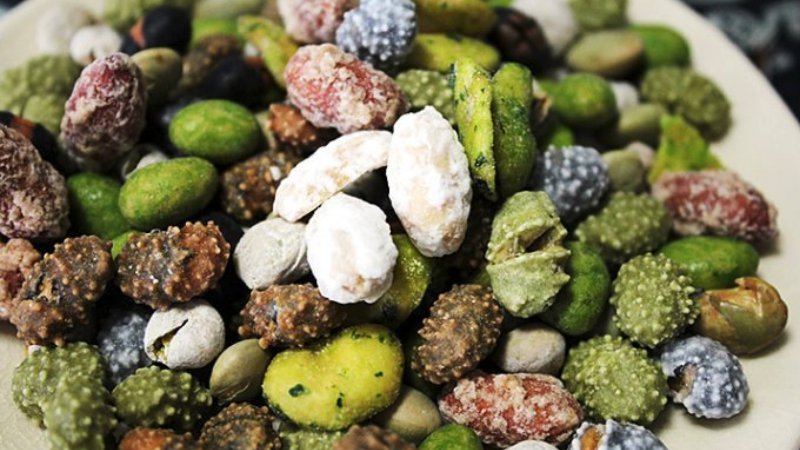 While the one sold in Brazil and Mexico is based on soy sauce, the ones found in Japan can have different flavors and a strong umami taste. Their textures can vary and have seaweed, pepper, fish and other flavors.
Japanese Peanuts In Brazil
Peanut is a plant native to South America (which includes Brazil and some bordering countries, such as: Paraguay, Bolivia and northern Argentina).
Peanuts are most popularly consumed in the following ways: as peanut butter (in sandwiches, candy or plain consumption), roasted, cooked or raw. It is widely used as a filling or component of chocolates and pralines.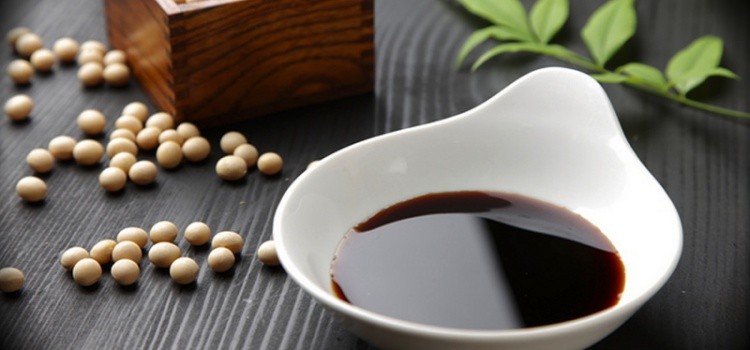 In Brazil, several food products are based on peanuts, such as peanut paçoca, pé de moleque, peanut candy, among others. It is also widely consumed as the main ingredient in cakes, ice cream and ice cream.
Japanese Peanuts are Good for Health
The delicious peanut can be used to supply the daily protein needs that our body needs. However, it is necessary to combine it with other foods, such as: whole grains (which fills up the methionine deficiency), vegetables (which fills up the lysine and threonine deficiency) or with brewer's yeast (which fills up the methionine and threonine deficiency).
It is usually consumed with other foods, as peanuts are low in methionine, lysine and threonine. But that doesn't mean it's a weak food. In fact, peanuts are extremely high in fat and protein and low in carbs, just like most nuts.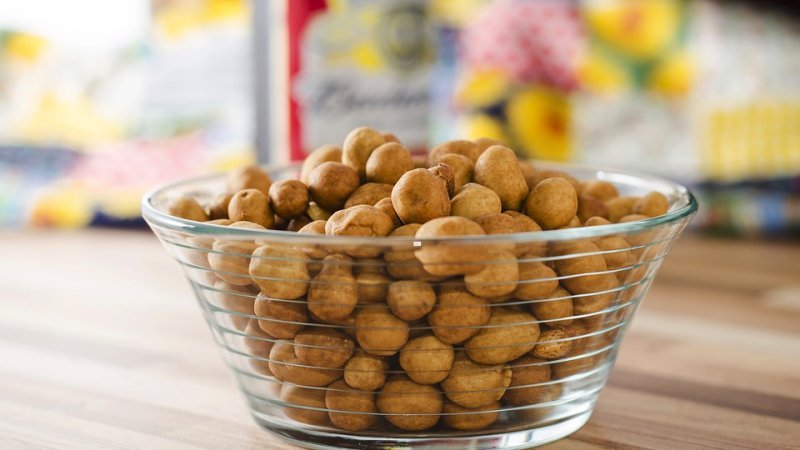 It is very interesting to know that peanuts do not contain cholesterol, that is, very good news for aperitif lovers. It is also rich in vitamins and minerals, including vitamin E and B vitamins, copper, manganese, phosphorus, magnesium, zinc, iron and potassium. It also contains soluble and insoluble fibers.
But now the best part. How to make a delicious Japanese-style peanut?
Japanese Peanut Recipe
The ingredients used are:
*For the first syrup:
1/2 cup (tea) of water;
1 teaspoon of salt;
1 spoon (coffee) of sodium bicarbonate;
1 cup (tea) of refined sugar;
1 kg of raw peanuts with red shell and
3 1/2 cups (tea) of wheat flour;
*For second syrup:
1/2 cup (American type) of light soy sauce (shoyu sauce);
1/3 cup (tea) of water;
1 tablespoon of sugar;
1/2 tablespoon of butter;
1/2 teaspoon of monosodium glutamate and
1/2 teaspoon of salt;
Japanese Peanut Preparation:
*First syrup:
In a bowl put 1/2 cup (tea) of water, 1 tablespoon (shallow soup) of salt, 1 tablespoon (coffee) of bicarbonate of soda and 1 cup (tea) of refined sugar and mix well. Reserve.
Peanut:
In a large roast, place 1 kg of raw peanuts with red shell and moisten them little by little with syrup (reserved above) until they are very moist. Gradually sprinkle 3 1/2 cups (tea) of wheat flour over the peanuts, place them in a sieve and shake the sieve until the excess flour is removed. Repeat this process 3 more times (4 total).
In another roasting pan, place the peanuts well spread out, take it to a moderate oven, preheated to 250 degrees until dry (about 25 minutes), stirring occasionally, to dry all sides. Remove from oven when lightly golden and crispy. Reserve.
*Second syrup:
In a pan put 1/2 cup (American type) of light soy sauce (shoyu sauce), 1/3 cup (American type) of water, 1 tablespoon of sugar, 1/2 tablespoon of butter, 1/2 teaspoon of monosodium glutamate and 1/2 teaspoon of salt and mix well. Bring to a boil. Place the peanuts (covered and roasted) in the pan, mix and leave on the fire until the bottom of the pan is dry. Place the peanuts back on the baking sheet and spread evenly. Place in the oven to dry, stirring occasionally to dry evenly (about 10 minutes). Remove from the oven, let cool and serve.
Tip: Store in hermetically sealed bags or jars;
Tip: To color the peanuts, replace the soy sauce (shoyo) with:
Yellow: 1 spoon (full coffee) of saffron with 2 spoons (full of curry coffee);
Red: 2 spoons (full coffee) of paprika and 1 spoon (coffee) of cayenne pepper;
Green: hit the blender 1 cup (tea) of water with 1/2 bunch of parsley and use 1/3 cup (tea) of water;
Ready, just caprichar and get fed up with this delicious appetizer.
Hope you enjoyed the article. If you liked the article, leave your comments and share it with your friends. This article was written by my friend Paulo Paiva. To complement the article I will leave another recipe on video: