Are you looking for a list of manga that have been published in Brazil? Want to buy manga in English but don't know where? In this article, we'll share a complete list of Japanese works that received their Brazilian manga adaptations in English.
At the beginning of this century, several Brazilian publishers began to bring japan manga to Brazil. The popularity of Japanese animations and manga has gotten so big that the amount of adapted manga is hard to count. There are so many mangas in English that it's hard to add them all on this page.
The main manga publishers in Brazil are JBC, Panini, Newpop and other secondary ones such as Devir, Novatec, darkside books, nova sampa, satry, astral and Abril. Even Light Novels were translated into Brazilian English. I hope you like the list of manga in English published in Brazil.
How we created the manga list in Brazil
We created 2 lists of manga in English published in Brazil:
First, a list of the most popular manga from Amazon Brazil;
Ending with a text list with the name of the manga released in Brazil and their authors;
THE list of most popular manga from Amazon accompanies the manga cover, price and a button to access the manga page on the Amazon Brazil website. So you can purchase the manga for great discounts and make your collection. Prices vary according to the volume and rarity of the manga.
We recommend you use the browser's locator (CTRL + F) and look for the name of the manga you want to know if it exists in English.
Not all amazon manga will be on the list below. You can search for your manga and find out if it is for sale in Brazil using the search engine at the end of the article at the bottom of all pages on the site (footer).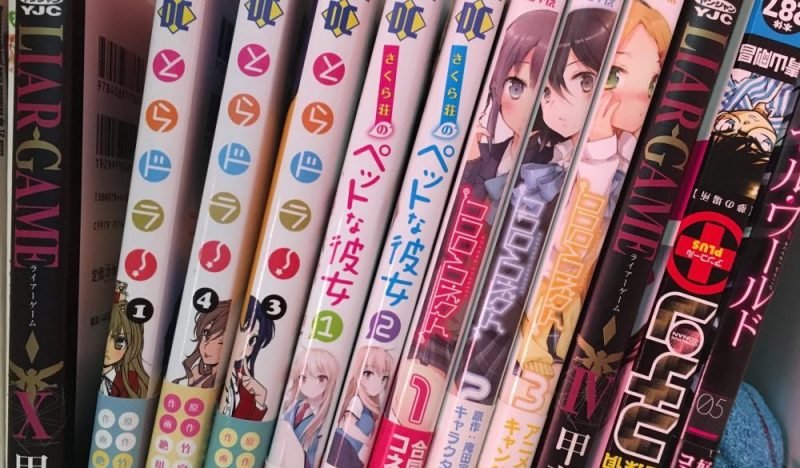 Mangas published in Brazil in English
The list shows the first volume of each work, but you can buy the other volumes by visiting the manga page.
Complete list of manga published in Brazil
Finally, let's leave a list as a reference for you to find any works that weren't present in the manga grid we made above. We only list different works, there are still variations, seasons and works that were re-released by another publisher. We leave the list simple just for you to know about the existence of the manga in English.
Responsive Table: Roll the table sideways with your finger >>
Work / Manga in English
Author
.hack // The Legend of the Twilight Bracelet
Tatsuya Hamazaki
/ King Izumi
07 Ghost
Yuki Amemiya
Yukino Ichihara
1945
Keiko Ichiguchi
1 Liter of Tears
Kito Aya
KITA
5 Centimeters per Second
Makoto Shinkai
/ Yukiko Seike
20th Century Boys
Naoki Urasawa
21st Century Boys
Naoki Urasawa
Abara
Tsutomu Nihei
The Loved One
CLAMP
Adolf
Osamu Tezuka
Afro Samurai
Takashi Okazaki
Aishiteruze Baby
Maki Youko
Akira
Katsuhiro Otomo
Alice in Wonderland
Sakura Kinoshita or Jun Abe
To love and to be loved
Yukari Yashiki
Angel Sanctuary
Kaori Yuki
Angelic Layer
Ageha Ohkawa
/ Satsuki Igarashi
/ CLAMP
Another
Yukito Ayatsuji
The Princess and the Knight
Osamu Tezuka
Ark Angels
Sang-Sun Park
The Stars Sing
Natsuki Takaya
The Red Snake
Hideshi Hino
Astral Project
Marginal
/ Garon Tsuchiya
/ Syuji Takeya
Astro Boy
Osamu Tezuka
/ Akira Himekawa
Attack on Titan: No Regrets
Hajime Isayama
After School Of The Earth
Akihito Yoshitomi
All You Need Is Kill
Sakurazuka Hiroshi
/ Takeshi Obata
Ageha
Koushi Rikudou
Boy Adventures
Mitsuru Adachi
Azumangá Daioh!
Azuma Kiyohiko
Princess Kilala
Rika Tanaka
Angry
Yoo Kyun Won
The art of war
Kasuke Maruo
/ Variety Art Works
/ Sun Tzu
Thus Said Zarathustra
Kasuke Maruo
/ Variety Art Works
/ Friedrich Nietzche
The Metamorphosis
Kasuke Maruo
/ Variety Art Works
/ Franz Kafka
The Interpretation of Dreams
Kasuke Maruo
/ Variety Art Works
/ Sigmund Freud
Anomal
Nukuharu
Under the skin
Rim Minani
Air Gear
Oh! Great
Titans attack
Hajime Isayama
Attack on Titan: Before the Fall
Hajime Isayama
Aoharaido
Io Sakisaka
Assassination Classroom
Yuusei Matsui
Alice Hearts
Soumei Hoshino
Akira
Katsuhiro Otomo
Another (Novel)
Yukito Ayatsuji
Akame Ga Kill!
Takahiro
/ Tetsuya Tashiro
Ao no Exorcist (Blue Exorcist)
Kazue Kato
Angel
U-Jin
The Legend of Kamui
Sanpei Shirato
Ark Angels
Ark Angels
Bakuman
Tsugumi Obah
/ Takeshi Obata
Bambi
Atsushi Kaneko
Banya: The Messenger
Kim Young Oh
Basilisk
Futaro Yamada
/ Masaki Segawa
Bastard !!
Hazushi Hagiwara
Battle Royale
Koushun Takami
/ Masayuki Taguchi
BB Project
Shonen & Kaze
Beelzebub
Tamura Ryuuhei
Welcome to NHK
Tatsuhiko Takimoto
/ Kenji Oiwa
Berserk
Kentaro Miura
Bijojuku: Little seduction course
Mayumi Yokoyama
black bird
Kanoko Sakurakoji
Black Butler
Toboso Yana
Black Lagoon
King Hiroe
Blade - The Blade of the Immortal
Hiroaki Samura
Bleach
Kubo Tite
Blood Honey
Sakyou Yosakura
Blood Lad
Kodama Yuuki
Blood +
Asuka Katsura
Blood-C
Kotone Ranmaru
Blue Dragon
Tsuneo Takano
/ Takeshi Obata
brave 10
Kairi Shimotsuki
B'tX
Masami Kurumada
Btooom!
Junya Inoue
Buddha
Osamu Tezuka
Burn-Up Excess & W
Oh! Great
Busou Renkin
Nobuhiro Watsuki
Cafe Kichijoji's
Yuki Miyamoto
Card Captor Sakura (Special Ed.)
CLAMP
Carnival Glare
Kazuomi Minatogawa
Category: Freaks
Sakurako Gokurakuin
Knights of the Zodiac
Masami Kurumada
Che: A Biography
Kim Yong-Hwe
Chobits
CLAMP
Chrno Crusade
Daisuke Moriyama
Cinderalla
Junko Mizuno
Claymore
Norihiro Yagi
Bijinzaka Women's College
Mayumi Yokoyama
Tales of Love For You
Ayumi Shiina
Count Cain
Kaori Yuki
Cowboy Bebop
Yutaka Nanten
Crying Freeman
Kazuo Koike / Ryoichi Ikegami
Colégio Ouran Host Club
Hatori Biscuit
Code Geass: The Lelouch Rebellion
Majiko
/ Ichirou Ohkouchi
/ Goro Taniguchi
Crime and Punishment
Osamu Tezuka
Cosplay Kanojo
Hiroshi Itaba
Cowa
Akira Toriyama
D.Gray-man
Katsura Hoshino
Dark Angel
Kia Asamiya
Darker Than Black
Tensai Okamura
Dark Metro
Tokyo Calen
/ Yoshiken
Dawn - Tsumetai te
Shinsyu Ueda
Dead Zone
Fábio Sakuda
Deadman Wonderland
Jinsei Kataoka
/ Kazuma Kondou
Death Note
Tsugumi Obah
/ Takeshi Obata
Defense Devil
In-Wan Youn
/ Kyung-Il Yang
Déjà-Vu - A Great Love Story
Youn In-Wan
Delivery Service of Corpse
Eiji Otsuka
/ Housui Yamazaki
Densha Otoko (novel)
Nakaru Hitori
Captive Destination
Hino Matsuri
Diary of the Future (Mirai Nikki)
Sakae Esuno
Digimon
Akiyoshi Hongo
/ Yu Yuen Wong
DNA²
Masakazu Katsura
DNAngel
Yukiru Sugisaki
Domo Mangá
Several
Don Dracula
Osamu Tezuka
Doors of Chaos
Ryouko Mitsuki
Dororo
Osamu Tezuka
Dorothea
Cuvie
Doubt
Yoshiki Tonogai
Dr. Slump
Akira Toriyama
Dragon Ball
Akira Toriyama
Drifters
Kohta Hirano
Drug-On
Misaki Saitou
Eden
Hiroki Endou
Eensy Weensy Monster
Masami Tsuda
El Alamein and Other Battles
Yukinobo Hoshino
El-Hazard
Hidetomo Tsubura
Elfen Lied
Lynn Okamoto
In Search of Lost Time
Kasuke Maruo
/ Variety Art Works
/ Marcel Proust
Puzzle
Kenji Sakaki
Ero-Guro - The Erotic-Grotesque
Suehiro Maruo
Eureka Seven
BONES
/ Jinsei Kataoka
/ Kazuma Kondou
fairy tail
Hiro Mashima
Figure Maker
Okada Matsuoka
Freezing
Dall-Young Lim
/ Keang-Hyun Kim
Fruits Basket
Natsuki Takaya
Fullmetal Alchemist
Hiromu Arakawa
Full Metal Panic!
Full Moon wo Sagashite
Arina Tanemura
Fushigi Yûgi
Futari H
Katsuaki Nakamura
Gantz
Hiroya Oku
Gate 7
CLAMP
Ga-rei
Hajime Segawa
Gen Bare Feet
Keiji Nakazawa
Genshiken
Kyo Shimoku
God Save The Queen
Hiroshi Mori
/ Yuka Suzuki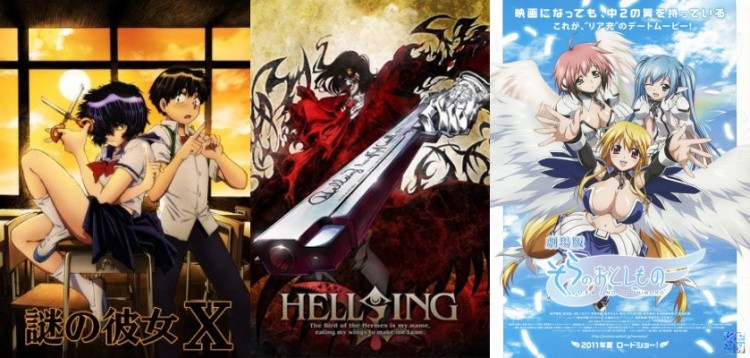 Responsive Table: Roll the table sideways with your finger >>
Work / Manga in English (G)
Author
Golgo 13
Takao Saito
Gravitation
Maki Murakami
Green Blood
Masasumi Kakizaki
Grimms Manga
Kei Ishiyama
Rayearth Magic Warriors
CLAMP
Gunnm - Hyper Future Version
Yukito Kishiro
Gundam Wing
Hellsing
Kohta Hirano
Hero Tales
Huang Jin Zhou
/ Himoru Arakawa
Hetalia Axis Power
Hidekaz Himaruya
High School of the Dead
Hikaru no Go
Takeshi Obata
/ Yumi Hotta
Hiroshima - the City of Calm
Fumiyo Kouno
Hollow Fields
Madeleine Rosca
Homunculus
YAMAMOTO Hideo
Honey & Clover
UMINO Chica
Hunter X Hunter
Yoshihiro Togashi
Ichigo 100%
KAWASHITA Mizuki
Inu-Neko
Kyo Hatsuki
Inuyasha
Rumiko Takahashi
King's Game
Nobuaki Kanazawa
/ Hitori Renda
Kanpai!
Maki Murakami
Kare First Love
Kaho Miyasaka
Kare Kano: his reasons, her reasons
Karin
Kekkaishi
Yellow Tanabe
Kimba
Osamu Tezuka
Kimi ni Todoke
K-on!
Kakifly
Kurosagi Corpse Delivery Service
Kobato
CLAMP
Level E
Yoshihiro Togashi
Lodoss War
Love Hina
Ken Akamatsu
Love Junkies
Kyo Hatsuki
Loveless
Yun Kouga
Lucifer and the Hammer
Satoshi Mizukami
Madoka Magica
Mad Love Chase
Made in Heaven
Yashiki Yukari
/ Sakurai Ami
Magi - The labyrinth of magic
Shinobu Ohtaca
Maid-sama!
Mai, the Sensitive Girl
Manga Of The Dead
額隠 – 神秘的日本白布
Sea
Noboyuki Anzai
Marmalade Boy
Marusaku
Akira Toryama
Mashima-en
Hiro Mashima
Medabots
Megaman NT Warrior
Infernal Melody
MeruPuri
Metropolis
Osamu Tezuka
Miyuki-chan in Wonderland
CLAMP
Model
Monster
Naoki Urasawa
Monster Hunter Orage
Hiro Mashima
Mouse
Satoru Akahori
/ Hiroshi Itaba
MPD Psycho
My Hero Academia
Kôhei Horikoshi
Nana
Ai Yazawa
In prision
Kazuichi Hanawa
Naruto
Masashi Kishimoto
Naruto Pocket
Masashi Kishimoto
Nausicaä of the Wind Valley
Hayao Miyazaki
Negima!
Ken Akamatsu
Nekomajin Z
Akira Toryama
Neon Genesis Evangelion
Nura - The rise of the shadow clan
Hiroshi Shiibashi
One Punch-Man
ONE
One Piece
Echiro Oda
Shizuru Hayashiya
/ Please!
Shōnen
Onegai Twins
Akikan
/ Please!
The dog guarding the stars
Takashi Murakami
The capital
Kasuke Maruo
/ Variety ArtWorks
/ Karl Marx
The Lord of Thorns
Yuuji Iwahara
The Sons of Safiri, the new princess and knight
Osamu Tezuka
The Two-Faced Man
CLAMP
The Myth of Arata
Yuu Watase
Pandora - girlfriend of death jr.
Hai!
Panorama of Hell
Hideshi Hino
Paradise Kiss
Ai Yazawa
Peach Girl
Planet Blood
Kim Tae-Hyung
Pokemon
Priest
Hyung Min-Woo
Princess Ai
Ai Yazawa and Courtney Love
Princess Princess
Prophecy
Tetsuya Tsutsui
Puella magi Madoka Magica
Hanokage
/ Magic quartet
Puella Magi Oriko Magica
Mura Kuroe
/ Magic quartet
Ranma ½
Rumiko Takahashi
Red Garden
Kirihito Ayamura
/ GONZO
King Lear
Kasuke Maruo
/ Variety ArtWorks
/ Shakespeare
RG Veda
CLAMP
Rosario + Vampire
Akihisa Ikeda
Rosario + Vampire (Year II) z
Akihisa Ikeda
Red + Garden
Gonzo and Kirihito Ayamura
Sabakatou from Yahiko, A
Nobuhiro Watsuki
Saber Marionette J
Satoru Akahori
Sade
Sailor Moon
Naoko Takeuchi
Sakura Card Captors
CLAMP
Samurai Champloo
Executioner Samurai
Goseki Kojima & Kazuo Koike
Samurai Girl
Reigi Saga
/ Sora Inoue
Samurai X (Rurouni Kenshin)
Nobuhiro Watsuki
Sand land
Akira Toryama
Sanctuary
Seton
Shaman King
Hiroyuki Takei
Shin-chan
Shinshoku Kiss
Kazuko Higashiyama
Shunkaden
CLAMP
Slam Dunk
Takehiko Inoue
Slayers
Only You Can Hear
Hiro Kiyohara
Socrates in love
Kyoichi Katayama
/ Kazumi Kazui
Solanin
Inio Asano
Sora no Otoshimono
Soul Eater
Atsushi Ohkubo
Speed Racer
Tatsuo Yoshida
Spicy Pink
Street Fighter Alpha
Nakahira Masahiko
Sugar Sugar Rune
Summer wars
Mamoru Hosoda
Sunadokei
Hinako Ashihara
Super Eleven
Tenya Yabuno
Tarot Café
Sang-sun Park
Tempest
Tengen Toppa Gurren Lagann
GAINAX
Tenjho Tenge
Oh Great!
The Innocent
Avi Arad
/ Junichi Fujisaku
/ Yasung Ko
Thermae Romae
Mari Yamazaki
Tiger & Bunny
Tiger and the Dragon, O
Tokyo Babylon
CLAMP
Tokyo ghoul
Tokyo Mew Mew
Tom Sawyer
Shin Takahashi
Toriko
Mitsutoshi Shimabukuro
Toshiki's Sensual Girls
Triage X
Trigun
Yasuhiro Nightow
Trigun Maximum
Yasuhiro Nightow
Tsubasa: Reservoir Chronicle
CLAMP
Tsumitsuki - spirit of guilt
Hiro Kiyohara
Trinity Blood
Ultraman
Eiichi Shimizu
/ Tomohiro Shimoguchi
Ultramaniac
Usagi Drop
Yumi Unita
Utena
Chiho Saito
/ BePapas
Uzumaki - The spiral of horror
Junji Ito
Vagabond
Takehiko Inoue
Vampire Kisses - Blood Ties
Ellen Schreiber
/ Elisa Kwon
Vampire Knight
Matsuri Hino
Video Girl Ai
Masakazu Katsura
X / 1999
CLAMP
xxxHolic
CLAMP
Yu-Gi-Oh!
Kazuki Takahashi
Yu Yu Hakusho
Yoshihiro Togashi
Zetman
Masakazu Katsura
Zetsuen no Tempest
Kyō Shirodaira
Zettai Kareshi
Zucker
Season Studio