Kodo (鼓童) is a professional Taiko [太鼓] group. Based on Sado Island, Japan, he played a big role in popularizing Japanese drums both in Japan and abroad. They regularly tour Japan, Europe and the United States.
Although the main focus of the performance is taiko, other traditional musical instruments, such as fue (笛) and shamisen (三味線) also make an appearance on stage as well as traditional dance and vocal performance.
Their show includes pieces based on traditional rhythms from regions of Japan, pieces composed for Kodo by contemporary composers, and pieces written by the members themselves. The numbers displayed may change from concert to concert. Their performance normally lasts for about an hour and forty minutes.
In Japanese, the word "kodo" conveys two meanings: "heart beat" the primordial source of the whole rhythm and, when reading in a different way, the word can mean "child", a reflection of Kodo's desire to touch his Drums simply with the heart of a child.
The group strives both to preserve and to re-interpret traditional Japanese arts. Upon returning to the island of Sado, the experiences and music of world tours and research trips come together, which exert a strong influence on the group's performance and its compositions. They also collaborate with other artists and songwriters.
Since his debut at the Berlin Film Festival in 1981, Kodo has given over 3,100 performances on five continents, spending about a third of the year abroad, a third touring Japan and a third resting and preparing new material on the island of Sado.
KODO Organizations
There are three organizations that handle activities in the group. Kitamaesen manages everything related to the presentation activities. Otodaiku, manages the group's copyright and the development and sale of musical instruments used by them. The non-profit group is organized under the Kodo Cultural Foundation.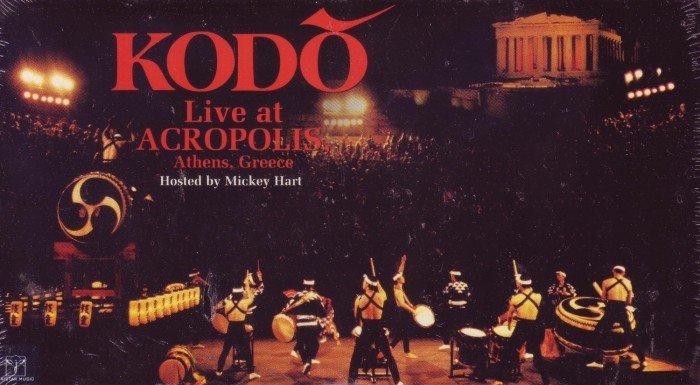 Kodo Village
After more than a decade of living in a converted school house, Kodo finally obtained 25 hectares (100,000 m²) of heavily forested land on the Ogi Peninsula in the southern part of Sado Island, and in 1988 the village opening ceremony was held.
In keeping with its dedication to preserving traditional arts, the first structure, the main building, was rebuilt from the woods of a 200-year-old farm marked for demolition.
And now extended, it features communal kitchens and dining areas, as well as a library dedicated to the world of music and dance. Since then, a reception building, a dormitory building, a studio and recently, a new rehearsal room have been added.
In addition to these main communal buildings, married members of the group have built family homes around the land.
This DVD features the Japanese percussion group Kodo's 1995 celebration of live performance at the ruins of the Acropolis, Greece. In addition to the musical film itself, an interview with percussionist and former Grateful Dead drummer Mickey Hart is also included.
(This DVD features celebrated Japanese percussion troupe Kodo's live 1995 performance at the Acropolis ruins in Greece. In addition to the musical footage itself, an interview with the percussionists and former Grateful Dead drummer Mickey Hart is also included.)
Features
Kodo Title: Live At Acropolis
Artist / Band: Kodo
Year of Production: 1995
Year of Release: 2002
Technical specifications
Media Type: DVDRip
Region 1
Duration (min) Approx. 60min
Screen Formats: Full screen
Audio: Dolby Digital, Stereo
Language: Japanese/English
Subtitles: None
Size; 1Gb
Age range: free
Number of Disks: 1
Additional Information - Bands
1. Irodori
2. Miyake
3. Jang-Gwera
4. Zoku
5. Yamauta/O-Daiko
6. Yatai-Bayashi
7. Nishi-Monai
8. Sankan-Shion
9. Monochrome
10. Akabanar