It is common knowledge that the Japanese have a very high life expectancy. Japan is home to the largest number of centenarians on the planet. It is estimated that the country has about 86 thousand people over 100 years old. Longevity that is mainly due to the quality of food and access to health services. Thus, most inhabitants of the archipelago tend to easily pass 80 years of age. In addition, the life expectancy of women is usually even higher.
Read also: How do Japanese women fight wrinkles and aging?
Recipes to dry in 30 days https://go.hotmart.com/S71487934B?ap=271e
However, in football age tends to come earlier. In Brazil, the vast majority of players retire (stop playing) between the ages of 30 and 40. Athletes who pass the age of 40 playing professionally are rare. Recently, the presence of player Daniel Alves, 39 years old, in coach Tite's call-up list for the World Cup in Qatar caused controversy and criticism due to his age and performance.
In Japan, on the other hand, the situation is a little different. A larger number of players tend to pass 30 and 40 playing at a high level. This was the recent case of midfielder Shunsuke Nakamura, an excellent free-kick taker who was successful playing for Celtic in Scotland during the first half of the 2000s, and who retired at the age of 44. The athlete was for the last time at Yokohama FC.
In this article, we'll look at an even more extreme and peculiar case. We'll meet Kazuyoshi Miura, the oldest active soccer player!
We recommend that you also read:
Who is Kazu Miura?
Kazuyoshi Miura 三浦知良 [みうらかずよし], also known as Kazu Miura, "the king", is a Japanese football player who played for several teams, including Brazilian teams, such as Palmeiras, CRB, XV de Jaú, Coritiba and Santos . He began his career in the mid-1980s, becoming a successful striker during that period. He is currently considered one of the greatest icons of Japanese football. Miura was also successful in European clubs, in Italy (Genoa) and Croatia (Dinamo Zagreb). He was also called up to the Japanese national football team in 1990, scoring 55 goals (some sources claim that there were 56 goals scored) for the blue samurai in about 89 matches played.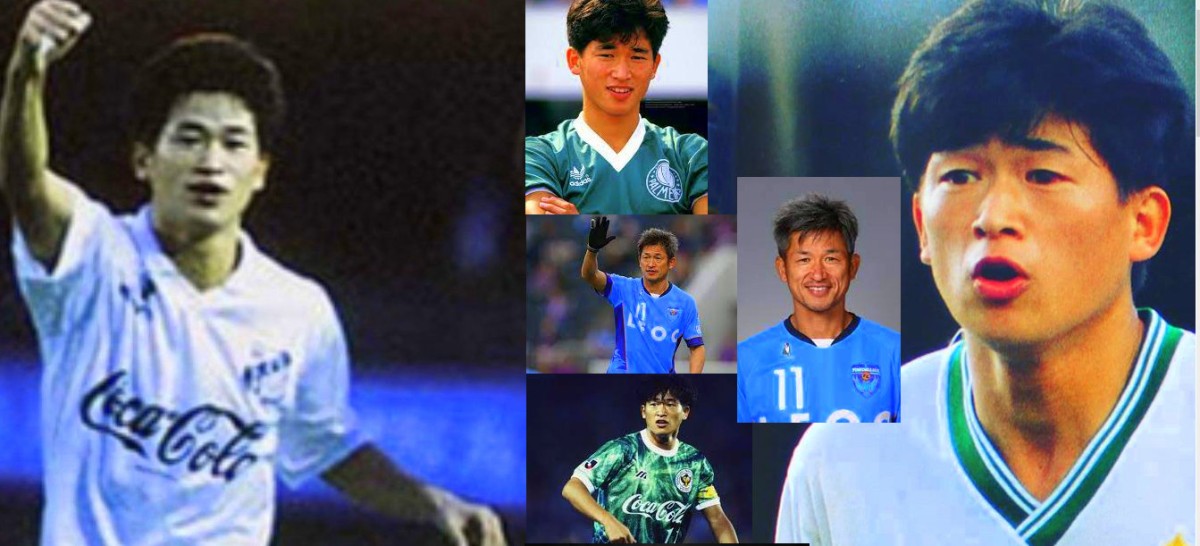 He played for a long time at Vissel Kobe, the team where Spanish midfielder Andrés Iniesta currently plays. However, the club Kazu most played for was Yokohama FC, between 2005 and 2021 (for 16 years). Currently, he plays for the modest Suzuka Point Getters of the fourth division of Japanese football, having even scored a penalty goal recently. He is the record holder for the oldest footballer in activity, with an incredible 55 years old, having played for an incredible 4 decades! And it still plays great!
We recommend the video from the Futirinhas channel talking in more detail about the career of the "king" of Japanese football. Watch below:
Records

Miura holds some major records in his career. The main one was beaten in 2017, on March 5, when entering the match against V-Varen Nagasaki at the age of 50, becoming the oldest player to play a professional football match.
He also has another record: that of the oldest player to score a goal, surpassing his own record in March of this year, when he scored a goal for Suzuka Point Getters in a 3-1 victory over Tiamo Hirakata, in a match valid for the fourth division of the japanese league.
It has approximately more than nine hundred matches and almost three hundred goals scored in its curriculum (approximate data).
Dribbling and Goals
Watch some of Kazuyoshi Miura's moves (goals, dribbles and passes) in the video below:
Player stats on Sofascore
Sofascore is the best site to see stats on active athletes. In it, it is possible to see the player's average scores in each match, the number of goals, assists, correct passes, strengths and weaknesses, among other valences. Click here and see Kazu Miura's accurate stats and detailed profile using Sofascore.
Historic goal for Suzuka
See below the historic penalty goal scored earlier this year by the legendary 55-year-old player (and his classic dance):
And there? Did you like the article? Did you already know this story? Don't forget to share with your friends! Do you like articles about football in the land of the rising sun?
Send us an email with suggestions for the next ones! Maybe we can't publish your idea, right?