Already qualified for the 2022 World Cup, Japan grows every year in the world of Soccer. With a tactically applied and very dedicated selection, the blue samurai frequently appear in the lists of the teams present in the cup, more precisely since 1998, the date of their first participation.
In these several years since then, some players have marked their names in the soccer/football history from the country, such as Kunishige Kamamoto, Hidetoshi Nakata and Shunsuke Nakamura.
In this article, we will recall the achievements of the biggest players Japanese of all time.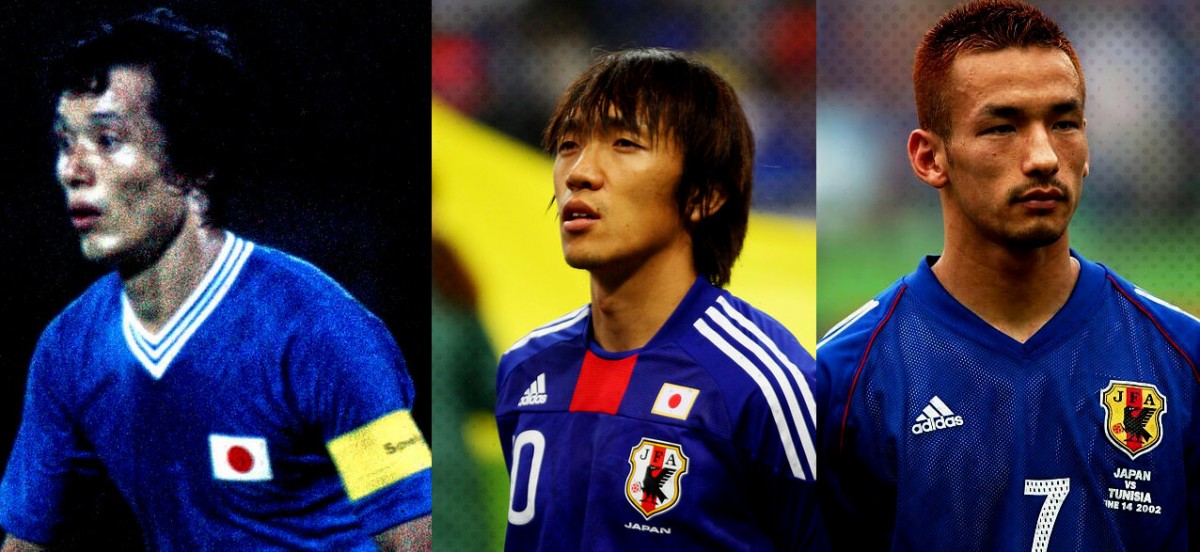 In a relatively recent past (1980s), Japanese football/soccer was still considered semi-amateur. With the beginning of the era Zico no Kashima Antlers, in mid-1993 and 1994, football/soccer in the land of the rising sun gained greater prominence in the press and leveraged a large number of fans and fans of the sport.
the going of more brazilian players (Leonardo, Dunga, Washington, Alcindo, Robson Ponte, among others) for Japanese clubs also served to increase public attention to the sport. In this sense, it is evident that Brazil has always had a lot of influence on the success of Japanese leagues, as off-field "marketing" added to on-field quality contributed substantially to the improvement of Japanese football/soccer.
From there, many young people began to look up to great athletes in world football, sowing the dream of becoming professionals. Thus, countless excellent Japanese soccer players continue to emerge. Recently, the number of Japanese athletes in European leagues has greatly increased, a fact that demonstrates an advance in the technical quality of the blue samurai over the years.
If since the 2000s and 2010s we have seen stars shining in Europe, as Honda, Kagawa, Nagatomo, Inamoto and Okazaki, we also had, from a more distant past, names like Kunishige Kamamoto, Nakamura and Nakata, standing out in football/soccer.
These three superstars are the subject of this article.
Kunishige Kamamoto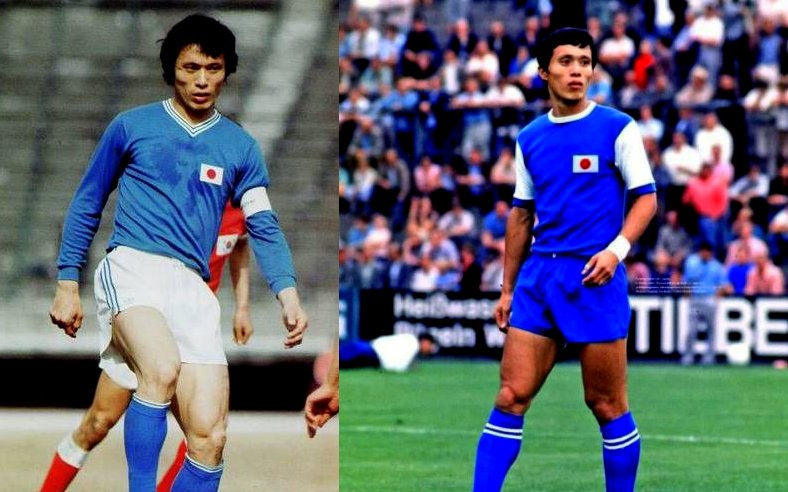 Kunishige Kamamoto (1944 – ) played for the national team from the early 1960s to mid-late 1970s (1964 – 1977). He is considered by many to be the greatest Japanese player in history, having played throughout his career at Yanmar Diesel (the current Cerezo Osaka), at a time when Japanese football/soccer was still seeking to achieve professionalization and the teams had predominantly names of companies.
Kamamoto is, to this day, the top scorer in the history of the Japanese team, with 80 goals scored. The player even played against Pelé, at the time at Cosmos, an extremely remarkable fact for an oriental player at that time. In addition, he won a bronze medal in the olympics of Mexico in 1968.
At the end of his career, he was coach of Gamba Osaka (between 1991 and 1994), Cerezo Osaka's biggest rival. In 1995, he joined the policy.
Shunsuke Nakamura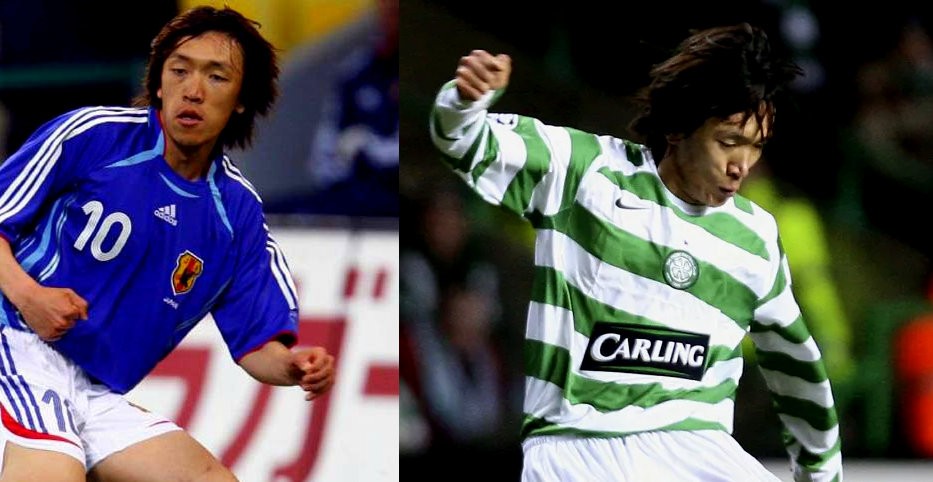 Shunsuke Nakamura (1978 – ) is one of the greatest midfielders in the history of world football/soccer, having stood out worldwide with the Celtic shirt between 2005 and 2009. He was mainly responsible for rebuilding Celtic and making it the Scotland's top team.
Left-handed, incredible free kick taker, multi-champion for the Japan National Team (2 Asian Cups, 1 4 Nations Cup and 5 Kirin Cups) and scorer of 24 goals for the Blues, the player still plays professionally (at the height of his 43 years!), being part of the Yokohama FC squad, but obviously without the same vigor of the Celtic era.
To learn more about the career of this legendary player, watch the video from the Gol de Canela YouTube channel, below:
We also recommend that you look for the ace's moves on YouTube, especially the free kicks, an iconic skill that has so consecrated him, given that, in this regard, in fact and in law he was the best among all the Japanese who have ever set foot on the pitch. .
A curiosity is that, in terms of advanced age, Nakamura is still surpassed by Kazu Miura, who continues to act with his 55 years. Soon we will make an entire article dedicated to this other player. So stay tuned on our website.
Hidetoshi Nakata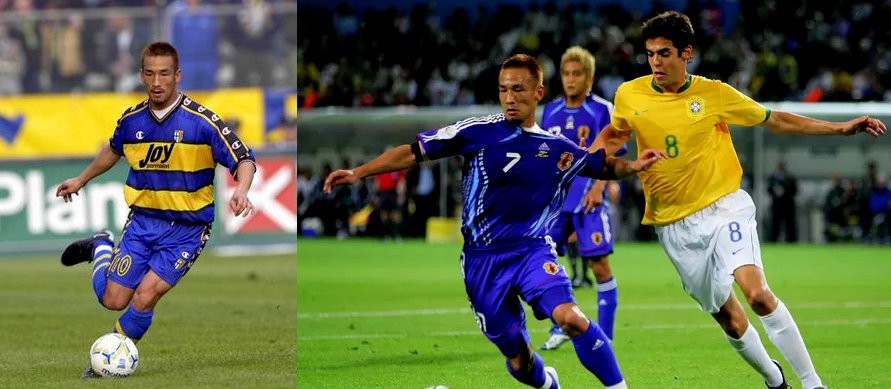 Last but not least, we will talk about Hidetoshi Nakata (1977 – ), attacking midfielder, former star of the Japanese team (revealed by Brazilian Toninho Moura), was an athlete of extreme skill with both legs, with quality in the pass and protagonist of Japanese football/soccer during the 2000s, sharing responsibility with midfielder Nakamura.
Listed by Pele as one of the 100 best soccer players in the world, the Japanese played for the blue samurai in three World Cups: 1998, 2002 and 2006; and in two Olympics: 1996 and 2000.
Revealed at Bellmare Hiratsuka, he was successful in Italian football/soccer playing for Roma (2000 and 2001) and Parma (2001-2004), ending his career in English football/soccer, playing for Bolton (2005-2006).
This one, like Nakamura, was one of the guys I had the pleasure of seeing play on television. However, when that happened, Nakata was already at the end of his career (finished during the 2006 World Cup in Germany). Having had the privilege of watching one of the greatest stars in the history of Japanese football/soccer is a source of pride for me and for everyone who also had this opportunity.
Certainly, when talking about football/soccer, Nakata is, without a doubt, one of the names that most come out of the mouths of the Japanese people.
See the highlights of his career in the video below:
Other important Japanese players
In order not to leave anyone important out and not to commit injustice, we will list here other Japanese football/soccerers who have distinguished themselves internationally (or for the country's national team).
Check out our list:
Keisuke Honda (he played for great teams in world football/soccer, such as Milan, CSKA, Botafogo, among others).
Shinji Kagawa (played for Manchester United and Borussia Dortmund).
Inamoto (midfielder who was successful at Arsenal and the Japanese national team at the beginning of the century).
Kazu Miura (legendary player who played for Santos, Palmeiras and the Japanese national team).
Alex (Brazilian naturalized Japanese).
Okazaki (played in great teams of German, English and Spanish football/soccer. He is playing for Huesca).
Takefusa Kubo (young Real Madrid athlete, loaned to Mallorca).
Yasuhito Endo (experienced midfielder who played for the Japan national team in the 2006, 2010 and 2014 World Cups. Currently at Gamba Osaka).
Yuto Nagatomo (famous ambidextrous winger, played for Internazionale de Milan and Olympique de Marseille, in addition to having played for his country's national team).
Yoshida (samurai defender for several years. He played in English football/soccer for Southampton and is currently at Sampdoria in Italy).
Japanese Soccer vocabulary
サッカー (sakkaa) = Soccer/Football.
サッカー選手 (sakkaa senshuu) = Soccer player.
ゴール (gooru) = Goal.
フリーキック (furikikku) = Free kick.
FW (fudaburiu) = Striker.
MF (emuefu) = Midfielder.
ディフェンダー (difendaa) = Defender.
To access a complete list of soccer terms in Japanese, click here and read our detailed article!
What's up? Did you like the article? Don't forget to like, comment and share with your friends!