Some time ago, Brazil got into a discussion related to the nude performance of some artists. Brazil is not the only one that does these things, some foreigners were even arrested for trying to do a similar performance in other countries. What about Japan? In this article, we're going to look at some Japanese who claim to be more bizarre and controversial artists than naked performance.
There are many anonymous Japanese people looking for something to look like they are talented. On the internet, many Japanese seek prominence with strange and bizarre performances and ideas. They consider themselves artists and give very controversial presentations. ATTENTION! THIS ITEM IS NOT RECOMMENDED FOR SENSITIVE PEOPLE!

Japanese artists performing nude
One of them was the comedian Shogo Yasamura known as Tonikaku Akarui Yasumura. In 2015, he decided to do a presentation where he poses to look like he's naked, even though he's in his underwear. Below we can see the video that surpassed millions of views, probably because of the comedy and not the art.
Another artist nicknamed Uespiiiiii he took a tissue and put it on his private parts, then he put a cup with saucers and tried to get the tissue out from under the cup without showing his parts. He does this in a variety of ways, even using a tape measure. How did the Japanese manage to take the famous tablecloth trick to the extreme?
Not even women escape, in Japan there is an orchestra group that performs completely naked. They are professional performances, playing famous works by Tchaikovsky (Nutcracker). These images or videos I will not share in this article, but you can even find them on youtube.
Some Japanese, in an attempt to rise through sex appeal, ended up getting screwed. Famous musician DJ Ozma, ended up receiving a lifetime ban from national broadcaster NHK because of a musical performance with naked dancers covering their parts with fans.,
When we talk about nudity performance, artists don't want to come across as indecent. In the sex robot museum, there is no way to visit it without seeing something indecent. Located in Nikko, there is a museum full of robots and dolls doing extremely perverted things. The museum seems to depict the history of Japan quite indecently.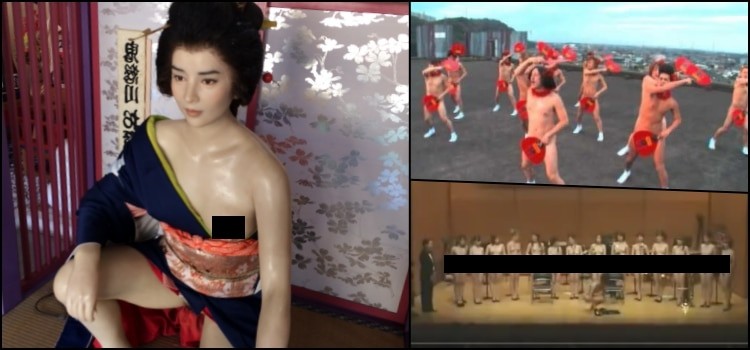 Japanese culture in relation to nudity
The Japanese have never been so ashamed of their own body. All people tend to frequent the hot springs and bathe completely naked without any shame. Of course, nowadays baths are separated by sex, but in the past it was not like that. Even today it is possible to find mixed baths.
We already talked on the site about a festival called Hadaka Matsuri, where nearly naked men end up rubbing against each other in a cramped temple. Not to mention the famous chick festival called Kanamara Matsuri. There are even nudity restaurants that unfortunately have age and weight restrictions. These occasions are not at all cultural and end up reminding us of the famous secret hostesses.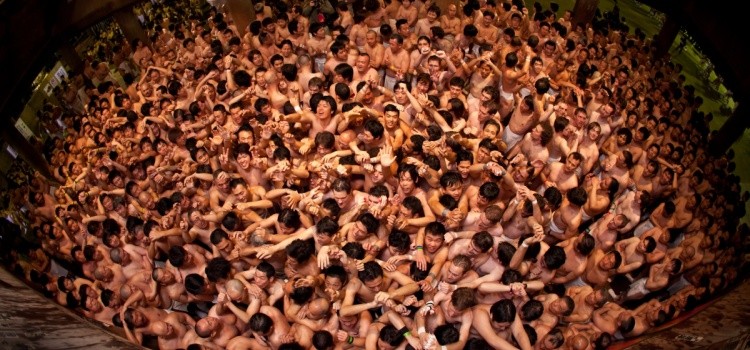 The great truth is that Japan is also a country that ends up wanting to expose nudity naturally. It doesn't matter if the person is a child, they will end up going to an onsen. Of course, things like what happened in Brazil would probably not be tolerated. As much as some believe that Japan supports pedophilia with its lolis anime, the country's laws are strict when it involves real people, even if on occasions said to be art.
Hope you enjoyed this article. What is your opinion on the matter? We appreciate the comments and shares. We also recommend reading: