The anime winter season has already started. Since the beginning of the year, several Anime have already premiered and the hype for some of them is extremely high.
In this article, we will recommend several great anime for you to catch up on this January 2023 season! By clicking on the title of the series you can see more details about them on the MyAnimeList website.
We filter for you the anime that we believe will be the best. However, this will also depend on the tastes of each person, which genres they usually watch, number of episodes, among other factors. Therefore, view this list as a suggestion only.
Remembering that this list is only of the Anime that will be released in January of this year!
Read too: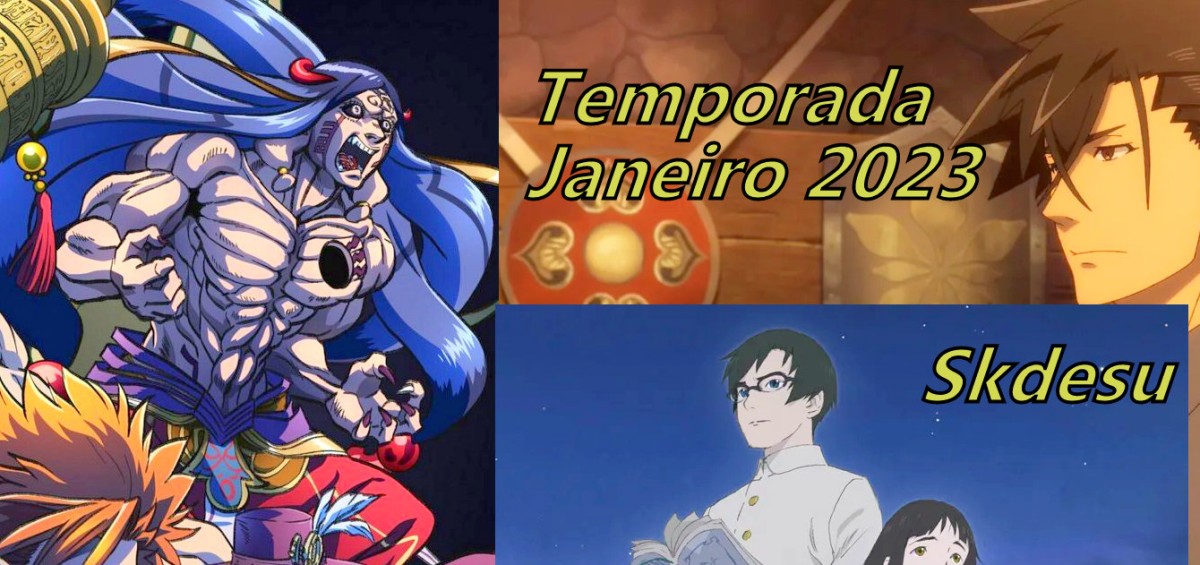 New Anime of the Season – Recommendations
Junji Ito Maniac: Japanese Tales of the Macabre
Trigun Stampede
NieR:Automata Ver. 1.1a
Junji Ito Maniac: Japanese Tales of the Macabre
Synopsis: The animated series will for the first time adapt twenty stories from various manga by Junji Itou, including Tomie, Souichi, and Kubitsuri Kikyuuu (The Hanged Balloons). Source: MyAnimeList.
We recommend that you also read:
Premiere date: January 19, 2023.
Studio: Deen.
Trigun Stampede
Synopsis:
On the scorching planet of No Man's Land, infested with water, humanity's survival depends on Plants, biological power plants capable of producing any substance from nothing. It is in this world that lives the Human Typhoon, a troublemaker with a bounty of $$6 million on his head. His name is Vash the Cattle Stampede. To uncover the truth behind Vash, young rookie reporter Meryl Stryfe and hard-drinking veteran Roberto de Niro launch an investigation, but end up joining Vash on a mission to stop his evil twin brother Millions Knives. Source: Crunchyroll.
Premiere date: January 7, 2023.
Studio: Orange.
NieR:Automata Ver1.1a
Synopsis:
In the distant future, 5012.
The sudden aerial invasion of Earth by extraterrestrials and their "Machine Life Forms" creations have brought humanity to the brink of extinction. A number of human survivors took refuge on the Moon to organize a counterattack using android soldiers to recapture Earth.
However, the war reaches a stalemate as the "Machine Life Forms" continue to multiply endlessly. In turn, humanity deploys a new unit of android soldiers as the ultimate weapon: YoRHa.
Recently dispatched to Earth, 2B joins 9S, the analyst currently stationed there, where, in the midst of their mission, they encounter a myriad of mysterious phenomena...
This is the story of these lifeless androids and their never-ending fight for humanity. Source: MyAnimeList,
Premiere date: January 8, 2023
Studio: A-1 Pictures
Follow-ups worth keeping an eye on
Gokushufudou: Immortal Tatsu II
Tokyo Revengers 2: Christmas Showdown Arc
Record of Ragnarok II
Vinland Saga Season 2
Synopsis: A new millennium begins in the southern part of the Jutland peninsula in Denmark. Thorfin was bought by landowner Ketil as a "slave" and engaged in land reclamation work on his farm. Thorfinn meets a young man there, Einar, who was also a slave like himself. Einar's encounter led Thorfinn to face the sins he had committed and began to find meaning in life. On the other hand, Canute, who became King of England, tried to enlarge his territory for the establishment of the "promised land". Source: MyAnimeList.
Premiere date: January 10, 2023.
Studio: MAPPA.
Bungou Stray Dogs 4th Season
Synopsis: Having been kicked out of the orphanage and on the verge of starvation, Atsushi Nakajima meets some men. Both are members of the Armed Detective Agency who are supposedly capable of solving any incident, even those that the police and military dare not investigate. Atsushi ends up accompanying them on a mission. In the city of Yokohama, there are people who call themselves great literary masters and who have unusual powers attached to their name. This is the beginning of the battle between the mysterious powers of the Armed Detective Agency and the Porto Mafia.
Premiere date: January 4, 2023.
Studio: Bones.
Gokushufudou: Immortal Tatsu II
Synopsis: Second Season of Gokushufudou – The Way of the Househusband. Originated from a comedy manga that became quite popular after the animated version. Netflix is the streaming service responsible for broadcasting the anime.
Premiere date: January 1, 2023.
Studio: JCStaff.
Tokyo Revengers 2: Christmas Showdown
Synopsis: Second Season of Tokyo Revengers.
premiere date: January 8, 2023.
Studio: LIDENFILMS.
Record of Ragnarok II
Synopsis: Second Season of Record of Ragnarok (Shuumatsu no Walküre II). Based on an action manga of the same name.
Season One Synopsis: Judgment Day has arrived once again and the gods must decide whether humanity can live another thousand years or deserves to be exterminated. By unanimous decision, they decide for their extermination, but are convinced by a valkyrie, Brunihilde, to enter into a dispute for the survival of humanity. Thirteen gods and thirteen humans entered into 1v1 battles to ensure the disappearance or death of the human race.
premiere date: January 26, 2023.
Studio: Yumeta Company, Graphinica.
High Card
Synopsis: High Card, an anime about Poker.
After discovering that his orphanage was about to close due to financial stress, Finn, who had been living freely on the streets, left for a casino with the aim of making his fortune. However, nothing could have prepared Finn for the nightmare that awaited him. Once there, Finn encountered a car chase and a bloody shootout caused by a man's "lucky" card.
Finn eventually discovers what was behind the shooting. The world order can be controlled by a set of 52 X-Playing cards with the power to grant different superhuman powers and abilities to those who possess them. With these cards, people can access the hidden power of the "friend" that can be found within themselves.
There is a secret group of players called the High Card, who were directly ordered by the King of Fourland to gather the cards that were scattered throughout the kingdom while working as employees of the luxury car manufacturer Pinochle. Sought to become the fifth member of the group, Finn soon joins the players on a perilous quest to find these letters. Source: otakupt.
Premiere date: January 9, 2023. Note: Episode 1 premiered on November 19, 2022 on Anime NYC, but its regular schedule will only start from January 9, 2023.
Studio: TMS Entertainment
Other anime to watch this season
Ningen Fushin: Adventurers Who Don`t Believe in Humanity Will Save the World
Revenger
Detective Conan: Ai Habara`s Story – Jet-Black Mystery Train
The Iceblade Sorcerer Shall Rule the World
What's up? Did you like the list? If there's another cool anime to watch that didn't make it to this list, send us an email.
Don't forget to share this article with your friends on social media!