Today we are presenting a small review of the anime Haikyū (or haikyuu) written by our friend Leonardo Fragozo from the blog leojapanesequest:
A 25-episode shōnen series, which I watched in 5 days (whao for me), with abundant elements of this genre, such as "despite endless mental monologues, charismatic and humanized characters", Haikyū!! It is a sport that I have never shown interest in (Volleyball) however, the approach at the same time, dynamic and with content is something interesting, Anime does not have superhuman characters that go into "berserk mode" and solve all the problems of the game. humanity or in the case of the team, but more than that, it teaches us the importance of working in a group, with our strengths and weaknesses.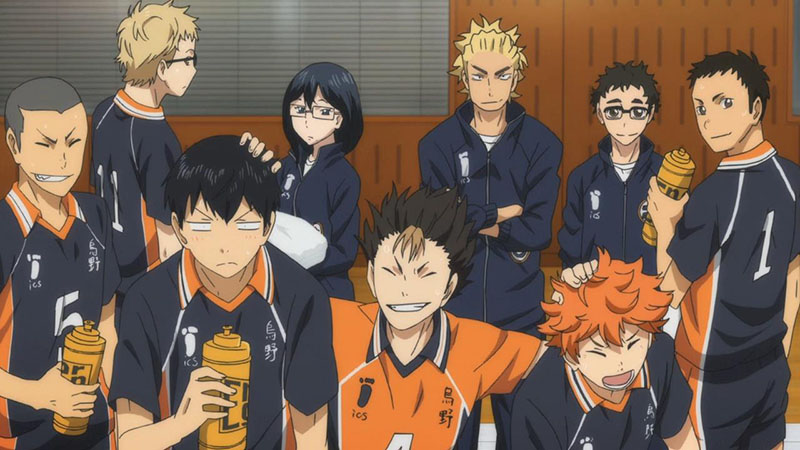 It uses a fun approach but sometimes goes into technical fundamentals of Volleyball, many of which even seem to move like a chess game. It's an anime for those who don't like clichés like "supaaaaahhh attackus", however it's not a "shallow" anime, mainly in terms of variety of characters' personalities, the songs are lively and have a fast beat, ideal for the moments of "tension" that accompany them. any real or anime Volleyball player.
Even the "transition" from the first OP (called "Imagination" portrays well what this world would be in the vision of the protagonists Hinata and Kageyama, to the second called "Ah Yeah!!" properly denotes the "evolution" of the protagonists in familiarity them with the concepts of team and competition.
The animation is well done, despite the "monster face" that the characters make, but whether or not this is one of the characteristics of anime in this theme, the animation itself is extremely fluid, the physics of the series has poetic license, after all it is a work of fiction. The Anime also currently has a second season.
The Anime (ハイキュー!!) is based on a manga series written and illustrated by Haruichi Furudate in the weekly Shōnen Jump magazine. You can watch this anime on Crunchyroll.