Does Carnival exist in Japan? How do you say Carnival in Japanese? Did you know that there are samba events similar to the Brazilian Carnival in Japan? In this article, we will know everything about Japanese carnival parties like the Asakusa Samba Carnival.
Every August, there is an event called Asakusa Samba Carnival, a Carnival in Japan, where Brazilians and Japanese come together to samba and parade. There have already been more than 37 Carnival events in Japan in Asakusa alone.
I want to go further, I won't just talk about this event like most other sites, I want to talk about many other carnival events in Japan, its origin, its popularity and samba. So get ready for a great immersion!
Carnival in Japanese can be derived from English Carnival [カーニバル]. The word omatsuri [お祭り] which means festival and party, also has a carnival meaning which can refer to an amusement park or any party in some languages.
There is a Japanese word for this event which is shanikusai [謝肉祭] and describes well the meaning of this holiday. The character [謝] means apologize or refuse, while the character [肉] means meat and [祭] means festival.
What is Carnival? According to the dictionary, it refers to an annual period of profane festivities, originated in antiquity and recovered by Christianity, and which began on Kings Day (Epiphany) and ended on Ash Wednesday. The word comes from the Latin "meat valley" which means "farewell to the flesh".
In Japanese the word in katakana is mostly used to refer to the parades, while the word in Kanji is used to refer to the Original Latin Carnival celebrated before Lent by the Catholic Church.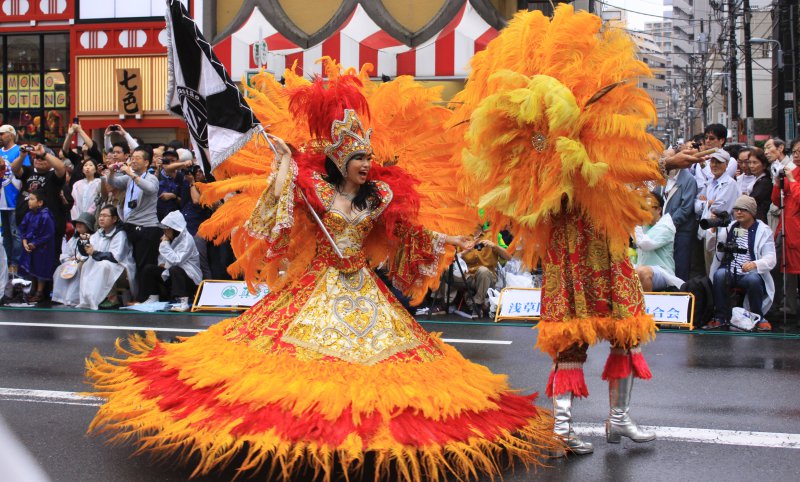 More than 500,000 people visit the streets of Asakusa to follow the biggest samba parade in Japan with genuine Brazilian and Japanese samba teams. The uncles position their cameras to capture the best moments of the parade ( ͡° ͜ʖ ͡°).
The parade takes place at Kaminarimon Dori passing through the middle of Asakusa Station and at the Kaminarimon Gate of Sensoji Temple. Asakusa is one of the oldest neighborhoods in Tokyo, full of traditional houses.
In the 2018 contest, the parade consists of an S1 league with 9 teams and an S2 league with 11 teams for a total of 20 teams, with the top S1 teams having a total of 150-300 entrants.
Teams have their own samba, incorporating dance, performance and singing, and even huge floats are prepared. Each team has its own theme involving costumes, performance, dancing, vibes and other factors.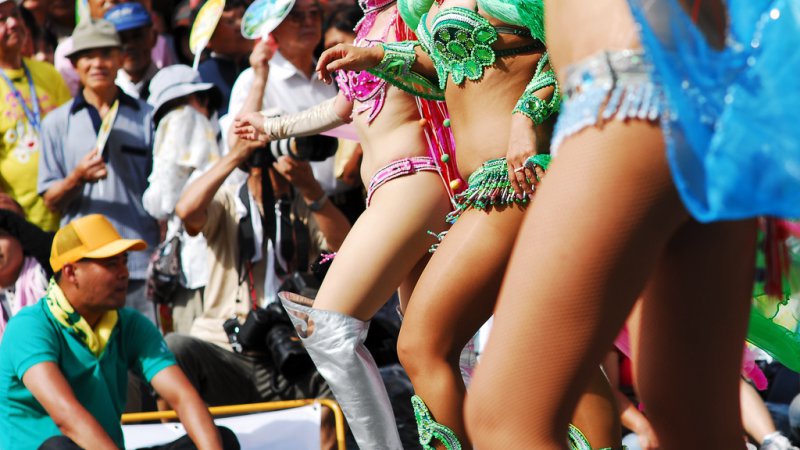 The first event started in 1981 and has been held every year since then, except in 2011 because of the great impact of the Tohoku Earthquake.
The purpose of the Asakusa Samba Carnival was to celebrate and strengthen the bond between the Japanese and Brazilian community, whose ties began with the Treaty of Friendship, Commerce and Navigation in 1895 and the beginning of Japanese Immigration.
It usually takes place in the afternoon, between 1 pm and 6 pm. In addition to Samba, other unknown rhythms, unexpected instruments and unimaginable parades always take place in these Japanese events.
Remembering that Asakusa is not the only place where events similar to Carnival take place. The neighborhood of Yoyogi and Minato also holds similar events at different times of the year. Not to mention other provinces with large numbers of Brazilians.
The Japanese Carnival may not have the same glamor as the dances and muses in Brazil, but at least it has organization, education and above all, the place is all cleaned up after the event.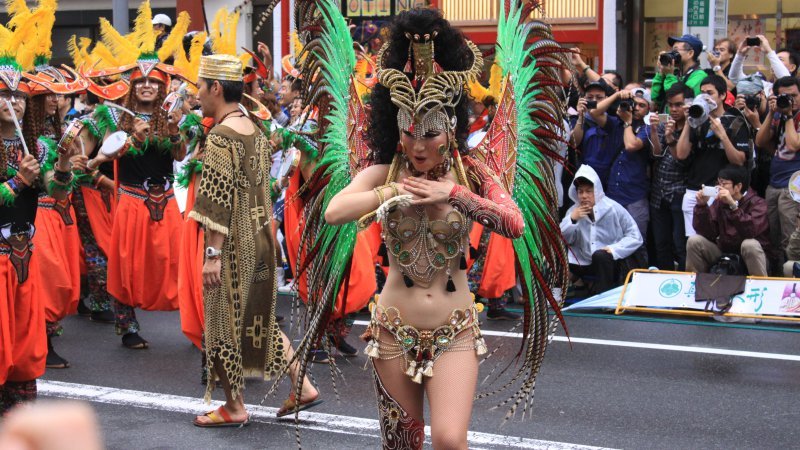 The Okinawa Island Samba Carnival is held every year in November. The Event is organized by the local samba team, O Paisi Ki Ri Da Koza, around November 23 as the main event of the Okinawa International Carnival.
Various events such as a samba band stage, a dance contest and a samba parade are held on Koza Gate Street, which is the main street in Okinawa City. Approximately 300 people, mostly local citizens, participate in the parade.
There are many participants from samba teams like Tokyo, Osaka, Kobe and Fukuoka. From 2012 to 2014, the eve of the festival was held in Mihama, in the city of Chatan in Okinawa. Usually two teams parade at the same time while the music is playing.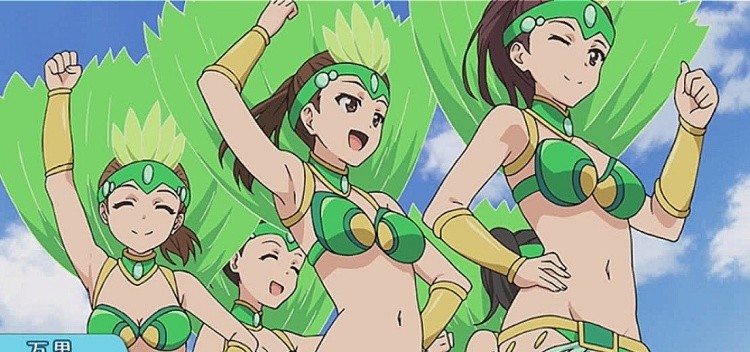 samba in japan
When talking about Brazilians in Japan, the Japanese only think of Samba, Carnaval and Capybara. In Japan, Latin music such as tango, mambo and rumba were introduced in Japan and even became the rhythms of traditional Japanese music.
Unfortunately, the distance between Brazil and Japan was greater, samba did not manage to penetrate much into Japanese culture, but there are some Japanese songs such as "Samba de butterfly Branca", "Samba de bride", "Samba de joaninha" and "Samba de Matsuken".
Unfortunately these songs have a very different tone, rhythm and melody from Brazilian samba. It is said that the image of samba began to take root in Japan after the 1960 film "Orfeu Negro" (directed by Marcel Camus).
The music in this film was mainly Bossa Nova, for this reason most Japanese people know these and other types of samba. The Rio carnival was also known in Japan through this film, which led to the popularization of both.
Usually when Brazilian festivals take place, the presence of samba or people dressed for Carnival is recurrent. For this reason, also keep an eye out for small events that bear the name of Brasil or Samba.
Some Japanese jazz musicians like Sadao Watanabe played bossa nova. Then, in the 70s and 80s, samba records began to be released in Japan, and some enthusiastic music fans increased the number of listeners.
Kiyoshi Hasegawa recorded a song called "Farewell Samba" in 1969 and it was a minor hit. In the 80's, several musicians from Brazil came to Japan for presentations. Even today, some stores in Japan usually put an instrumental samba in the background.
The "Plassa 11 (eleven)" in Minami-Aoyama is considered the first samba house in Japan (a bar and restaurant where you can listen to live samba performances) and was performed by many Brazilian musicians and Japanese samba bands.
Did you know the Carnival of Japan? Did you have any idea about this and other events? If you liked the article, share it with your friends and leave your comments. Another thing that reminds me of Carnival in Japan are the costumes of the Robot Restaurant, have you read this article?