amigurumi is a Japanese technique of creating small plushies or dolls by crocheting or knitting. In this guide we will share many facts, stories and information about these crochet dolls, including how you can learn to make them.
This guide is quite extensive and complete, for that reason we will leave a summary below to help you find what you are looking for:
What does amigurumi mean?
The word amigurumi [編み包み] usually written only in hiragana, represents the combination of amimono [編み物] which means knitting and crochet with the junction of the word nuigurumi [ぬいぐるみ] which means stuffed animal. Literally meaning crochet plush.
The word itself is made up of friend [編み] which can refer to the knitted yarn and kurumi [包み] that gives meaning to art, literally meaning something like wrapping, grouping or packing. Any creature made with mesh thread can be considered a friend.
Some dictionaries translate the word as small stuffed animal or crocheted anthropomorphic creature. Both knitting or crochet techniques can be used to make amigurumi plushies.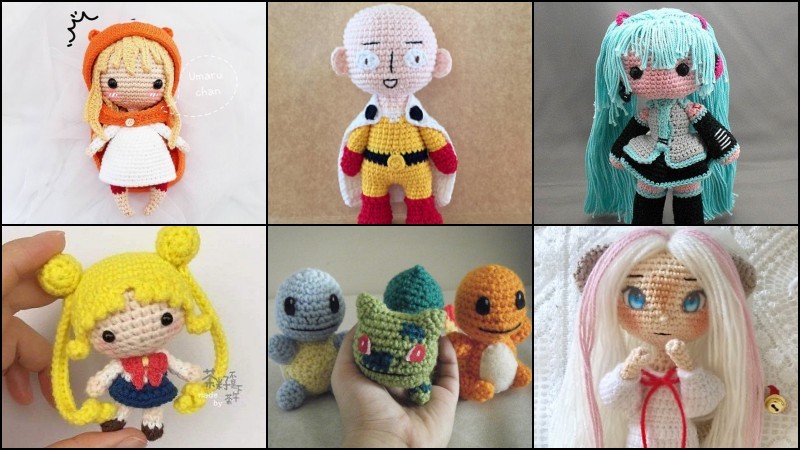 What are Amigurumi like?
The puppet's main feature is its large head. In Japan characters with big heads are called chibi. In anime, the term is used to refer to characters with heads equal to or larger than their own body size.
The word chibi [禿び] literally means small child. It is also common to find dolls of common size, with large bodies and small heads, animals of different sizes, anime characters, game characters, heroes and others.
An amigurumi is usually between 10 to 30 cm, joints made of wire are widely used so that the doll can stay in certain positions. Parts like the mouth, nose and eyes can be made in different ways like buttons or plastic.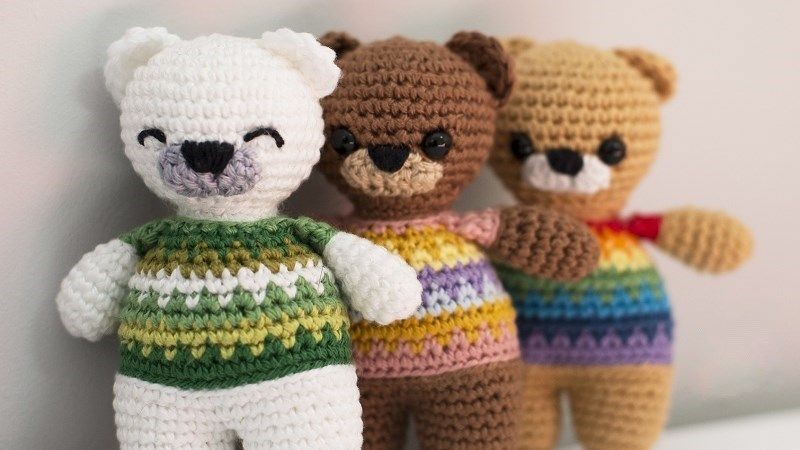 How are crochet dolls made?
Basically, the easy way to do the amigurumi is using crochet and knit, but there are also Amigurumi that use the technique of knitting with two bar needles. Other materials such as cotton can be used to compose the interior stuffing of the animal.
The first steps to make an amigurumi is to create your geometric shapes that make the head, torso and body, usually spheres and cylinders. The making of a crochet amirugumi is made with medium wool and a 4mm needle.
There are many techniques, but the most popular is the use of low stitch combined with the magic ring that avoids the hole near the center of the sphere, in order to prevent the filling from leaking, using invisible reductions known as invisible decrease.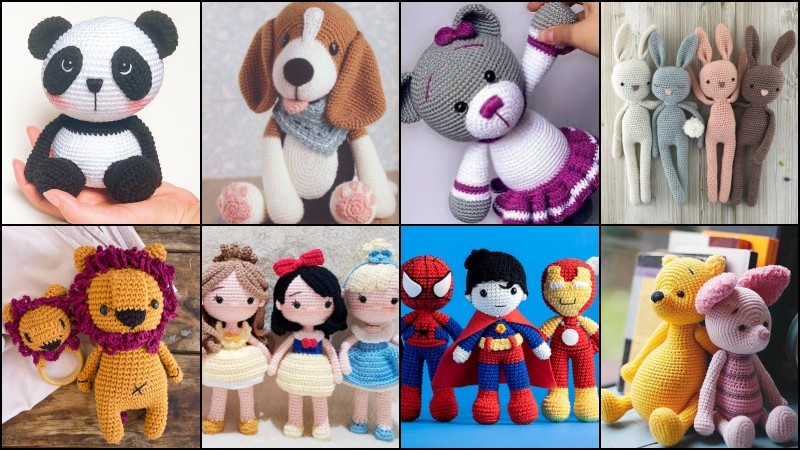 What's the Difference Between Knitting and Crochet?
Maybe you don't know the difference, as the japanese language uses the same word to refer to both. The word amimono [編み物] because it is an object, it can mainly refer to knitting fabric, which are interwoven knits.
The crochet produces a pattern similar to in mesh or lace and a wider variety can be used in wires. The name of the crochet technique in Japanese is Kigibariami [かぎ針編み]. In this technique, only a needle with a hook is used.
At the knitting two needles are used, but no hook! This technique is mostly used for woolen pieces and is usually more elastic. The technique that uses knitting with two needles is called boubariami [棒針編み].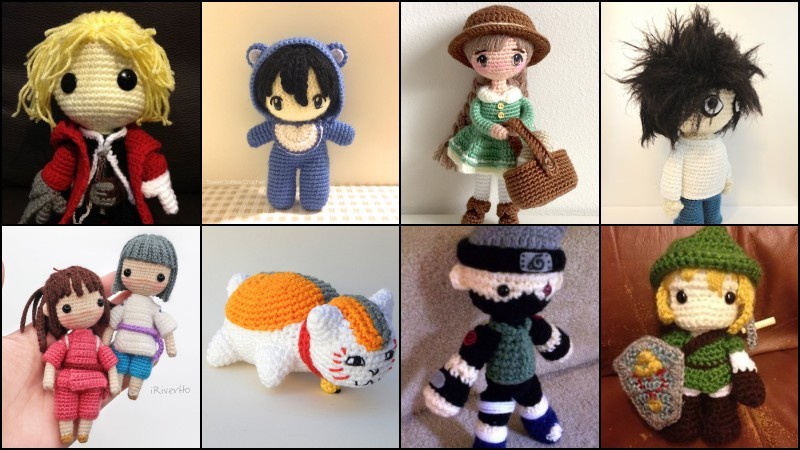 The History and Origin of Amigurumi
Japan is known for its ancient weaving techniques, such as Kasuri and Shibori, widely used in the textile industry. According to Yoshihiro Matushita, There are records dating back to 1185 of Japanese fabric-making techniques that predate knitting and crochet.
It is not known for sure when Amigurumi was invented. Knitted dolls have long been made as educational toys and toys for young children. Records indicate that 3D knitted dolls have Chinese origins.
Knitting is believed to have been introduced to Japan by the Dutch in the Edo period (1603-1867). Knitting evolved with the samurai, who were experts in creating clothes and decorations for their katana swords and winter clothes.
During the Meiji Period (1868–1912), over 3,000 Westerners were hired to teach modern science, mathematics, technology, and foreign languages in Japan. In this environment, crochet and knitting techniques were more introduced in Japanese society.
According to Dai Watanabe, "Women were invited to teach Western embroidery at that time." The first Japanese three-dimensional crochet is dated 1887 and is called seiyo-keito-amimono-kyouju [西洋毛糸編物教授]. It is a branched loquat with a leaf and fruits.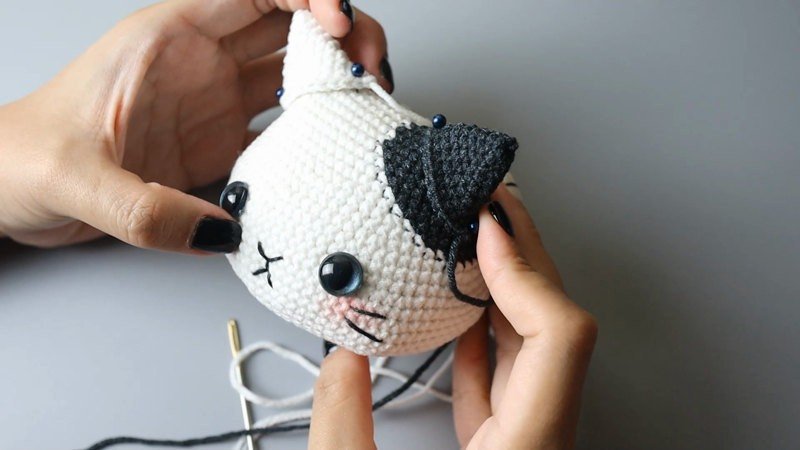 The popularization of crochet dolls
The term "amigurumi" became popular because it was featured in NHK's liberal arts programs in the late 1980s. Kawaii culture and phenomena like Hello Kitty.
The high demand for cute things popularized the practice to the point of creating a Japanese Amigurumi Association on January 10, 2002. Over time, thousands of crochet animal books and tutorials emerged that can be easily found.
With the popularization of Japanese culture around the world, the amigurumi also became known in the west, mainly through forums and blogs where recipes are created and distributed. Today it is easy to find some tutorials on youtube.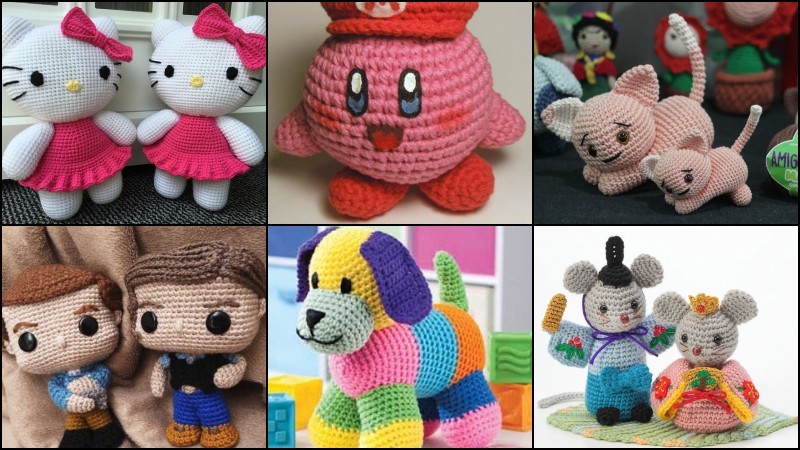 Courses to Learn Amigurumi
You can find several courses or recipe E-books being sold digitally. It can be a great advantage for those who don't know anything about the business and want to learn how to crochet these plushies.
It's not cooking, but in the world of crochet dolls, we call sewing tutorials a recipe. Some of the recommendations below are Books with video lessons, then we will only recommend books with recipes. Hope you like it!
Amigurumi Crafts - Course
Learn from scratch to advanced to create and profit from Amigurumi confections. You will learn to make more than 1000 pieces of crochet animals, in addition to receiving recipes for dolls, animals, cartoon characters and much more.
Everything with step by step in this ebook. Always with updates, we have a members area for students' questions and a Group of Students on Telegram with a channel and chat to exchange tips and experiences.
Accessing below you will already download a basic recipe for free for those who want to learn how to make this type of craft with crochet. If you already want to go deeper, just buy the complete product Artesanato Amigurumi.
Amigurumi Under the Sea Theme
With the Practical Crochet Method, you will learn the technique of Amigurumi (Deep Sea Theme). Develop this beautiful craft at home, whenever you want, and learn to make beautiful crochet work. Surprise everyone with your art and make your own business.
This course offers you:
Complete Step by Step with E-Book and Video Lessons;
Unlimited and Immediate Access;
Support to Students;
You will have at your disposal excellent content, where you will learn;
How to make the stitches used in Amigurumis;
What are the materials to be used;
5 animals under the sea theme (crab, dolphin, fish, octopus and turtle);
Exclusive bonuses;
Amigurumi Course Learn Easy
You can learn the Japanese Amigurumi technique, whether to enchant those you love or even to guarantee an extra income. In the Learn Easy Course You will have access to several Recipes and Graphs and also videos Classes by Artisan Deisiane Dias.
Course content:
Lesson 1 - Learn to Do the Chain Stitch
Lesson 2 - Learn to Make the Magic Ring
Lesson 3 - Learn to Do the Low Point
Lesson 4 – Learn to do the slip stitch
Lesson 5 - Learn to Do the High Point
Lesson 6 - Learn to Do the Double High Stitch
Lesson 7 – Learn to Read Amigurumis Recipes
Class 8 - Learn to Finish the Amigurumi Piece
Lesson 9 - Learn to Wash the Amigurumi Piece
Bonus – Learn How to Sell Amigurumis on Instagram
Club Baroque Atelier
Hello friends! Welcome to this corner created especially for you who love Baroque Dolls and are part of our circle of crochet friends.
In this club I will put all the exclusive news, you will learn the fairy collection, the Anne doll, the Little Prince and other amazing creations. You will be able to watch the course without leaving your home and anywhere in Brazil, with video classes in English
Books to learn Amigurumi
There are many books on amigurumi on Amazon Brazil, most with free shipping for members of Amazon Prime. See below for top book recommendations on amigurumi from Suki Desu:
Materials to make Amigurumi
For to do for an amigurumi you will need thread, needles and acrylic filling. Some other additional materials may be needed like scissors, tape measure, buttons, felt and glue to finish off the pets.
Some use their own mesh to make the crochet bear, it can be purchased at an affordable price in online stores. You can also find ready-made parts, own lines and other materials to manufacture your own amigurumi in the recommendations below:
Where to buy an Amigurumi?
If you don't know anyone who sells Amigurumi in your area, you can use online stores. Below I want to share some amigurumi that I found in Suki Desu partner stores such as Amazon Brasil and others.
Because it's a complex art, they're usually not as cheap as teddy bears. In fact, in online stores abroad, crafts can be found from 10 to 100 dollars, taking into account the current dollar value, see:
Tomoko Takamori – Japanese Artist
Tomoko Takamori is a very popular Japanese amigurumi artist who was born in 1964. She has been active as an illustrator for magazines such as POPEYE and Seventeen. She made her debut as an artist when she attended the Teddy Bear Fair in the spring of 1993.
Appeared on NHK Educational Television's women's show "Oshare Koubou", which started the amigurumi boom in 1998. Fans from all over the country flock to the individual show for the originality and cuteness of the work.
Her works, which are excellent in color and modeling, often appear in fashion magazines. Takamori Tomoko's work even has a serial number. Their art is often sold for a limited time with a lottery system.
At auction, the price of an amigurumi made by Tomoko Takamori can reach 100,000 yen or more. From 1994 to the present, Tomoko has published more than 15 magazines on the art of making crochet dolls, including several popular recipes.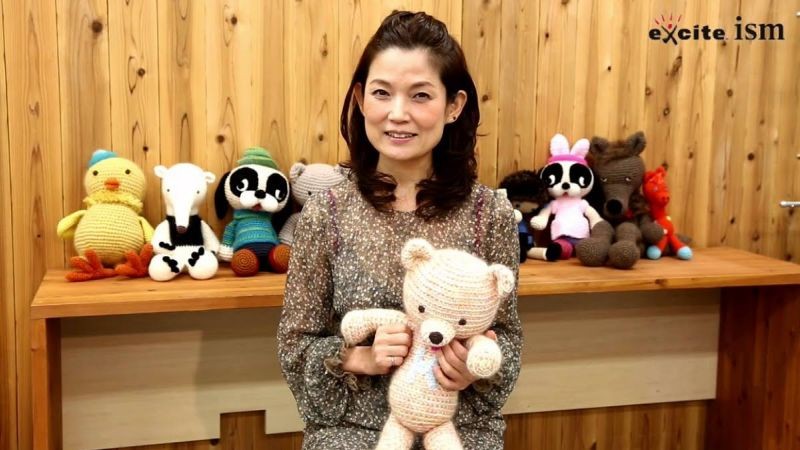 Yoshi Wooly World – Amigurumi
A great example of amigurumi in games is Nintendo's famous Yoshi Wooly World game. Every game, characters, scenario is made with balls, applying the technique of making crochet dolls a lot.
Hamanaka, a Japanese company specializing in crochet and dolls, has even released its own Yoshi-making kit along with the recipe and instructions. I thought it was important to highlight the game for being one of the only ones that apply the Japanese technique.
Something similar happened in the game Kirby Epic Yarn, but unlike the three-dimensional models, in Kirby the scenery and characters are assembled in 2D using a ball of yarn. This is not the Japanese technique of making crochet dolls.
If you want to buy the official Yoshi Wooly World doll directly in the mesh that serves with amiibo, you can buy by clicking here on the Play Asia website. If you want to know how to buy game and anime products without being taxed, read our Play Asia article.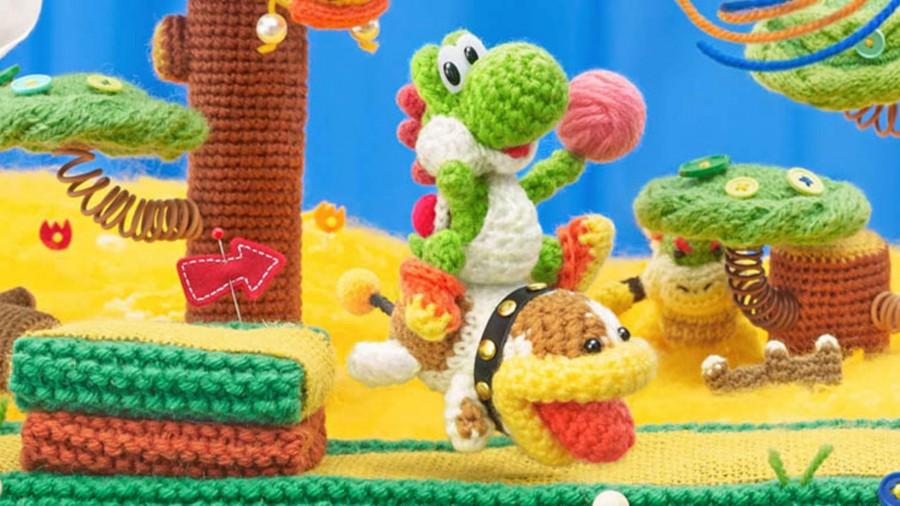 Why don't amigurumi have a mouth?
Its popularity came at the same time as Hello Kitty, which also had no mouth. The reason has nothing to do with devil's pact as the Fake News of yesteryear spoke. It is just an art style, a facility and characteristic.
The main reason, as with Hello Kitty, is that the absence of a mouth allows the characters to express themselves in different ways. Allowing the crochet pets to express the feelings the person wants to see.
There's even a saying about Hello Kitty that she doesn't have a mouth because she "speaks from her heart." In fact, this statement comes from the Norwegian designer Tone Finnanger, creator of Tildas Dolls, which also has no mouth.
The reason for the success of amigurumi as well as Hello Kitty is due to its empty design making it more attractive to different types of people. Even if the person is sad or happy, the doll will empathize with that feeling.
But the claim that amigurumi has no mouth is wrong. Most animals have a mouth, we also find several dolls with a mouth. Sometimes the absence of a mouth on crochet dolls can simply be a lack of necessity.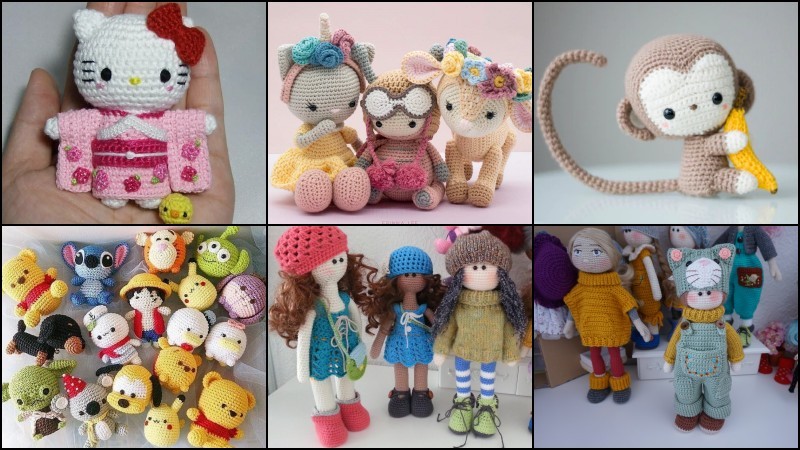 Japanese Amigurumi Association
THE Japanese Amigurumi Association [amigurumi.jp] aims to establish and disseminate the culture of crocheting dolls, make people aware of the art, hold events across Japan, and interact with writers and enthusiasts.
The association also trains and sponsors writers, provides venues to present works, production and manufacturing information, tools, and more. The association also supports and protects copyrights by listing the collection.
She supports collectors, holds regular events and other sponsorship activities. If you are looking for the association's headquarters, it can be found at the address: 2-39-6 Kitazawa, Setagaya-ku, Tokyo 155-0031 [TEL 03-3468-2147].
Questions about Amigurumi
Many of the questions have already been answered throughout the article, but there are still other questions. Below are some common questions about the art and technique of making crochet dolls.
How long does it take to make an Amigurumi?
Usually some people spend up to 3 days to make a crochet doll, but in fact it takes a few hours to make such a doll. Nobody spends all day knitting, it all depends on your skill, the size of the animal and even the material used.
Professionals can make a doll in a few hours, some beginners can take days. Some dolls are super complex and require dedication and effort, which makes some very expensive.
What is the needle size to make amigurumi?
On the packaging of yarns suitable for amigurumi there is a number indicated from needle, but it all depends on the tension of the point, which can vary from person to person. It is generally used between 2.25 (loose point) to 3.5 (tight point). Some use 2.75mm.
Generally, needles of many colors are used in order not to get lost or confuse the different pieces knitted. The most common are soft needles, but rigid needles, aluminum, plastic and even bamboo can be used.
Which Line to use to make Amigurumi?
Generally people like mercerized cotton because it makes the finish more beautiful and shinier. The string is recommended mainly for beginners, as it is thicker and to do the work renders faster.
Videos about Amigurumi